Modeling a Trendy New Event
Fashion Club introduces the Underground Fashion Show tonight at 6:30 in the large aud
One Shaker club is fashioning a new event, and it's going to be stylish.
Fashion Club invites you to its first fashion show in the large auditorium Jan. 29.
Fashion Club President Kamryn Bailey, a junior, named the event The Underground Fashion show. According to senior Fashion Club member Tyler Givens, the event's title was inspired by youthful designers.
"We're still in high school, we're still young and we're still trying to branch out and understand our own fashion styles," Givens said. "So she [Bailey] wanted to keep it underground, like on the street, kind of urban, like different styles to come into it because when you're young, you know, you can pull off more."
"Kamryn runs it, but she's really into it," Givens said. "She's like, 'I want to have a show,' so people can understand we're serious about the club."
Fashion Club is a new addition to Shaker's already long list of extracurricular activities. The participants meet every Monday after school to discuss fashion-related topics and new ways to raise money and expand the club. "Generally we just, you know, talk about wanting more guests to come in to learn about the fashion world, because a lot of people want to go into the fashion world but don't know what part they want to go into," Givens said.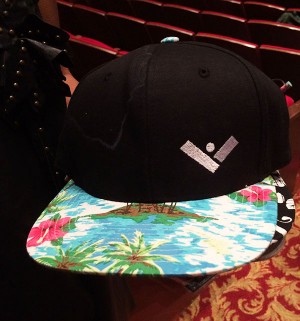 The members also hope to develop some fashion skills, including sewing.
"That's another thing we've been thinking about," said Givens. "If we could have a sewing, not 'unit' but, like, part of the club. Like, we learn how to sew with each other, or go to a place where we could learn how to sew. So there's different things we're still learning how to do."
According to Givens, Fashion Club is a place where students interested in fashion can learn new skills and get advice from fashion designers. "They do have guests come in who are doing what I'm doing, like the major that I want to go into, and that's really nice because I get to learn more about it," she said.
The Underground Fashion show will take place in the large auditorium tonight at 6:30 p.m. The show will feature 20-23 student and non-student models sporting fashion-forward garments, strutting down the runway to catchy tunes.
"I think it'll be a good turnout. Even if it's just family and friends, I think it will be nice to have a support system in general," Givens said.
If you are interested in attending, $6 tickets are on sale in the upper cafeteria during all lunch periods.
"It's kind of hard to have a club about fashion because you have to keep up to date, like, how to dress and what's new and what to talk about," Givens said. "I think the more we advertise ourselves and have shows, the more people will want to get involved in it."
Comment using your Facebook, Yahoo, AOL or Hotmail account
comments
Leave a Comment