Shaker Students Celebrate Sioux Victory Over Pipeline
After months of protest in Standing Rock, North Dakota, the Army Corps of Engineers has announced they will reroute the Dakota Access Pipeline.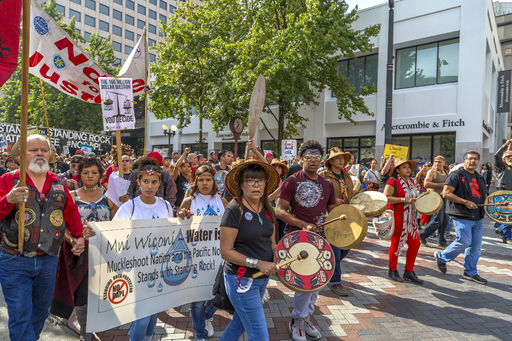 Shaker faculty and students expressed happiness that the Dakota Access Pipeline (DAPL) will not pass through Standing Rock, North Dakota, a Sioux reservation.
The Army Corps of Engineers announced Dec. 4 that it will not issue a permit for the DAPL, which would pass underneath the dammed section of the Missouri River. The decision comes after months of protests in Standing Rock. Hundreds of protesters have been arrested and mistreated by government officials. 141 arrests were made after a violent standoff between police and civilian protesters on Oct. 27. Law enforcement officials also deployed water hoses in freezing temperatures against hundreds of protesters on Nov. 20.
"I was overjoyed that the pipeline was going to be moved. The Sioux and other American Indian tribes don't have a great history of their land being left alone," sophomore Annie Stibora said.
The pipeline would deliver oil from the Bakken oil fields in North Dakota and Montana across the plains to Illinois. It was intended to pass through a burial site sacred to the Standing Rock Sioux Native American tribe. The tribe was worried that the DAPL would threaten the community's drinking water and damage sites of sacred significance.
Energy Transfer and Sunoco Logistics own the DAPL and finance its construction along with 17 other banks. The 1,172-mile pipeline would cost $3.78 billion. Proponents of its construction say that the project would offer economic relief to a struggling region and contribute to energy independence for the United States. North Dakota and South Dakota will collect $55 billion annually from the pipeline use.
An earlier proposal of the DAPL called for it to cross the Missouri River through Bismarck, N.D., but the route was rejected primarily because of the potential threat to the city's water supply.
The Dakota Access Pipeline protests, beginning in spring 2016, are widely known by hashtags on social media such as #NoDAPL. The protests are grassroot movements by millions across the globe calling for preservation of sacred Sioux land.
Sophomore Kevin LaMonica has continued to speak out on the pipeline issues as they have made national headlines over the past few months. He said, "I actually participated in my own mini Thanksgiving protest, and my family just kept rolling their eyes at me. I would continually say, 'How can we sit here and celebrate a tradition that is supposed to commemorate the colonists' relationship with the natives back in the colonial era of America while our government is terrorizing and abusing the rights of Native Americans in North Dakota?'"
Economics teacher Bradley Bullard said that he believes this news will lead to more positive outcomes in the future, even if it economists say it may lead to negative effects. "It's best that we, as a society, take into consideration the needs of the indigenous people who were here prior to Europeans and Africans coming to America," he said. "From an economic standpoint, it's going to increase costs for some people. But, to me, the moral argument outweighs the economic argument."
Although the rerouting is good news to protesters, there are still many question left unanswered.
Junior Cielle Brady expressed worries, doubts, and suggestions for the future. "I think it is a wonderful sign of progress and change. However, I hope that the rerouting of the oil pipeline does not cause damage to another area," she said. "The next step is for the oil company to carefully consider where they will relocate to. People risked their lives to protest, and I hope the oil company doesn't take that for granted."
Brady said she hopes the upcoming Trump presidency doesn't affect the recent pipeline decision. "He is a major businessman, and the pipeline attempted to bring more jobs and income, which is similar to Trump's beliefs. So far, he has taken back his word on a lot of things, so maybe he won't be so awful when it comes to the pipeline," she said.
LaMonica said he is worried about the pipeline's effect on the environment. "The government and oil companies should work to find a solution that puts the least amount of people and wildlife at risk, and I also think they should come up with a solution for a potential disaster now, rather than trying to quickly figure out what to do when the event happens."
He also expects this situation to stir conversation not only about the treatment of indigenous people, but also about the use of oil and the safety of pipelines in this country. "The next step is beginning the national transition away from fossil fuels and towards renewable energy. I think issues like these will definitely be watched during the next White House administration," he said. He hopes that the pipeline decision has set a precedent of how Native Americans will be treated in the upcoming years. "If Mr. Trump wants to resume the construction of the pipeline, he has to go through the courts, and I think that there, they will uphold the rights of the Natives."
Bullard said he believes the next step for the oil companies is to find a solution. "There's a middle ground for everything in that both parties can achieve what they want; they just need to sit down and discuss what needs to happen," he said.
Stibora believes companies must stop work on pipelines altogether. "The government is investing millions on them, which will only lead to environmental damage," she said. "As for the future, I don't think Trump cares enough either way or about anything in general to reverse it. My personal hope is to instead of investing money for pipelines, invest in finding sustainable energy sources that will move our country and planet forward."
Students also are hoping that because the internet protests over this issue triggered actual government change, people will now begin to realize the power of protest.
Bullard added that he thinks that protests were the right way to bring about change. "They made the issue known to the public, which then forced other people to take action," he said.
Stibora said that she believes the #NoDAPL movement, while born under awful circumstances, helped raise awareness for indigenous peoples. She said, "Hopefully this issue can spark others to help American Indians and the atrocities they live with caused by us."
Although he wished he could participate in the protest at the Standing Rock Reservation, LaMonica found other ways to express his discontent. "A lot of people don't realize the power of one tweet, or one signature on a petition, or if you're 18-plus, the power of one vote. Awareness can be just as powerful as action," he said.
"I kind of like to live by a saying: You were given a voice to use it," said LaMonica. "So, I will say, now and forever, #NoDAPL."
Comment using your Facebook, Yahoo, AOL or Hotmail account
comments
Leave a Comment