Community Uses Social Media As Weapon
Social media forums erupt in community member outrage after threat towards high school leaves them shocked and concerned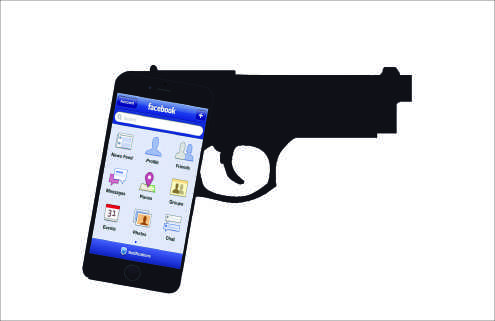 A threat sent to a student through Instagram Direct — a messaging platform — to a student detailed Shaker Heights High School's address and the writer's intent to bring a rifle to school.
If any Shaker student checked their social media, they would find speculation about the situation. From Facebook community pages to constant retweets, social media became forums for speculation.
"I posted to social media the day of the threat to not only share my opinion about the developing events, but also as an attempt to obtain more information. Obviously, the information that can be obtained through social media isn't always correct, but on that day, I wasn't sure there was a better way to get it," sophomore Madi Hart said.
Community member and parent Chris Ramsay believes that social media's negative sides affected the chaos of the day. "Social media is a double edged sword. [It] gives us more access/connectivity to others in 'the village', but both rumors and truth can be spread easily and quickly," he said.
"
Social media is a balancing act. It's the reality that we deal with."
— Kenneth Trump
"I definitely think social media escalated the panic of the day. If it weren't for social media, the threat sent over Instagram DM wouldn't have even existed," Hart said. "However, social media allowed the students to hear of the threat in a time when there was little communication between the administration and the students."
"People spread rumors, which causes panic," said sophomore Charlie Miller.
During the day, the Onaway Community Page on Facebook was active with rumors and opinions directed at the administration. "Please stay on topic, keep it civil, keep it clean, and refrain from excessive commercial promotion and political commentary," the Onaway Community Page states. These rules, however, were disregarded by passionate community members.
One post accumulated 119 angry comments about the threat to the high school.
"Residents are looking for information, especially in times of crisis. Social media is a fast way to get information, although it's not always accurate," said Ramsay. "That's a big downfall."
During the school safety summit Oct. 26, school safety and security services expert Kenneth Trump spoke about the speculation problem with social media. "Social media is a balancing act. It's the reality that we deal with," he said. "Today's world is generation text. Text messages and rumors spread whether true or not."
Hart explains the reason for the social media reactions. "I think many were urged — as I was — to post their opinions on social media last Wednesday, not only to try to find out more about what was going on, but also to share with others how they were feeling," Hart said. "For most students of our generation, social media is another form of word-of-mouth."
Comment using your Facebook, Yahoo, AOL or Hotmail account
comments
Leave a Comment