Can Healthy Food Really Help Your Grades?
Science suggests that what you eat matters as much to your brain as it does to your stomach
As finals approach, students wonder what to eat before tests to help them succeed. The solution? Certain "brain foods" to strengthen your body and mind.
Brain food: an ingredient or dish that helps students study by increasing focus and memory. According to UCLA Newsroom, it was recently discovered through several experiments that food affects brain performance. Scientists who back this theory believe that Omega-3 fatty acids –found in certain fish and nuts–among other nutrients, improve the brain over both long and short periods of time.
Janice Friswold, a University Hospitals dietitian, suggests smoothies or breakfast burritos for breakfast.
"Eating breakfast will help you have more energy and improved concentration for problem solving," she said. "Students that eat breakfast tend to have better grades and are at a healthy weight."
Friswold also recommended fruit or trail mix as snacks, as well as tuna and other fish for lunch. Fatty fish increase focus, according to BBC Food.
"Try to eat a meal or snack every 4-6 hours to keep your energy level up and your brain supplied with glucose, so, avoid skipping meals," Friswold said.
Friswold suggested a meal plan to follow right before taking a test or beginning homework. It includes eating plenty of fruits, vegetables, whole grains, beans, nuts, low-fat dairy and protein. One should also sp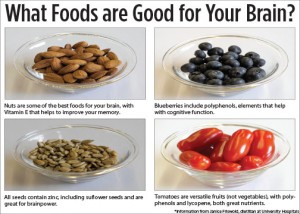 ace out meals, with enjoyable and healthy breakfasts, lunches, dinners and snacks.
Additionally, Friswold addressed what not to eat prior to an exam. "Too much caffeine can make you jittery," she said. "Too much sugar may make you sleepy."
Opposingly, freshman Sarah Augustine believes that "eating brain food doesn't make [her] any better on the test."
Although Augustine doesn't believe in brain food, she appreciates eating healthy snacks, like fruit. "My go-to food would have to be watermelon," she said. According to Friswold, fruit helps improve memory.
Need a recipe to help get started eating brain food? Look at the recipe for granola bars below.
Chewy Granola Bars With Coconut
Zachary Nosanchuk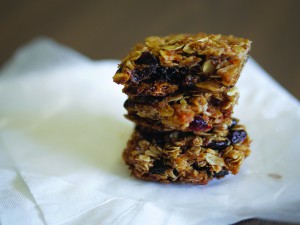 The Buzz Editor
Food photos by Vincent Prochroff
Makes 14-16 Bars
Materials:
Large rimmed baking sheet, medium saucepan, 11 by 7 inch baking dish, spatula, mixing bowl, measuring cups.
Ingredients:
2 cups rolled (old-fashioned) oats
1 cup shredded unsweetened coconut
1/2 cup sliced almonds
1 tablespoon canola/vegetable oil
3 tablespoons unsalted butter
2/3 cup honey
1/4 cup light brown sugar
1 teaspoon vanilla extract
1 teaspoon ground cinnamon
1/4 teaspoon salt
1/2 cup chopped dried apricots
1/2 cup dried cranberries
1/2 cup dried cherries
Preparation:
1. Preheat oven to 350 degrees Fahrenheit. Line baking dish with parchment paper and spray with cooking spray.
2. Mix oats, coconut, and almonds with oil in mixing bowl. Pour onto baking sheet and spread in an even layer. Bake in oven for 8 to 10 minutes.
3. Place butter, honey, brown sugar, vanilla, cinnamon and salt in the medium saucepan. Bring to a boil, stirring often, over medium heat. Reduce heat to medium-low and cook for 2 more minutes.
4. Place oat and nut mixture into a large mixing bowl, and pour in syrup from the saucepan into the bowl. Add apricots, cranberries and cherries and mix thoroughly. Reduce oven heat to 300 degrees.
5. Pour granola bar mixture into prepared baking dish and press with spatula to make even. Bake until golden brown and chewy, about 25 to 30 minutes. Once it comes out of the oven, let cool for around 1 hour, or until entirely cool. It's a long time, but it's worth it. Cut into 14-16 bars. Will last 1-2 weeks on the counter.
Comment using your Facebook, Yahoo, AOL or Hotmail account
comments
Leave a Comment