An Apple a Day Keeps the Android Away
Android, Windows or Apple? Apple dominates, but other brands offer cheaper handsets, customization
Are you on Team iPhone or Team Android? Brands of phones divide high schoolers, and arguments often ensue.
Freshman Sophie Browner owns an iPhone and believes students prefer Apple brand phones because of the apparent influence on social status. "I think that most of my peers have iPhones because most of my peers have iPhones," she said. "Even if the screens crack easily and there are better smartphones out there, I think people get the iPhone because they simply think that they have no other option."
Junior Jamie Semel agrees with Browner. "I think [iPhones are] easily accessible and they have kind of become the social norm," she said.
Freshman Mariah Jordan has a Samsung Galaxy S5, and also thinks iPhones are just for status. "I think many peers have iPhones because they want the Apple brand. I think many people associate an iPhone with being cool," she said.
Alternatively, freshman Katie Campanelli believes that iPhones are simply better. "I think Apple phones are the best because they are constantly coming out with software and iOS updates, always trying to improve their phones and I feel like they are better quality," she said.
Sophomore Anthony Collier agrees, and praises iPhones for their simplistic design. "iPhones are known for their simplicity," he said. "That's why everyone chooses it. We all subconsciously choose it and come back to it every other year."
"
iPhones are known for their simplicity," he said. "That's why everyone chooses it. We all subconsciously choose it and come back to it every other year.
— Anthony Collier
One employee at the Eton Apple store "Genius Bar," Apple's customer support service, explained the interest behind iPhone. Primarily, Apple's cloud-based drive, named iCloud, allows music, files, photos and more to be shared on one's iPhone, iPad and Mac computer device. Another reason is that apps in the Apple App Store are regulated to make sure they are useful and do not have viruses. In comparison, apps in the Google Play or Microsoft app stores are not regulated, and so anyone can create an app.
Finally, the Apple employee stated that Apple Support for their devices is much more personal. In order to get support for an Android device, one must go to their wireless carrier's store. To buy or get support for an iPhone, the customer can go to the Apple store–separate from their wireless carrier–with certified Apple-knowledgeable employees that can help.
An employee at the Beachwood Place Microsoft store challenged iPhones with a testimony in favor of Windows phones. First, the very low price. Windows phones, primarily because they are built with plastic, are known for having much lower prices than other brands. Windows OS allows for much customization in the "Start" screen, or where the owner scrolls through the various apps. Another feature on Windows phones is Cortana, the voice assistant. The employee said that Cortana can set reminders, search and do other tasks at the same time.
iPhones have — and continue — to dominate the market. According to the International Business Times, around 69 million iPhones were sold in the 2015 holiday quarter. In fact, according to Business Insider, Apple had the most profitable quarter ever, more than any other company.
However, Apple had a slight break in its enormous phone sales from 2012-2014, but with 2014's surprising iPhone 6 sales Apple redeemed itself with just a .1% sales margin between it and Android.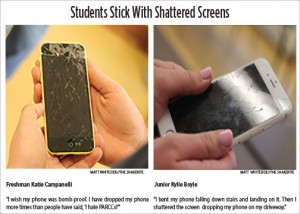 The Android operating system applies to HTC, LG, Motorola and Samsung phones, while Apple iOS applies only to iPhones. This shows the extreme popularity in Apple, because with only one brand, it has .1% more of the market, according to Techcrunch.
Freshman Dawn Falokun believes that iPhones pull consumers in because of the Apple voice assistant, Siri. She also thinks that the format of social media apps like Facebook and Snapchat on iOS is an intriguing element. Campanelli agrees, and also finds that the high-quality camera on iPhones are a good feature.
Voice assistants, a fairly new feature introduced by Apple on the iPhone 4s, are on all mainstream brand smartphones. Android-based phones like the Samsung Galaxy and HTC One use the voice assistant Google Now, and Windows phones have Cortana, both created after Siri. CNET predicts that the quality of the voice assistant on a phone could determine the buyer's choice.Collier, alternatively, believes that iMessage, the system that allows for iPhone users to text each other with no data costs, is one of the few exclusive features retained by iOS. He thinks that iOS 8 lacks room for customization, and requires a long process to be able to change the look of the operating system.
Junior Kylie Boyle agrees with Collier." I think one of the main reasons why most people have iPhones is because of iMessage," she said.
"
I think that most of my peers have iPhones because most of my peers have iPhones.
— Sophie Browner
Still, Collier loves iPhones for their sleek and innovative design. "I fell in love with Apple products the first time I saw one of its ads way back in 2008 or 2009," he said. "The design and feel of the phone and its powerful interface grabbed my attention and [the attention of] many other people looking for something different in their phones."
Jordan appreciates her Samsung phone's camera, and believes that people should buy for features and not status. "I think people should buy the phone that best fits them," she said.
A large portion of consumers buy the newest phone simply to have the newest technology.
Browner strongly agrees with this belief. "Every phone is used for the same function of calling, texting, listening to music, or playing games," she said. "Just because a phone is thinner, taller, or made out of a cooler material usually doesn't mean that it works better."
"Most phones can last you well over four years for your basic needs. You don't always have to have the latest and greatest to be up to speed. You have to play it smart," Collier said.
"I don't think it's that important to have the newest phone, but it has become a necessity to have a smartphone for most people," Boyle said.
Semel is torn, and thinks that sometimes the newest phones are needed for a fast operating system. "I don't believe it's important to have the newest phone just because everyone else has it or because it's the 'cool' thing, but I do think companies such as Apple make the software more and more slow on older phones as they make newer ones," she said. "Sometimes it's the most productive option to get a new one."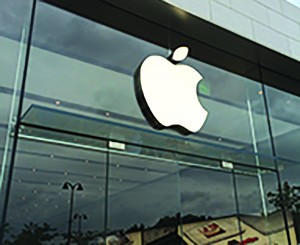 In order to use one's phone, some sort of ID or passcode is needed. iPhones revolutionized this feature with Touch ID on the home button of the phone. Some Android phones have this feature as well, but also have the new face recognition. By submitting a picture of one's face, the owner can quickly get into the phone.
Some students believe that the majority of students who have iPhones buy them simply for their popularity among their peers.
This type of 'trend' pattern has plagued teenagers for ages, always trying to catch up to the new status statement.
"I don't think the iPhone has a special feature that pulls people in, I think it's the iPhone brand itself," Jordan said.
"I've noticed that the majority of my friends have Apple phones and other Apple products," said Boyle.
Still, the argument continues. Companies like Samsung are catching up to Apple, with phones like the Galaxy S6, very similar to iPhones. Samsung phones have been using larger screens and a simple operating system to pull in the older audience, and Apple responded with their large-screen iPhone 6 and 6 Plus.
Still, some battle over which feature each had first. We may just all have to wait for the iPhone 6s to see what new tricks Apple will pull out of its sleeve, or whether those tricks were stolen from Android or Windows.
"It's always been a huge debate in the tech world in which is more powerful, longer battery life, better screen, more [megapixels] in cameras, etc," said Collier. "It all depends on what you want."
Comment using your Facebook, Yahoo, AOL or Hotmail account
comments
Leave a Comment