Your News, One Snap at A Time
Snapchat establishes itself as the 21st century newspaper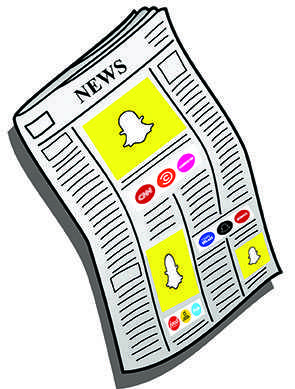 Meet the newspaper of the 21st century: your Snapchat feed.
With its new Discover Feed, Snapchat features several news sources with interactive graphics, stories and vertical videos. Prominent news organizations' reporters populate their Snapchat "stories," social media posts, with current news. Many will use the video feature to capture live news moments.
Sophomore Anna Sternberg enjoys surfing through the Snapchat Discover Feed. "I scan through the different channels to see what interests me and just to stay up-to-date on pop-culture and what is happening in the world," she said.
Freshman Kanella Basilion said that it is essential to have more sources of news than just Snapchat, because the Discover Feed can alter the user's opinion. "I think it makes news more easily accessible to teens, but at the same time can be negative as there aren't a wide variety of news platforms available," she said. "Not every source is credible, and not every source has the same point of view, and if the Discover Feed is the only outlook on news teens are getting, then they have substantial chances of not knowing the whole story."
However, when Basilion uses the Discover Feed, she uses magazine-like sources such as Cosmopolitan magazine, and rarely uses the traditional news channels.
Former Shakerite Editor in Chief Shane McKeon ('14), now a sophomore at Northwestern University's Medill School of Journalism, is enrolled in the Medill On the Hill program. The program allows journalism undergraduates to act as full-time journalists in Washington, D.C. While following the South Carolina Republican Primaries, McKeon used Snapchat to engage users.
McKeon, however, echoed Basilion's concern. "I don't think people should be using Snapchat as their only news source, nor should it be their primary news source, in my opinion. Facebook and Twitter, which both redirect users to news outlets' websites, remain far better mediums for getting your 'meat and potatoes,' the important news of the day," he said.
Junior Zach Wheeler said the Snapchat Discover Feed is overrated and will never replace newspapers. "The Discover Feed is completely useless in my eyes, and could never replace traditional newspaper, magazine or anything else on the Internet," he said.
Still, Snapchat's Discover feed is a desirable hot spot for media producers because it appeals to teenagers.
"
If you asked people 10 years ago if they thought Facebook would be most people's main source of news, you'd be laughed out of the room. Today, headlines are optimized for Facebook.
— Shane McKeon
"It is fast becoming a mobile media sensation, with a group of carefully selected media partners falling over themselves to provide stories and videos for a new generation of consumers, all from within the Snapchat app," according to Fortune, a prominent business magazine owned by Time, Inc.
Teenagers make up the majority of Snapchat's users. 18-24-year-olds comprise 45 percent of Snapchat's demographics, according to Business Insider.
According to Re/code, a technology news website, Snapchat is planning to introduce subscriptions for users' favorite Discover channels.
Subscribers would receive push notifications from the app, much like those provided by traditional news organization.
Snapchat does not accept just any media outlet for the new feature. The current selection includes a variety of options, including CNN and Food Network, new web-based publishers Mashable and BuzzFeed, and print newspapers and magazines such as the Wall Street Journal and People.
McKeon said that while many are skeptical about Snapchat as a news source, the same happened with Facebook years ago.
"If you asked people 10 years ago if they thought Facebook would be most people's main source of news, you'd be laughed out of the room. Today, headlines are optimized for Facebook, and news outlets employ 'social media managers' to make sure the content is doing well on Facebook," he said.
Sternberg said that Snapchat can bring to light stories that other media forms do not."Media in general can report information differently than old-fashioned newspaper and even TV, for that matter," she said.
With traditional media, many times countries and areas are generalized, creating violent racial or religious stereotypes.
"In the newspaper, on TV or on the Internet, the Middle East is constantly portrayed as violent and scary, but often times on Snapchat, I can view live clips about the history and culture of a country in the Middle East, I get a very different vibe than the news portrays."
Comment using your Facebook, Yahoo, AOL or Hotmail account
comments
Leave a Comment