Honors Students Ditch Honor System
Heightened academic pressure, Internet resources enable widespread cheating on homework, tests and quizzes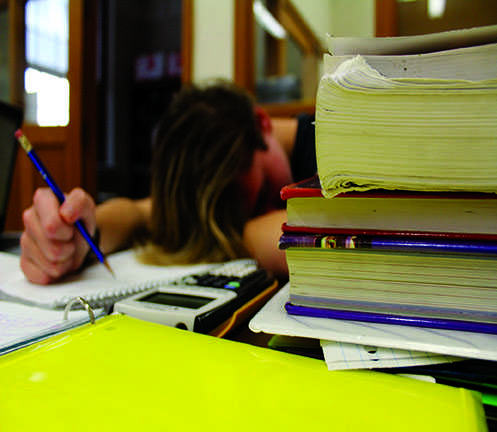 The moral struggle between academic honesty and academic achievement pushes Shaker students to stray from the honor code.
"It's easier to copy someone else's work and only have to actually do the work every other day or every three days instead of every night," junior Samantha Rose said. "Students would also rather spend their time sleeping, studying for tests, attending sports practice or hanging out with friends rather than doing homework."
Students often cite their heavy work loads as a reason for cutting corners.
"Part of it is laziness, for sure," sophomore Emma Duhamel said, "but some teachers give more homework than needed, and a lot of times it's busy work that doesn't serve too much of a purpose, so people aren't interested in doing it. A lot of times, people are up way later than they should be trying to complete homework," she said. "We're encouraged to do extracurriculars, but then we don't get home until 6 or 7, and sometimes people give up [on assignments] at unreasonable hours and just try to figure out how to get the points and the sleep."
Sophomore Drew Hubbard noted how students begin to prioritize their work.
"Most of the time [cheating occurs] because of the other work they have to do," she said. "Like, for instance, if someone has a huge paper due the next day and a small science worksheet it's more important to do the paper rather than the science, and no one likes to turn in anything late."
"I think the prevalence of [cheating] is tied to the pressure that students are feeling," social studies teacher Tim Mitchell said. "I also recognize it's tied to the amount of work that people are being asked to do."The pressure to compete, the pressure to take on a lot of high-level academic work that's really time consuming provides a pretty good rationale for a lot of kids to compromise themselves," he said.
Experts, however, have a different take on the matter.
"When confronted with cheating, we too easily accept the notion that the stakes are high and kids cheat out of desperation," Steve Nelson, the head of Calhoun School in Manhattan, stated in a Huffington Post piece titled, "Cheating Because the Stakes are so Low."
Nelson explained that when students become disheartened, the moral integrity to complete work is lost.
"When a textbook or teacher's 'facts' are the primary or only consideration, students are engaged only in succeeding in the game," he stated. "The rote process of filling heads with information and testing it out has little relevance to student's passions, values, imagination or critical capacities.
"Cheating in this context violates very little of what really matters to young men and women," Nelson stated. "Neither the process nor the product represents much of who they really are."
"People are more willing to put in work if it'll help in the long run," Duhamel, the sophomore, said, "If the homework is actually good practice for a test, people will treat the assignment like studying."
Nelson suggested changing the assignments teachers dole out in order to cut cheating.
"In every discipline, good pedagogy invites students to invest themselves in the process and, as a corollary, in the product," he stated.
"When a student's unique point of view or creation is invited and appreciated, cheating is neither necessary nor possible."
In an article published in The Atlantic, teacher Jessica Lahey took morals out of the equation.
"I specifically avoided a discussion of the question of student ethics and character in my article," she stated, "not because I wanted to exonerate students from their share of the blame, but because I hoped to focus on pedagogy's role in academic dishonesty."
Lahey posted a letter from an unnamed college student to demonstrate the disconnect between students and teachers when it comes to academic dishonesty.
"It boils down to this: we are told that cheating is wrong because we are attempting to earn a grade that we do not deserve . . . But my contention uses identical reasoning," the student stated. "I cheated because the grade I would have otherwise been given was not reflective of my true learning."
This student went on to illustrate examples of his experiences.
"I took nine AP tests in high school, scoring 5s on all of them except the one I self-studied for, on which I earned a 4. Never did I cheat on any of those tests, because I felt that they were fair representations of my learning," he stated. "But in AP Biology, I cheated on literally every in-class test. The curriculum and test techniques of my absolutely atrocious AP Biology class were not fair representations of my knowledge. I felt cheated of the education I deserved, and thus to earn the grade I knew I deserved, I had to cheat the system."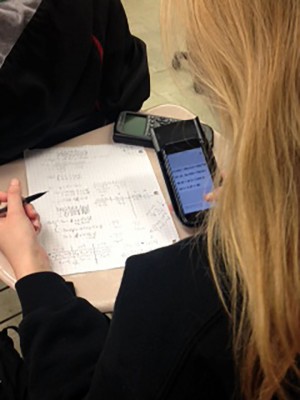 Shaker students agreed that a change in the system would help curb cheating.
"[We need to] find a way to make work more meaningful," sophomore Jacob Connell said. "A kid won't want to do legitimate work if it isn't rewarding."
Connell briefly explained what he thought would be more beneficial.
"I personally think the best way is to put learning above grades and tests," he said, "School should be about the experience and preparing you for life, not about worrying about bumping your grade up a point before big tests."
"[Teachers should] give reasonable amounts of helpful homework," Duhamel said. "No one wants to be up at four in the morning doing busy work. Also, if teachers write their own homework assignments instead of borrowing from the Internet, that means that students can't just Google the answer."
Mitchell, the district IB Diploma Programme coordinator, highlighted reasons why students should be doing their own work.
"I know that may seem idealistic, but you should really learn these concepts rather than copying the answers," he said. "The peer pressure is there, and there are so many other competitive pressures, but for the most part, the people who follow a path of integrity are going to learn more."
In a 2012 survey, the Josephson Institute's Center for Youth Ethics, a Los Angeles based non-profit organization, examined the ethics of youth in America.
The center surveyed 23,000 students from 100 different high schools and found that 51 percent of students had cheated on an exam in the past year, 32 percent copied online resources to complete school assignments and 55 percent lied to a teacher about something significant.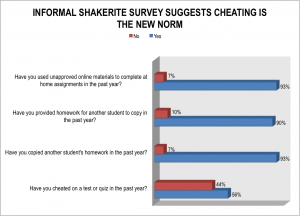 In light of these results, The Shakerite conducted an informal survey to gauge Shaker students' ethics. Seventy-two students, taking one or more honors, Advanced Placement or International Baccalaureate class, were polled about academic dishonesty.
Fifty-six percent of students polled admitted cheating on a test or quiz in the past year, 93 percent admitted copying a student's homework in the past year, 90 percent admitted providing homework for someone else to copy in the past year and 93 percent admitted using unapproved online resources to complete at home assignments.
Students frequently admitted to using websites such as Yahoo Answers, Quizlet and Course Hero to complete take-home tests, Mastering Biology and Chemistry assignments and daily homework assignments.
"If the questions are out of a textbook, you can basically just Google the answers, or if they're just checking for completion, people sometimes just jot down random things to appear like they've done the work," Duhamel said.
Social studies teacher Silvia Sheppard gave a teacher's perspective on cheating methods.
"What I find is students taking pictures of it and copying it down because they don't see the value in reading the textbook and taking notes," she explained. "They say, 'If I'm just writing down what's in the textbook then what's the point? Why can't I just copy it from someone else?', not understanding that if you don't actually read the context then you won't understand the material.
"And then they're confused about why they don't do well on the test, it's because they're doing homework and for the sake of doing homework, they're cheating on it by not taking the full experience. They don't understand the material," she said.
Connell also witnessed students cheating.
"[I've seen students] sending each other homework answers, finding answers online and lying to get extensions," he said.
Students polled did not widely consider those methods to be cheating.
Mitchell said, "The Internet has enabled students to cheat more often and more easily.
"I think what's happened with the advent of the Internet and availability, there's so many more ways to get information and use it as your own," Mitchell said. "There are a number of people who just grab stuff. They cut, paste and there's an assignment, and they don't appreciate what that means.
"The Internet just makes it so easy," he said. "There's a lot of compelling rationale, there's a lot of access, and I think it's an increasingly difficult problem."
Sheppard explained how cheating has changed with the Internet.
"Plagiarism has become much more common," she said, "sometimes students don't understand that they're plagiarizing when they copy and paste just off the Internet.
"That's added a whole new layer. Before, back in the day when you just wrote answers on a piece of paper and hid it in your sleeve. So I think that there are many more temptations and many more sophisticated ways to cheat."
Despite this, Mitchell still sees the Internet as a strong resource for students.
"For [Advanced Placement United States] history, I encourage students to use whatever they can find," he said, "They're not in place of real learning or reading the text, but why wouldn't you take advantage of those? Why wouldn't you use everything that's available to you to learn this material – in that sense, tech is a positive, because it gives students a lot of tools."
Mitchell weighed in on how students use the Internet.
"In some ways, it's still the student's initiative, they're still out there learning," he said, "They learned the answer to that question.
"Unfortunately, it might have been the same answer to a question I was asking them in an assessment, but they aren't getting all of those questions." he said.
Mitchell noted that for assignments such as International Baccalaureate assessments and National History Day projects, he uses TurnItIn.com, a web-based resource to identify plagiarized material.
"I don't know if that's going to battle with sticks and stones when the other people have Uzis in terms of the availability of cheating versus our ability to try to stem the tide," he said. "But personally, what I want is for people to say is that it does make a difference in who you are and the character you hold to try to do the right thing, because to make compromises is to compromise your integrity, and it also compromises your learning."
Sheppard provided insight on what teachers could do to combat cheating.
"You can do things in your classroom to make it more difficult to cheat," she said, "Different forms of tests, monitor the room, prohibit cell phones out at all during the test, don't allow students to leave to the bathroom with their phones."
Sheppard also explained why students should be doing their own work.
"The way to combat [cheating] is to teach the ethics to students about cheating," she said, "that cheating is ultimately you're cheating yourself. That's the bottom line, you're cheating yourself. There are times when you can take shortcuts in life but by and large in the real world you can't take shortcuts, you gotta know what you're doing, that's part of the learning process and it helps you be more adaptive in your life."
According to the International Baccalaureate: Middle Years Programme Shaker Heights High School District Academic Honesty Policy for the 2015-2016 school year, examples of cheating include, "Copying from another's test, using unauthorized study aids in place of reading an assigned text, allowing another to copy one's work, taking another's information from online — in text or in person — and presenting it as his/her own or using a cheat sheet."
Although all students were to sign this agreement at the beginning of the school year, few adhere to it.
"Shaker doesn't enforce it, so the students don't follow it," Rose, the junior, said.
"I'm sure some do, but I don't think it's a common thing," Duhamel said, "[The policy] is not enforced, so people can get away with it."
"I didn't even know we had [a policy]," said Connell. "I don't remember signing a paper."
According to the honesty policy, students are, "Duty bound to take action to stop any violation of the Honor Policy."
"I think we can't imagine that our Shaker kids are going to be that different from the masses of humans in this box. I'm sure that there's a range of behaviors," Mitchell said.
"We hope that having conversations about the honor code will help dissuade people from choosing what I see as dishonorable," he said, "but ultimately a kid has to live with their own conscience. I think we give due diligence, but I don't doubt that there are still ways to cut corners."
Investigations reporter Elena Weingart and Journalism I reporters Andrew Mohar and Emet Celeste-Cohen contributed reporting.
Comment using your Facebook, Yahoo, AOL or Hotmail account
comments
Leave a Comment