Guidance Department Resumes College Application Fees
High school charges $2 per transcript request
The average U.S. college application fee is $45, plus $2  — for Shaker seniors. 
The Guidance Department collects a $2 "green sheet fee" for every school a senior applies to.
"The fee is an inconvenience and is confusing as to why students are paying out of their own pocket to apply to colleges through the high school when college applications are already incredibly expensive and financially burdensome," senior Josh Mink said. "I applied to 17 colleges because I am looking at film programs and I needed to give myself a lot of options because of the extremely low admissions rates. This was at least an additional $34."
The process of submitting a green sheet is straightforward, according to Denise Johnson, Guidance Department Administrative Assistant. "When students meet with their counselors and figure out the list of schools they want to apply to, then after they have that conversation they come to my office," Johnson said.
"There's green sheets on the counter and on the green sheet they just fill out the schools they're applying to, what the deadlines are, and how they are applying, if it's through Common App, school app, or postage. They also list their teacher recommendations, and on the back they fill out a FERPA release, which allows us to share information with the colleges," Johnson said.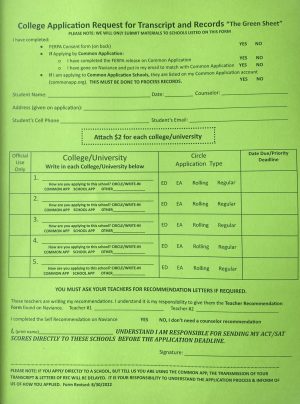 The "green sheet" system is unique to Shaker. "We like it because it gives us a hard copy of where the students are telling us they applied. Sometimes they put something on the computer that we don't know about, and this is what we tell the seniors up front: If you don't turn a green sheet in, as far as we're concerned, you haven't applied there. So for us to send your transcripts, your recommendation letters, and other school forms, we need that green sheet to verify where you're actually applying," David Peterjohn, Guidance Department chairman said. 
Applicants are required to attach $2 per college in the form of cash or check to the sheet. "The money goes back to the Guidance Department, and we use that to either host events for students, and it also pays for postage, mailing and using the Naviance system," Johnson said. "If students are not able to pay for it, then they are not required to, and either the counselors let me know or if any student has a hardship, we try to let everyone know we don't want that to prevent anyone from applying."
According to records in the Naviance system, the class of 2022 comprised  410 students and submitted 2,189 applications, an average of about five applications per student. Not all seniors applied to college, however, and some applied to more than 15 schools, so individual green-sheet costs varied. But, with a $2 fee per application, green-sheet fees totaled $4,378 for the class of 2022.
During the 2020-2021 school year, students were not required to submit a fee, according to Peterjohn. "We did not charge because of COVID protocols. We didn't want a bunch of students coming back here and exposing," he said.
The fee is currently required to be paid in cash or check. "We were not able to set it up on the new PaySchools system with the change in PowerSchool," Johnson said. After Johnson receives the money, she gives it to Accounting Specialist Marian Steenbergh, who then deposits it into the school account.
Senior Anna Welsh, who applied to 19 schools, said that she thinks including the fee in an online system would be more efficient. "Whatever works for the counselors works for me. I do think it would be more convenient to have an online system, though," she said. Welsh paid $38 in "green sheet fees.
Peterjohn said that he is aware of some people believing it would be more convenient for the "Green Sheet Fee" to be included in the yearly online school fees. "We're still learning a lot about PowerSchool, but hopefully maybe in the next year or in future years, that's something with Power School they might be able to coordinate."
Comment using your Facebook, Yahoo, AOL or Hotmail account
comments
Leave a Comment