Deciding How to Go Forward Continues
Board of Education weighs need for new schools in light of community's views
With the Forward Together facilities planning, the district's proposed changes will mean a new or renovated high school.
The plan is to build new school buildings and community facilities or renovate current buildings. According to a slideshow presented to the School Board in a July 12 meeting, the goal is to create buildings that "are modern, safe and inclusive, support academic excellence, are diverse, integrated and welcoming, promote community," and "allow the district to remain fiscally responsible." 
As the original high school is 104 years old, maintenance concerns are mounting in the building, which has undergone several renovations since it was built. While the high school will most likely undergo renovations, a complete rebuild is possible, according to Emmitt R. Jolly, the Shaker Heights Board of Education president. "What may be good for Shaker may not be good for another place. Depending on where you are, and the people in your district, and kind of what people in those places find important, dictates what's best or better," Jolly said. "This plan falls more in line with the personality of Shaker Heights." 
Whether buildings are rebuilt or renovated is also influenced by funding from the Ohio Facilities Construction Commission. "The OFCC strongly recommends that if the amount of renovations costs 80 percent of what a new building would cost to rebuild it if you are going to get support from them," Jolly said.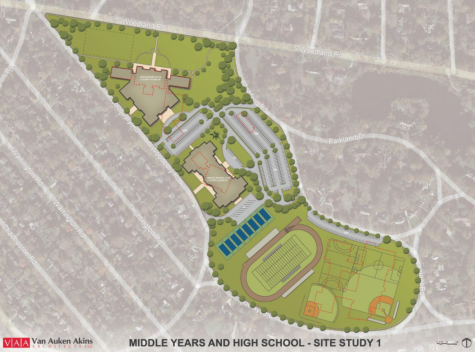 Versions of a plan to rebuild the high school include making the Woodbury area a middle school, and switching the positions of the high school building and the track and fields. 
Shaker is unique for its walkability, architectural style and neighborhoods based around elementary schools. Some community members are concerned that rebuilding the high school would remove some of these aspects of the city. "As a representative of the school district, we have to always consider what the community will support because in the end we represent the community," Jolly said.
Where students would go while the building is undergoing changes varies dramatically depending on if buildings are renovated or rebuilt.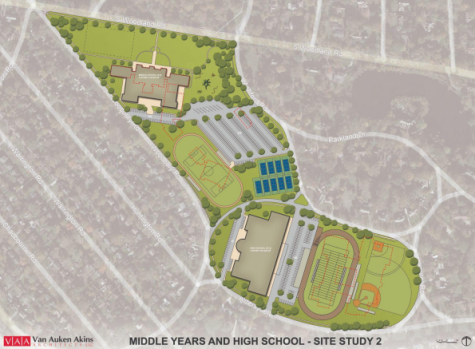 "These are plans that the administration and consultant are reviewing. We have some ideas, but it depends on what model we decide to use," Jolly said. 
Whether the high school is rebuilt or renovated, the interior and the classrooms would look very different. "The administration is prioritizing maintenance and functionality of the buildings," Jolly said. "There's an entire list of things that need to be repaired in each of the buildings, and it's a long list. The reality is they don't build buildings now the way that they used to build buildings 80-100 years ago. Nonetheless, there is still a lot of work and effort to bring the building up to a certain standard."
The expense of this projects is another community concern. The board wants to take advantage of funding from the OFCC, which would reimburse 36 percent of the cost of the project. "We are really deep in the process now of trying to get those numbers finalized," Jolly said, "We're trying to prepare and plan for those unexpected challenges that happen with renovation of buildings this age."
Comment using your Facebook, Yahoo, AOL or Hotmail account
comments
Leave a Comment