Boobvoyage!
An ode to my breast reduction
Editor's Note: This story is a part of The Shakerite: Women's Edition that was published virtually in May 2022. Due to a temporary change in the teacher adviser along with COVID-19 restrictions, The Shakerite decided to proceed with our print edition virtually. This is one of ten stories in the edition.
It's the summer of 2016, and you're enjoying a popsicle poolside. You laugh with the same girls who have been your best friends throughout high school. Carefree, and only worrying about how to devour your sweet treat so your hands don't get sticky. Then, with the simplicity of a single sentence, the childhood of innocence and cannonballs that surrounds you is broken; a parent struts up to you and comments on your bikini body. Her comment is supposed to be light hearted, but being asked "where did you get those boobs?" when you still shop at Justice hits straight to the heart.
How weird is it to comment on a 13-year-old's body? On a scale of A to C cup, I say triple D.
With just those few words, summer fun takes a new air. It becomes defined by the anxiety of showing too much skin, of being perceived negatively. The confidence you once had to prance about a pool is shattered by an over-awareness of judgmental glances and wandering eyes. Your favorite season quickly becomes a tightrope walk, as you navigate how to be comfortable in your own skin while not drawing unwanted attention*. This game continues for six summers, until your best friend takes matters into her own hands. 
The two of you have bonded over your fuller chests since Woodbury. Sharing tips and tricks, woes and worries. Your favorite topic of discussion, however, is the holy grail: a breast reduction. For the two of you it's a sacred ceremony, the answer to all your troubles. Your fantasy is first entertained in eighth grade. By junior year, your bestie breaks the news; she has scheduled her breast reduction. 
You're elated for her, of course, but the jealousy monster creeps down your already aching back. What will you do? Who else will wear a crew neck on a Saturday night? Who else will you complain to that nothing fits? You might even ask her not to, that's how selfish and scared to be alone you are. Obviously, these thoughts take a back seat. You visit her the day of the procedure, assess how she is in the following months, and decide she is the greatest woman alive. How brave! A 17-year-old taking her life by the reins. She made the decision all for herself. For that, I will always admire my dear best friend. 
Six months later, you break the news to your mom.  A simple phone call and consultation is all it takes. Winter break of 2021, you will be free of what some call "God's gift." (Honey! Good thing I kept the receipt!) The process is the most fun you've ever had. Constant excitement, a little fear, and a yuletide countdown playing in your head. The day arrives. You sport a gorgeous set of floral pajamas (a huge hit among the surgical staff), and make your way back to the surgery center. The surgery? Piece of cake! They knock you out, what feels like five minutes pass, and then you go home feeling like a million bucks. You sleep, and wake up feeling like a million bucks. You watch TV, and all the while feeling like a million bucks. The entire time, and I don't know if I can emphasize this enough, you feel. Like. A. Million. Bucks. And other people notice too! You go shopping, try on all the dainty little cute tops you want, and spend hours just smiling. Through Hydrocodone dreams, and Arnica dissolving, all you can think about is how lucky you are. How lucky to have the parents you have, who only want to see you happy. The friends that you have, who bring you dinner and cute shirts. Healthcare that made the surgery affordable- The doctors you have, who never once made you feel uncomfortable. You wonder what kept you from doing this sooner, and remember how you felt in the months BBR (Before Breast Reduction). It was the panic over people still finding you attractive. The thought that some people may only love you when looking a certain way.
In the days after surgery, you feel the most beautiful that you ever have. 
If anyone is considering a breast reduction and doesn't know where to start, it would be my honor and duty to help you out! It can be a weird thing to talk about, but only if you let it be weird. I think I probably worked it into every conversation I had in December. My male cousins would beg me, "Please, Grace, too much information. We don't need to know." But I just kept on talking about it! It's not for everyone. Marinate on the idea, talk to your guardians, and when the time is right, the time will be right. 
BOOBVOYAGE!
Grace
*Let it be known I'm a fan of attention, but this kind just got old fast.
Comment using your Facebook, Yahoo, AOL or Hotmail account
comments
Leave a Comment
About the 'Riter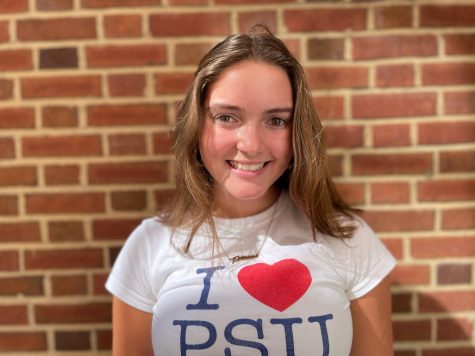 Grace Wilkinson, Print Managing Editor
Grace Wilkinson ('22) has been with The Shakerite her whole high school career. She has been the Satire Editor since her Sophomore year, and it has been one of her favorite parts of school. Grace has her own T-Shirt company, is the vice president of Mock Trial, and founder of a Non-Profit. She enjoys spending time at school.