The Year In Review
2015 has been an eventful year, within the United States and internationally. German Chancellor Angela Merkel was voted Time's Person of the Year. Pope Francis visited the United States. ISIS claimed responsibility for attacks around the globe. The United States soccer team won the Women's World Cup. Nepal experienced a 7.8 magnitude earthquake. Black Lives Matter organized protests against discrimination. Adele emerged from retirement. Ireland, Luxembourg and the United States legalized gay marriage. Blues legend B.B. King died. Royal baby Princess Charlotte was born. As we enter the new year, let us reflect on the thrilling, gut-wrenching, tragic and beautiful moments that touched our hearts and opened our eyes.
A Moment to Reflect on Heartbreaking Headlines
Aujourd'hui, nous sommes tous francais.
"Today, we are all French," the world said to France after Paris fell victim to a series of fatal attacks by the terrorist organization ISIS on Nov. 13, 2015. The message echoed France's empathetic "Today, we are all American" after Al Qaeda's attacked the United States on Sept. 11, 2001.
November's assault left 129 Parisian civilians dead. France was still healing after a Jan. 7 attack on Charlie Hebdo, a satirical magazine. Two masked, armed people raided the publication's offices and killed 12 staff members. Al Qaeda in the Arabian Peninsula claimed responsibility.
With Liberty and Justice For All?
The American Civil Rights Movement did not end in the 1960s.
We like to think our melting pot country, built by immigrants and run by a black president, has left discrimination and segregation behind. The nation's minorities would beg to differ.
Much of the black population has become fiercely outspoken over 21st century racial injustices — black children killed by police, black students threatened in their colleges and universities, and black people generally viewed as inferior.
The movement's message: Black Lives Matter.
Lending a Cup of Sugar to Refugees
Almost 9 million Syrians have fled their war-torn country in search of new beginnings.
Increasingly horrible survival stories continue to surface as refugees find asylum in a slowly welcoming world.
The Land of the Free is still iffy about the situation, but European countries have rapidly decided to close their gates to the incoming flood of refugees. They were criticized after news organizations published greusome images of a small boy who drowned during his family's attempt to reach safety.
Many have slammed their doors — or built a fence, in Hungary's case — to ward off immigrants. Few others opened their minds, hearts, homes and wallets to their global neighbors.
America the Decent-Looking, Constantly Evolving
Keeping Up With the Candidates
The 2016 presidential campaign was off to the races this year. It's a bit early to generalize, but I've created a rough analogy from what I've gathered. Debates are much like awkward family dinners. Here are the members:
Donald Trump: animated uncle whose opinions are larger than his hair
Bernie Sanders: fresh and hip grandpa who reads New York Times articles for bedtime stories
Hillary Clinton: aunt who recommends Trivial Pursuit as a post-dinner boardgame, barely suppressing her eye rolls at incorrect answers
Ben Carson: cousin who quietly chews his green beans before launching into a rather random, possibly true story
Taste the Rainbow
In the game of life, love wins. June 26, 2015 — a great day for the American LGBT community — was no exception to this rule after the Supreme Court deemed bans on gay marriage unconstitutional under the 14th Amendment. Apparently, preventing humans from marrying their loved ones isn't "cool." Huh! Whaddya know.
When to Use Hello, Shakerite's Word of the Year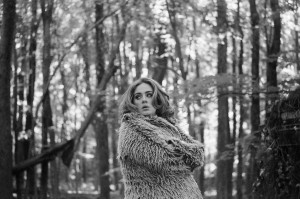 When you call your ride in the hallway
Hello? Can you hear me?  The same five words that Adele asks the world in her first single since retirement, "Hello."  Hardly surprising how quickly the soulful pop ballad launched its way up the charts. No more "rolling in the deep" for the crooning legend — only rolling in cash. "Hello" has been on the top of the iTunes list since it was released.
When a spider resides in your shower
WHOA, uh, hello there! Also the reaction of Snapchat users once they figured out how to access the recently added filters. The selection has covered googly eyes, zombies, rainbow puke and everything in between. Too bad Snapchat had to slap a price on the silly new feature. The sobbing filter was great for dramatic 10 second music videos.
When your food arrives late
Um, hel-lo?! It's about time! Probably how Viola Davis felt when she won the Emmy for Best Actress in a Drama — and was the first African American to do so. Davis accepted the award in the most elegant way possible, thanking the writers who are finally creating powerful dramatic roles for black women. Better late than never, Academy, but still really, really late.
Don't be Late For Your New Year's Resolution
2016 is the year to actually get in shape after telling your friends and family, "New year, new you."
Forget the pesky treadmill and obnoxious elliptical. The high school's recently implemented tardy policy is the workout for you, guaranteed to have you sprinting to every class. Run, Forrest, run away from the tardy line! Motivational mantra: A deep lunge a day keeps the green slips away.
Comment using your Facebook, Yahoo, AOL or Hotmail account
comments
Leave a Comment