Shaker Updates its District Tech Plan
Although five-year plan promises changes, students recognize few improvements in classroom technology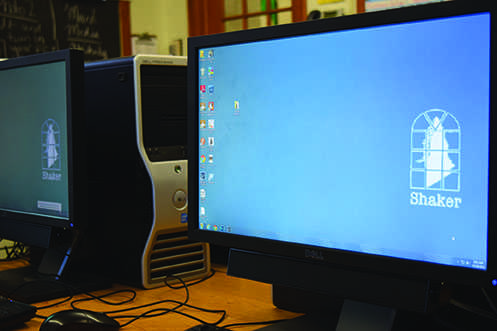 The group of citizens and staff gathered in the upper cafeteria. It was March 25 and their job was halfway done.
The committee of 22 began by discussing their "Technology Vision," one of the most important aspects of the Five Year Technology Plan: "The Shaker Heights City School District will be recognized as a leader in the integration of technology in transforming the teaching-learning process in order to improve student achievement."
Director of Technology and Media Services John Rizzo introduced the plan as "rooted in this simple yet vital goal — to implement technology in a way that helps and does not hinder, that solves rather than creates problems."
The plan details six proposals: to refresh the technology infrastructure (networking and data-management), to create a more comprehensive information and technology department, to efficiently spend and raise money for new technology, to implement fresh and abandon outdated technology, to help teachers apply technology in their classrooms and to provide a learning management system to assist teachers with integration.
The committee hopes to finish some network renovations by the end of this school year and to fully assess technology at Shaker by the end of next.
"We are showing progress, but we still need to do much more," said Superintendent Gregory Hutchings Jr. "Technology changes very rapidly. That's why we have a Five Year Technology Plan to address our needs going forward."
Latin teacher Mary Coffey agreed. "We're moving in the right direction," she said. She was part of the committee that created the plan and is glad that the district is talking about technology.
Coffey believes that upgrading technology is an important step "that many schools have already taken." The integration "will be very easy for some and require a bit more work for others," Coffey said.
She uses technology regularly in her classroom and oversees all of the district's Moodle pages.
Coffey's classroom will also participate in testing of Google Apps for Education. This program will provide students with a school email address that will connect them to Google Classroom, a virtual classroom where teachers can distribute assignments, send feedback and see everything in one place. The district originally hoped to incorporate it by October, but due to setbacks, test use will start in January.
"Technology evolves quickly. In order to ensure our technology is reliable and able to meet current demand, we need to update our technology accordingly," Rizzo said.
"With technology, there is a constant need for improvement, and once something is improved, it isn't very long before it is considered 'old' and a new version is available," he said.
According to the Comprehensive Annual Financial Report, there are "more than 26 servers and approximately 2,000 workstations [computers] in 12 buildings, running over a fiber network," across the district buildings. There are approximately 1,000 laptops in the district.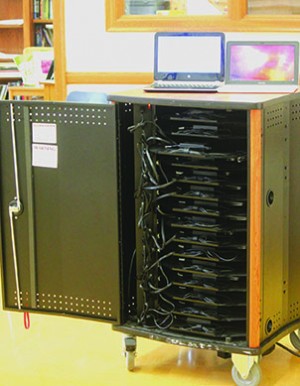 "Technology is a way of life. It is the only way all of our students can maximize their potential," Hutchings said. "Our five year plan gives us a thoughtful and strategic way to make that a reality."
"Shaker provides computer resources, in the form of desktop or laptop, that are comparable with other schools," Rizzo said .
"Looking at Shaker, and specifically the high school, improvement is needed and is planned in the five year plan," Rizzo said. "A financial outlay is necessary in order to continue moving forward with the improvement already underway."
Sophomore Allison Nurse thinks the technology "improved a lot since last year." However, she feels "it could be better."
"Our newest computers and laptops, as well as the recently upgraded computers have specifications that meet or exceed those of most computers used in an educational environment," Rizzo said.
"Performance standards can be subjective and vary based on the intended use of the computer," Rizzo continued.
"
Technology evolves quickly. In order to ensure our technology is reliable and able to meet current demand, we need to update our technology accordingly.
— John Rizzo
"In general, boot/login speed as well as Internet browsing speed tend to be the performance standards that impact the majority of users," Rizzo said.
"Many factors can impact the performance of a computer on a given day, such as the applications being used, the sites being accessed, the amount of network traffic competing for bandwidth, etc."
"The [computers] could be more advanced," said sophomore Autumn Hamilton.
"Usually when I'm using the computers they crash or something goes wrong," said freshman Lauren Hertzer, describing a problem that is common among tech users throughout the district.
Computers take a long time to load, and often they lag or glitch. Sometimes apps quit, deleting entire projects.
"The computers are a little outdated. Wi-Fi is a little slow," junior Elise LaFramboise said.
Even with the comprehensive five-year plan, students say they aren't seeing enough change.
Freshman Aidan Baker said that since he came to Shaker, the technology hasn't really improved at all.
He said the technology "overall is bad in Wi-Fi, computers, smart boards, etc."
"New laptops," Baker said, "would be one way to combat the problem."
"We need something new. Nothing is ever new" he said.
This lack of change referenced by most students may just show a lack of observation. The school district did change some things over the summer.
"Most recently, several computer labs at the high school were replaced with new equipment," said Rizzo.
"In addition, all computers that were not replaced were reloaded with a fresh Windows 7 image and had memory [Random access memory] upgraded to 4GB."
RAM stores information for apps and programs that the user is using.
The more RAM there is, the more apps and programs a computer can load at once without using the hard drive — a much slower system.
Junior Nina Moore said she has noticed a change in district technology since kindergarten but that she didn't notice any changes since returning to school this year.
There is no major revamp of the technology scheduled in the five-year plan.
Shaker spent approximately $1.2 million on technology last year. Half of it went to capital outlay and another two-thirds of that went to services.
Exactly $210,050.95 was spent on "Materials and Supplies" such as computers, cables and monitors in the fiscal year of 2014-15, which began July 1.
According to Sue Starret, director of the Shaker Schools Foundation, the foundation supports "tech purchases that are the 'extras' or items not in the district's budget."
Currently, that money is going to "a laser cutter and new [planetarium] star machine for the high school, a new sound system for the Woodbury auditorium, digital cameras for Fernway" and more.
Freshman Matt Burnard said, "If I were in charge of that money, I would spend more each year for some nicer stuff."
"Even having keyboards that work," said senior Hoklai Chapman-Sung, "would make all the difference."
Comment using your Facebook, Yahoo, AOL or Hotmail account
comments
Leave a Comment