iPhone 6S: Success?
With Apple's best and brightest phones hitting stores Sept. 25, details are revealed and excitement grows
All is right in the world for Shaker students, because the sleekest, fastest iPhone yet was revealed Sept. 9. It's called the iPhone 6S, and according to Apple, "the only thing that's changed is everything." However, Apple's descriptions of the 6S features only seem to embellish those of its predecessor–the iPhone 6.
As Apple CEO Tim Cook said, "It looks very familiar, but we've changed everything." Although the new phone may appear the same size as the last, it's marginally heavier. As the rumors stated, the iPhone 6s is available in a new rose gold color that appears pink or copper-like gold–depending on the lighting–as well as space gray, silver and gold. Besides that, there aren't any major changes in design.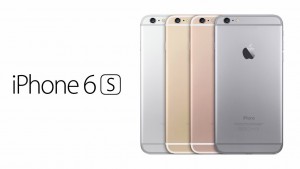 Freshman Charlie Gustafson finds the new color pointless . "I don't really care about the color of my phone," he said.
Other students, like freshman Kanella Basilion, disagree with Gustafson, stating that "[the new color] does seem intriguing because it's a new color and it's always cool to have something new like that."
Freshman Audrey Himes thinks the new color is targeted towards Apple's female consumers. "I think that definitely the old colors, like the black, appealed more to the males," Himes said. "So now they're just probably trying to target the girl."
Rumors that the new phone would feature a bigger screen are false, and Shaker students said that they wouldn't want a bigger screen anyways.
"I think it should just stay the same size as it is with the 6," junior Andrew Pyles said. However, when Pyles saw the 6S's features, he was genuinely impressed. "Is this for real? Are you serious?" he asked.
Senior Lauren Waller agrees with Pyles' opinion on size. "My 6 is kind of big already," she said.
Apart from size and color, the 6s's headlining feature is the 3D Touch. Prior to the keynote address, the idea of 3D Touch was speculated under the name Force Touch.
With 3D Touch, the phone's screen can detect different levels of force. This means that on the home screen and in Apple's pre installed apps, you can peek into messages and information quickly with a slightly harder push on the screen, or pop into the information to see it fully through an ultrahard push. It won't entirely change how you use your phone, rather, it will be more of a gimmick to use every once in awhile.
"
It's basically just like the 6 except with a new color. I personally don't think it's necessary."
— Audrey Himes
The actually useful part of 3D Touch is its usefulness in and outside of apps, like Instagram and Dropbox. In the keynote, Apple showed how to scroll through an activity feed and profile on the 6S using 3D Touch.
The iPhone 6S will feature an A9 processor, which means that apps and information will load much faster. In addition, the attached camera is now 12 MP–allowing it to take professional-quality pictures–and shoot high-resolution, 4K videos.
"I think the camera is a really good upgrade because the camera is already good," said sophomore Amyah Anderson, who frequently uses her iPhone to take pictures.
There is also a new Live Photos feature in the camera, which takes a video 1 ½ seconds before and after the snapped photo. That way, when you press harder on the picture, it will "come to life."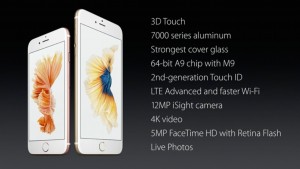 As for the front-facing camera–commonly used for teens' selfie craze–it now has a 5 MP resolution, a step up from the iPhone 6's 1.2 MP.
"I love to take pictures on my phone, so a better camera would be very beneficial for me and my selfies," Basilion said.
Except for these added and updated features, the iPhone 6S is very similar to its predecessor. One can buy the phone either as a regular 6S or with a bigger screen–the 6S Plus. Pricing is largely the same, but the older iPhone 6 will be available for $100 less, without a gold color option.
Himes thinks that the 6S is not an advanced enough upgrade. "I personally don't think it's necessary." she said. "It's basically just like the 6 except with a new color."
Along with the 6S, Apple is offering the option of an iPhone Upgrade Program, allowing customers to pay $32 a month to "lease" an iPhone 6S or 6S Plus. This comes with Apple Care+ protection, choice of wireless carrier and a guaranteed new phone every year.
For looking beyond the 6S, freshman Sophie Olsen sees a bleak future for the iPhone 7. "I mean, I don't know what else someone could do to a phone," she said.
Surprisingly, though, the iPhone 6S is gaining popularity. The preorders on Apple's website are up to par with last year's fall release of the 6 and 6 Plus. The iPhone 6S will arrive in stores Sept. 25.
Be sure to check for a review of the new iPhones soon on shakerite.com.
Journalism I Reporters Astrid Braun and Emilie Evans contributed reporting to this story.
Comment using your Facebook, Yahoo, AOL or Hotmail account
comments
Leave a Comment