Gift Cards Spoil the Holiday Spirit
Plastic cash allows more people to avoid buying unique presents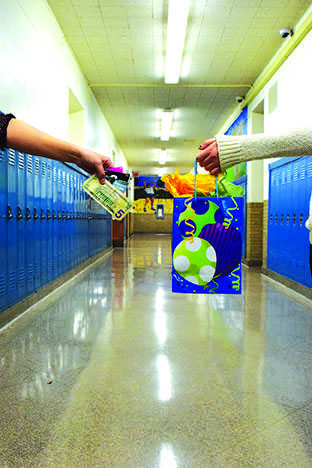 What to buy for Mom? You could find something that she likes, but it would be much easier to buy her a gift card or give her some cash.
As the gift-giving season approaches, we begin to concern ourselves with the various factors that go into buying gifts for others. As the years progress, people have come to rely on simple things like gift cards or money as an alternative to a more meaningful present.
"Probably up until the age of 10, my grandmother would thoughtfully pick out something, and then when I turned 11, she just gave me a hundred bucks and said 'Go to it,'" social studies teacher Kyle Fleming said. "It kind of takes the meaning out of the season. The meaning is supposed to be connecting with other people."
Since their creation in 1994, gift cards have become increasingly popular as an accessible go-to gift. The National Retail Federation's Gift Card Spending Survey estimates that more than $25.9 billion will be spent on gift cards in just 2015. As gift cards become more commonplace, people have become accustomed to their impersonal aspect, creating lower expectations of gift-givers.
English teacher Halle Bauer considers the rise of gift cards a double-edged sword. "I think that gift cards have really both expanded and contracted the possibilities of giving. They expand the ability for a person to make use of gifts, but they also take away that connection that is required when you're giving a meaningful gift," she said.
Gift cards spare buyers the effort required to determine what a recipient needs or wants, and they also spare the recipient the moral dilemma of how to handle an unwanted gift. How does one deal with those ugly orange mittens from Aunt Julia that "cost a fortune?"
"If I get a gift that I don't like, I'll say that I love it and then secretly exchange it for something else," freshman Lia Gomez-Perez said. "But if you're really close with the person, you should keep it."
Freshman Kevin LaMonica has no problems when it comes to gifts that he isn't fond of. "When I get a gift I don't like, I say thank you and then, if it's a family member, I can always return it without their knowledge," he said. "If it's a friend, I say thank you, wait till I get home, and usually just throw it away."
What about that gift for cousin Steve? Perhaps it's best to give him something easy, quick, and fail-safe: money.
However, LaMonica thinks that money is not a very heartfelt gift. "It's just not genuine, it's not coming from the heart," he said. "Anyone can pull $20 out of their wallet, anyone can go out and pay $25 for a gift card. You're not putting any thought into it."
However, some don't mind receiving cash. Junior Veronica Nickoson prefers gift cards and money. "It's the easiest thing," she said. "You don't have to buy me anything. I'll just buy it myself."
So, how do you know that the next personal gift you give won't be thrown out or returned in secret? Money isn't scorned, but in a society where giving cash has become the norm, gifts from the heart are special, and they will be remembered.
"I got a fishing pole the year my father died," said Fleming. "It was from him, and I think he knew he was dying. He bought me a really nice fishing pole the last year so that he would have something for me to remember him by."
Bauer said her best friend from high school forgot several of her birthdays. "Then one birthday, we were in college, and it just arrived at my doorstep. It was a box of hiking gear," she said. "We had always hiked together — that was like our central activity of our friendship — and that was very nice."
Fleming said that the best way to measure a gift's value is the time you invested in it. "It's not the money that you spend on someone, it's how the gift makes the person feel, or maybe it's a special bond between you and the person."
Nevertheless, as gift card sales illustrate, gift-giving seems to have a formality, or something someone has to do. Gifts previously wrapped with love have been replaced by plastic, temporary credit cards promising the recipient that they should buy their own happiness.
"Gift-giving seems like it used to be more focused on choosing a specific present to give to someone else, but with the rise of gift cards, it's much less risky to let the recipient pick out exactly what they want," Shaker parent Nicole Pollak said. "While this makes it less personal on the giving end, it makes it more likely for the recipient to really enjoy whatever they choose to buy."
Comment using your Facebook, Yahoo, AOL or Hotmail account
comments
Leave a Comment