Turn Up the Lights in Here Baby
Extra bright, I want y'all to see this history we made
HEAR YE, HEAR YE. All eyes down here. By the time this article is posted, there will only be two ways we measure time. BL* and AL**. Right now, at 3:36 p.m. Sept. 20, Shaker Heights High school has never played a single sport at home beneath lights. Come 7:31 p.m., that will be a statement of the past. 
On Sept. 19, the Field hockey team took on the Blazers of Hathaway Brown in the first ever artificially lit sporting event in Shaker Heights High School history. The high school has been petitioning to have lights installed on the turf for years. This fall, they were granted five very special contraptions to illuminate the student athletes that hustle about the field. The lights are temporary guests, but, if everything goes well, perhaps their stay will become permanent. 
Alas, let us not dawdle on details of the future, for we only have the present and past. The team arrived at the field by 6:30. Not only was this the first game under the lights, but it was also the senior game. Seniors crossed the field with their guardians at 7:15, while a short narration of their Shaker Field Hockey experience was read. According to the iPhone weather app, the sun was to set at 7:26, just in time for the faithful five to power on and work their magic. 
At the beginning of the game, a security guard pondered aloud why it would be the field hockey team who get to play the first ever game beneath lights. Oh, dear sir, allow me to tell you!
This team plays with ferocious talent, speed and skill. Seniors Rachel Coxon, Maddie Buddenbaum, Maddie Lenahan, Caroline Lamb, Kathryn Fenton and Maddie Durham led the team to a 4-0 victory. Rachel Coxon, recently named one of "the area's top field hockey players to watch in 2021," did not let us forget why she was given this honor in her game last night. Not a single soul could get past her brick wall defense. And can we please shine some light on Skylar Sokal? In middle school Field Hockey, I would demand for her to be hoisted on everyone's shoulders. Honey, if I could do it again, I would. While on the subject of who deserves to be hoisted on shoulders, it is only fair to bring Charlotte "Breakaway" Glasper into the conversation. She does not need any assistance, but rather says "Pardon me! I have work to do here!" And ushers herself to goal.
"
This team plays with ferocious talent, speed and skill. Seniors Rachel Coxon, Maddie Buddenbaum, Maddie Lenahan, Caroline Lamb, Kathryn Fenton and Maddie Durham led the team to a 4-0 victory.
If the stars align for Glasper, they make the big dipper for Javiera Baeza. This junior was also named one of the players to watch in 2021. Typically by her side is senior Maddie Lenahan, a girl whose love for the sport shines in her ferocious defensive skills. Maddie's reverse hit could make a grown man cry. Maddie Buddenbaum, despite a back injury, plays as though she was born to steal the ball from an opponent. Another player to watch this season is Caroline Lamb, who can typically be seen crossing the field with lightning speed. Caroline cannot be missed, as she will sometimes run with one hand on the stick and the other in the air as though she has a cane and is wearing a top hat. Senior Kathryn Fenton held down Shaker's defense all four quarters. Rounding out the senior leaders was Maddie Durham in goal, who clearly understood what had to be done. She did not let a single goal in last night. 
So, for anyone wondering how the game went last night, it was magical. The student section did not disappoint and neither did our team. The next time we will see the lights work their magic will be Friday Sept. 24, for the football game against Garfield Heights. I will be donning a southern accent and legally changing my name to Connie Britton, as we prepare for the first ever official Friday Night Lights game. 
*=Before lights
**= After lights
Comment using your Facebook, Yahoo, AOL or Hotmail account
comments
Leave a Comment
About the 'Riter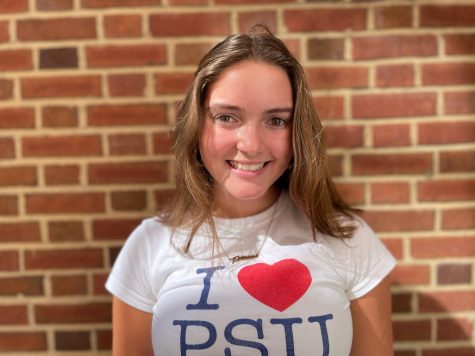 Grace Wilkinson, Print Managing Editor
Grace Wilkinson ('22) has been with The Shakerite her whole high school career. She has been the Satire Editor since her Sophomore year, and it has been one of her favorite parts of school. Grace has her own T-Shirt company, is the vice president of Mock Trial, and founder of a Non-Profit. She enjoys spending time at school.