Will Shaker Ever Let There Be Light?
Friday night in the United States means one thing: high school football.
Almost every American high school experience features football-filled Friday nights. Plenty of movies, TV shows and books have documented American schools' Friday night lights.
However, Shaker Heights High School is not one of those schools.
Instead, Shaker residents find an empty Russell H. Rupp Stadium on Friday nights. No fans. No spirited student section. No band. No football. Because the field lacks lights, Shaker hosts Saturday afternoon games instead, which usually feature mediocre attendance and usually no student section.
Junior wide receiver Clay Brady thinks the games would attract more fans if Shaker invested in lights.
"I am almost positive that the turnout would be larger if we had Friday night games," said Brady. "Some of my football teammates even go to other local schools' Friday night games because they're so entertaining."
Senior running back Casmier Mitchell agreed that more students would attend Friday night games under the lights.
"I think it'd be packed if we had Friday night games at Shaker," said Mitchell. "I don't think it would affect our play because if you're a good team, you execute no matter the conditions, but we would be pumped about more fans cheering us on."
Football players aren't the only students who feel like they're missing out. Other Raider athletes agree that not having home games at night can be deflating.
"We play at night for away games, and it feels a lot more professional," said senior soccer and lacrosse player Maeve Cook. "This feeling really gets the team pumped up and ready to play."
Senior lacrosse player Colin Kempton agreed that day games feel less intense than night games.
"Not having lights makes our games look less like high school games and more like middle school games," said Kempton. "Lights would give games a much better dynamic, whereas now it just feels like we're just stopping by before we get home from school."
In addition, without lights, the home field advantage shrinks.
"It's embarrassing to have to go into running time during a game because it is getting too dark to continue regular play," Kempton said.
Officials allow the game clock to run continuously when darkness nears. Running time has been instituted during lacrosse games in recent years.
The threat of darkness loomed during the men's soccer district semi-final home game against Mentor Oct. 22. Shaker prevailed 1-0 two minutes into the second overtime, just as Athletic Director Don Readance was considering postponing the contest because of darkness.
"Once the game starts, it's in the hands of the game officials. They would make the ultimate call as to whether or not we can't continue playing because there's not enough light," said Readance. "Right before we scored, I was about to walk over to their athletic director and make plans in case we couldn't finish the game."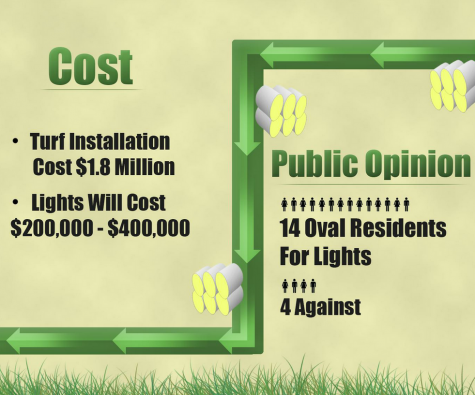 Brady, who is also a varsity lacrosse player, believes that lights would affect Shaker athletes' on-field performance. He recently committed to play lacrosse for Division 1 Fairfield.
"Although I do love playing at home, it's just a different atmosphere playing under the lights, which every athlete I've ever been on a team with appreciates," said Brady. "I think that bigger crowds would get the team more pumped up, which will lead to better on-field play and more wins."
It is not only Raider athletes who think installing lights would be a good idea. Junior band field commander Max Markey agreed that the Saturday afternoon games leave something to be desired.
"Friday night football games are one of the hallmark experiences of high school," Markey said. "Friday night away games are a much better experience; there's an energy that's just hard to describe."
Band member Kylie Boyle, a junior, thinks the away night games are much more fun than Saturday home games.
"Although away games can be more time consuming, they're still my favorite games to go to because I think they're more fun at night under the lights," she said. "I mean Friday night football games are the epitome of the American high school experience."
Junior Raiderette Margi Weiss said that audience size is important.
"As a Raiderette, nothing is more fun than performing in front of a full, excited crowd," she said, "but we only get that experience at away games, where the crowd is for the other team."
Student sections at other high school's night games are substantial, numbering in the hundreds.
Shaker's basketball and hockey teams play most of their games at night and see large audiences. Last year's Feb. 2 basketball game against St. Edward High School was sold out days in advance.
"The student sections at hockey and basketball games are always so lively and energetic whereas at football games, if there even is one, it's small and not very energetic," Weiss said.
"People get really into spirit days for hockey and basketball, but not nearly as much as football," said Weiss. "You can clearly see a difference between prep day for the hockey team's game against University School and the US football game."
"Friday night football football games would definitely be able to get the amount of hype that hockey and basketball get, if not more," Weiss said.
Superintendent Gregory C. Hutchings, Jr., on the other hand, does not think the field's lack of lights affects the game-day experience.
"I believe that Shaker offers many opportunities for students to be involved in extracurricular activities and/or sports," said Hutchings. "I don't believe that having a lack of lights at the stadium has a negative impact on our football program or Shaker experience since we've never had lights."
Markey, however, argues that day games dampen Shaker's school spirit.
"The lack of lights at Shaker definitely contributes to our lack of school spirit and unity," said Markey. "I think lights would open the door for other programs and activities that would contribute to school-wide unification."
So, why no lights at Rupp Stadium?
In the past the district has stated that the field does not have lights because it is in a residential area and that a majority of oval residents would not support putting in lights.
The Shakerite surveyed 18 oval residents, and found that 14 residents supported lights or were indifferent. Only four residents opposed the idea.
If the majority of oval residents don't oppose putting in lights, then cost may be one of the deterring factors.
According to Readance, the field already has the electrical groundwork to support lights.
"When they put the turf in a few years ago, the electricians put the wiring for lights in for whenever the time would come when lights could be installed," he said. "All the costs are done for the lighting. We would just need to buy the light poles if we were to put lights in."
According to the Sports Turf Management Association, the average cost of installing lights would be around $200,000 for the typical high school football field. But the cost of lighting Shaker's stadium would most likely be less because the stadium already has the electrical groundwork in place.
Readance believes there are logistical problems with the idea of Friday night games and thinks that the district has no plans to install lights anytime soon.
"I am kind of on the fence with it," he said. "I like some things about it, and others would present some logistical issues, like parking and the fact that we are in a residential neighborhood," Readance said. "I know the district is not thinking about or pushing for it."
The difficulty of figuring out football game parking may be lost on students, however.
"Whatever the reason is for why we don't have lights, it needs to be compensated for," Brady said. "Friday night football games are a part of American culture. Lights would only increase school spirit, which as a school we already lack."
Comment using your Facebook, Yahoo, AOL or Hotmail account
comments
Leave a Comment