Raider Review, Feb. 16 – Feb. 22
Varsity Men's Basketball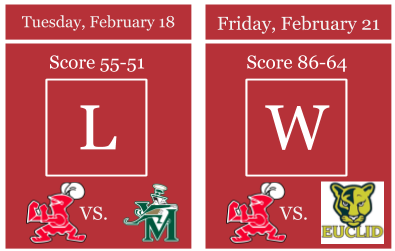 The varsity men's basketball team split the two games they played against St. Vincent-St. Mary and Euclid last week. On Tuesday, Shaker lost to  St. Vincent St. Mary 55-51 on the road, but bounced back with a decisive 86-64 victory over Euclid on Friday. The Raiders finished the regular season with a record of 17-5.
JV Men's Basketball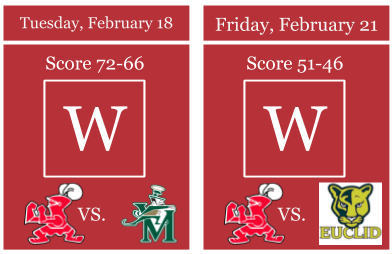 The JV men's basketball team was undefeated last week, picking up wins over St. Vincent-St. Mary and Euclid. On Tuesday, they beat St. Vincent-St. Mary 72-66 on the road, then got the victory versus Euclid on Friday, closing out their season on a winning streak. 
Swimming
Senior Maggie Perry, senior Natalia Miklos, sophomore Olivia Kuhel and freshman Kyla Miklos represented Shaker in the OHSAA State Championships on Friday. They finished 18th in the state in the women's 200 free relay. 
Varsity Hockey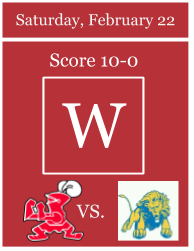 The varsity hockey team began the OHSAA Tournament with a ten goal shutout win over NDCL. The Raiders advanced to the second round, where they will face Walsh Jesuit on Tuesday. Shaker has lost two of the three games they have played against Walsh so far this year. If Shaker were to beat Walsh, they would face either #2 seed Mentor or #11 seed Aurora on Saturday.
Indoor Track
The Shaker indoor track team took part in the NEOITC All Star Scholastic Meet at Spire Institute. On the women's side, junior Avery Blaszak finished 5th in the 1600 meters, while on the men's side, senior Lukas Zarders finished first in the long jump, senior Javion Harrison won the high jump, and senior Ian Suber won the 200 meter dash. The women's 200 relay of senior Adaeze Okoye, junior Hilary Shakelton, freshman Kyla Taress and freshman Claire Dunn took first place. Senior Ian Suber, senior Lukas Zarders, junior Gabe Tolbert and junior Tivaughn Robinson also won the 200 relay. Both relay teams lead the state with the times they ran.
Wrestling
On Friday, the wrestling team faced off with Cleveland Heights in the final dual match of the season on senior night. Senior Najee Lockett, senior Eli Meinhard and junior Tre Brady each won their match, but Shaker lost to Cleveland Heights. They are now preparing for districts.
Comment using your Facebook, Yahoo, AOL or Hotmail account
comments
Leave a Comment