Hope in the Twitterverse
McKeon: Humans of Shaker ends the pattern of negative, anonymous social media accounts, increases students' empathy
Back in November, I wrote a column about "Shaker's Top Ten," an anonymous Twitter account that published top 10 lists ranking the "cutest" girls and boys by name. Frustrated and restless, I wrote the column between midnight and 2 a.m., the perfect time for writing: no distractions, no filter, just words.
Reading it two months later, that lack of filter is evident. In fact, after the column was published (and the Twitter account was subsequently taken down), we received an anonymous letter to the editor from the purported account creator, or one of them. He/she politely suggested I "take a chill pill."
Since then, I've taken said chill pill, and I've thought about the account. I think it wasn't that particular account that set me off, but the pattern; to Shaker students, these pointless, toxic accounts — The Dash, Shaker Confessions, Shaker's Top Ten — had become normal. That normalcy was unsettling.
But there's hope yet for the Twitterverse.
It's called "Humans of Shaker," based on the photoblog "Humans of New York." For the past three weeks, Amanda Ahrens' second period Human Rights and Conflict class has managed the Instagram account, publishing to its 197 followers daily. I'm both supremely proud and bitterly jealous of their ability to amass those followers in three weeks, considering it's taken me more than two years to reach 192. Ugh. But I digress.
According to its bio, Humans of Shaker sets out to explore Shaker Heights High School "one story at a time."
My favorite is history teacher Kyle Fleming's, photo above.
"Do you like teaching African American history?"
"Yes, I was nervous at first because I am white, but I don't think the kids care, I don't know if that is just because it is Shaker or what. They don't seem to have issues, I'm pretty open and upfront about it."
"Are there any white kids in the class?"
"Just one. In the future, if I continue teaching this class, I would like to see that change. We are all on the same side, sometimes it seems like it is us and them, but that is just how life is."
When they're not yelling at kids to get off their lawn, people who knock this generation see social media as the end of all human interaction, the death of personal connection. They couldn't be more wrong. "The human mind evolutionarily can only recognize 150 individuals," junior Walker Edwards said, referring to Dunbar's number, an approximation of how many "meaningful" relationships a person can have at once.
"So beyond that, the rest of the crowd is hard to empathize with. With social media we have an unprecedented opportunity to share our experiences with other people . . . If you know this person's quote or story, you can empathize with them more," Edwards said.
And it's empathy tailor-made for 2014. Between a photo and a caption, "It takes maybe 20 seconds to learn something new about somebody," said senior Emily Maury, one of the account's main supervisors.
Senior Izzi Nejedlik, the other supervisor, said that empathy can combat apathy; she thinks students who see a peer's story on Instagram are more likely to befriend the student or stand up for him or her against bullying.
For something that powerful, the formula is pretty simple. "It really doesn't take that much time to have a conversation with someone, take a picture and post it on here," Edwards said. "So there's a huge opportunity for longevity in this project."
Nejedlik hopes to realize that opportunity. She said the account will continue into the second semester, and it will be passed on to future Human Rights and Conflict students. They've also discussed starting a club.
Humans of Shaker isn't the first positive Shaker social media account, though. January 6 was the one-year anniversary of the ever-refreshing Shaker Heights HS Compliments, an anonymous Facebook page that publishes anonymous compliments about Shaker students. The account has more than 1,100 friends and still publishes compliments. In the Twitterverse, it seems the positive outlive the negative.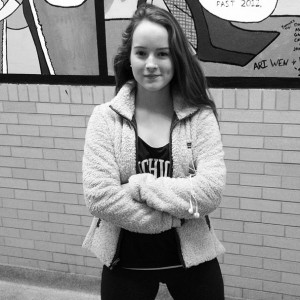 Another Human of Shaker, junior Kathleen Wilkinson, in a black-and-white photo with her arms folded, said, "I wish we all could take time out of day and just be present and talk and connect with each other. It's amazing what we could do if we weren't always worried about how we were perceived via social media. We got to enjoy this life while we're here."
Her quote is telling. Today, we perceive people just as much (if not more) from their social media presence as we do conversation. Your in-person self matters less and less every day. You won't talk to 192 people in person today, but they can read your tweets.
This social megaphone empowers accounts like Shaker's Top Ten, The Dash and Shaker Confessions. In the past, the rumor mill worked slowly; person to person, harm spread gradually. Today, the rumor mill has been expedited, and in one click, the entire student body can be addressed. And anyone can say anything they want anonymously.
However, that same power makes Humans of Shaker potent. Positive social media accounts can use the same megaphone as the dark side; if students follow it, positive accounts have just as much power to spread hope as negative accounts do to spread hate. Humans of Shaker's daily dose of empathy provides an antidote to the harm from other accounts.
There's hope for the Twitterverse, but we all must contribute to make positivity the new normal.
Comment using your Facebook, Yahoo, AOL or Hotmail account
comments
View Comments(1)