'Rite Idea: Auch for Education
The Editorial Board of The Shakerite endorses Dr. Ted Auch for Shaker Heights City Schools Board of Education.
Auch, the Great Lakes Program Coordinator and Photographer for The FracTracker Alliance, will bring a unique perspective to the schools through his background in science and commitment to equity and inclusion. 
He proposed reopening the Woodbury Science Lab, adding solar panels to reduce the reliance on fossil fuels and changing the cleaning chemicals that students and staff are exposed to. He added that Shaker needs to change the agreement with AVI Food Systems so they provide healthier ingredients for breakfasts and lunches. All of these items would help Shaker become more sustainable.
He demonstrated a passion for embracing "The Shaker Way" by making sure each student feels safe and is encouraged to thrive in the schools. His experience on four different boards — the Board of Buckeye Environmental Network, the National Association for the Advancement of Colored People Ohio Environmental Justice Advisory Board, the Shaker Heights Ohio Tree Advisory Board and the Ohio Oil and Gas Health Registry Scientific/Data Advisory Board — equips him to follow through with his ideas.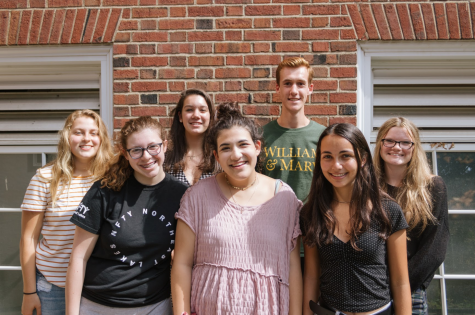 Auch's background illustrates a devotion to learning and finding solutions to problems. This dedication will be valuable during his proposed small meetings between the board and student groups such as Sankofa, the Gender-Sexuality Alliance and the youth council for the National Association for the Advancement of Colored People. Auch also cited Editor in Chief Mae Nagusky's article "Transgender Students Feel Locked Out" as an opportunity to increase inclusion in the disrict.
Auch also believes in increasing funding for the Minority Achievement Program by diverting percentage increases devoted to departments such as the International Baccalaureate Programme's Middle Years Programme, the Board of Education and the superintendent's office. This approach would expand the district's commitment to equity. Auch also advocates hiring Equius Group founder Erica Merritt full time. The district recently hired Merritt to help implement equity and inclusion plans. She works at the administration one day a week. 
One of Auch's primary goals is to implement universal preschool, and for the board to communicate transparently with taxpayers about what grant money and funds from a proposed levy for universal preschool would do. His goal of increased transparency does not just apply to taxes, but to everything the board does.
Auch's ideas about transparency and commitment to making sure our schools remain exceptional will make him a valuable member of the Board of Education. 
The Editorial Board understands that there are two seats available for this election. However, after eight meetings, the board could not reach a majority vote to endorse a second candidate. 
The election for Shaker Heights City Schools District Board of Education and Shaker Heights City Council, both contested at-large races, will be held Nov. 5. The Shakerite encourages all eligible voters to go to the polls.
Before writing this endorsement, the seven members of The Editorial Board researched and interviewed each candidate. The board met 13 times; once for each interview, once for a follow-up interview, and eight times after interviews were completed. The board is led by Chairwoman Ainsley Snyder and comprises of Print Managing Editor Ethan Bloch, Copy Chief Quinn Cutri, Campus and City Editor Danielle Krantz, Raider Zone Editor Ezra Marks, Editor-in-Chief Mae Nagusky and Opinion Editor Olivia Warren.
Comment using your Facebook, Yahoo, AOL or Hotmail account
comments
Leave a Comment