Transgender Students Feel Locked Out
They bear the uneasy burden of choosing among Shaker's limited restroom options
February 1, 2019
When you are little, your parents often demand that you use the restroom. When you're a 3-year-old kid, your mom never lets you out of the house until you at least try to use the restroom. Your parents demand that you use the restroom before getting on a flight, going to bed or leaving the house. When you take a road trip, they insist you go at every rest stop.
They say, "Always go to the bathroom when you have the chance." But for transgender and gender-nonconforming high school students, the reality is often the opposite: They go only when they absolutely have to.
All those years of parental training, only to arrive at the high school and avoid going at all if possible.
Senior transgender student Connor Covert said he was laughed at when he went into the women's restroom freshman year. He started using the men's restroom this year — and it's still not ideal. "I still get a little anxious about it, just because there are still some people at the school who are not nice people," he said.
Covert said that although the men's restroom is more comfortable for him, he still feels uneasy. "For, like, the past three years, I rarely use the bathroom in school unless I have to," he said.
According to GLSEN, an advocacy group that works to ensure every student is valued and respected — regardless of sexual orientation, gender identity or expression — nearly two thirds of transgender students avoid using school bathrooms to avoid verbal or physical harassment.
In recent years, the definition of gender has expanded beyond male and female, or masculine and feminine, to include identities such as transgender, cisgender and gender-nonconforming. Gender refers to both identity and expression, which is the way someone demonstrates identity, typically through clothing, hair styles or behavior, such as body language.
Sex refers to the biological difference between males and females, such as genitalia and genetic differences. A cisgender person's gender identity is the same as their birth sex. For example, a baby born biologically male later identifies as male. A transgender person's identity does not correspond with their birth sex; a baby born biologically male later identifies as female, for example.
A gender-nonconforming person's behavior or appearance does not align with prevailing cultural and social expectations. For example, a girl who identifies as female may wear clothing considered masculine or may wear a short hairstyle typical of boys. This form of gender expression was dubbed "tomboy" in the late 16th century.
As more transgender and gender-nonconforming people have come out, federal laws governing protections and accommodations for them are in flux. Under the administration of President Barack Obama, Title IX, a federal law that prohibits discrimination based on sex in educational settings, was interpreted to include gender identity. Since taking office, President Donald Trump has rescinded that interpretation.
However, both the federal court and appellate court in Cincinnati have ruled that public schools in its jurisdiction must accommodate transgender and gender-nonconforming students, and that remains the law for now. The appellate court's decision came after the Trump administration revoked the Obama administration's Title IX guidance.
But those federal court decisions do not require schools to create gender-neutral restrooms. Providing a single-user restroom that anyone can use, as Shaker does at the high school, is enough. Schools cannot force transgender or gender-nonconforming students to use the single-user facility; they can only make it available to everyone.
Schools that create full gender-neutral restrooms go beyond what the law requires. Attorneys are advising districts that are considering building new schools or significantly renovating existing buildings to include gender-neutral restrooms in their plans.
This question will likely reach the U.S. Supreme Court as a constitutional rather than Title IX matter.
Shaker prides itself on its progressive views and actions. At the same time, transgender and gender-nonconforming students feel limited by their singular option. The high school doesn't have a gender-neutral restroom or locker room. There is a single-user restroom in the nurse's office, open to everyone, which is located on the first floor directly across the hall from the women's staff lounge.
An anonymous junior is transgender. He said a gender-neutral restroom in the high school would feel like a big step toward accepting the LGBTQ community and students' diverse identities."I'd probably cry of happiness," he said.
"
I'd probably cry of happiness.
— Anonymous student
According to Principal Jonathan Kuehnle, who was placed on administrative leave Nov. 1, Shaker has an unofficial practice in place, but no policy. A practice is something the school does daily, but there is no legal accountability involved. The high school's restroom practice allows students to use the restroom that corresponds with their gender identity without punishment.
On the other hand, a policy is formally presented as an expectation. "There is no board policy that dictates that level of bathroom usage, but as far as being good, compassionate human beings in the high school, that has been our practice since I've been here," Kuehnle said.
According to Dr. Marla Robinson, chief of staff, the district cannot create a policy in response to every request but will seek solutions in practice. "If a family comes and makes a request, it is our expectation as building leaders to meet with families and resolve the problem," she said. Resolving that problem is finding a safe bathroom for those students, she explained.
For some, relying on a practice instead of adopting a policy is a crucial distinction.
To become a policy, a proposal is reviewed three times by the Board of Education. Board members and others can make changes, and on the third review, the Board votes on whether or not to adopt the policy.
Robinson said Shaker usually initiates a policy proposal at the recommendation of the Ohio School Boards Association, which monitors state law changes and advises districts to amend their policies accordingly. "Most of our policies come from changes of law," she said.
Kuehnle said that there has been no board policy change about gender-neutral restrooms because of a lack of clear guidance at the federal level. "In the meantime, we continue our practice about using the restroom of which you identify and providing separate, private facilities as so desired," he said.
Robinson said the restroom situation needs to be handled with sensitivity. "We try to meet the needs of all students and have them feel safe," she said.
The restroom in nurse Paula Damm's office is the only single-user restroom available to students. "I tell everybody they're allowed to use the bathroom because people may not want to disclose to me if they're gender nonconforming," she said.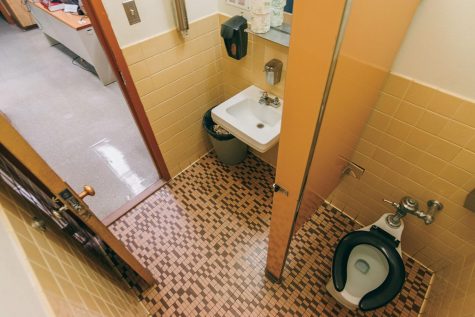 Although this bathroom is open to everyone, the nurse's office is closed during ninth period, and some days there is a substitute.
Transgender junior Jade Orazi said, "If there's a sub for the nurse, she might give you weird looks."
Damm said years ago she asked one student why he used her restroom every day, and he told her that students stuck their phones under the stall and took pictures of him in the other restrooms. But she does not ask students why or make assumptions about their choice. "I don't jump to the conclusion that that is the reason why. It's not really my business," she said.
Kuehnle said he looked into implementing a gender-neutral restroom during his first year at Shaker and was told by district personnel that community members felt uncomfortable about the idea.
Community views are not the only obstacle to a gender-neutral restroom. Federal instructions are unclear, and some state and federal legislators have proposed laws that would punish people for using public restrooms based on their gender identity or expression.
In 2013, Arizona lawmaker John Kavanaugh presented a bill subjecting people to jail for using a public restroom that didn't match the sex on their birth certificate. He changed the bill soon after facing heated resistance from protestors. Kavanaugh's objective was to make it so "no person or business shall be civilly or criminally liable for denying access to privacy areas based on gender identity or expression."
In 2016, North Carolina passed a law that required people to use public restrooms that correspond with the sex noted on their birth certificates. In 2017, the N.C. legislature repealed the law.
In May 2016, Obama issued a directive telling each public school to permit students to use the restroom corresponding with their gender identity. Schools that did not comply could face lawsuits or loss of federal funding.
When Trump took office in January 2017, he reversed Obama's directive. He said that the decision should be made by public schools and states instead of the federal government. Because of the reversal, public school restrooms need not accommodate all gender identities.
For transgender or gender- nonconforming students, it is difficult to find a restroom they are comfortable using. "I identify as male, and so whenever I use the women's restroom, it feels like my identity is being invalidated," Anonymous said.
He said the experience of using the men's or women's restroom is terrifying. "Sometimes, I'll walk to one bathroom and see somebody going in and I'll turn around and walk to the other bathroom," he said.
One student, who wished to remain anonymous because she is closeted, said having a unisex restroom would make it safer for many students because of the risk of abuse. "There's always a feeling of not belonging in there," she continued.
Becca Mui, education manager at GLSEN, said schools should accommodate everyone. "All schools should have gender-inclusive bathrooms for any one of their students, faculty members or visitors to use so that everyone in the school community can access this basic and fundamental need," she said. "These spaces are useful for everyone, but can be a vital support for trans and gender -nonconforming students."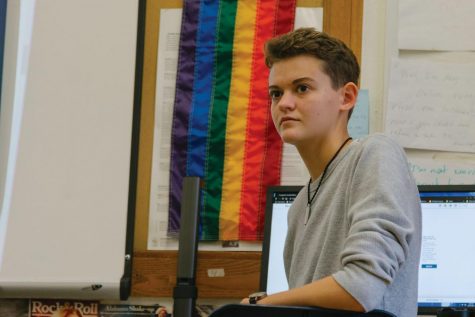 Orazi said some people don't feel right in either men's or women's restrooms. "For people who are gender neutral or gender fluid," a gender-neutral restroom "is literally the only place that they feel they can go," she said. "They don't feel right in either."
According to Covert, for gender-nonconforming students, it often feels wrong to use the men's or women's restroom. "It's still labeling to go into the men's or women's restroom, even if they are comfortable with themselves," he said.
Shaker community members have reflected this sentiment.
Shaker parent Clyde Christian said that he would be fine with Shaker creating a gender-neutral restroom and that people make it out to be more than it really is. "I think putting a label on it is where you get the emotions," he said.
Shaker parent Dana Hubbard said that she thinks students should "not have to pick between two things they don't necessarily think they are, or risk the harassment."
Hubbard said that having a gender-neutral restroom is about inclusion and having a safe space for everybody. "Everyone deserves a place that they feel safe and don't have to risk abuse or harassment or feeling like they don't belong," said Hubbard, who works at Cleveland State University, where there are single-user restrooms labeled "All Identities Welcome."
But, a community member requested anonymity because "the environment now is so charged politically, and no matter what you say, you're going to make someone mad." She said that she would oppose such a move. "I just think that there are other things in the world that are more important than that," she said.
Marie Jones, parent of a high school student, said she would oppose implementing a gender-neutral restroom. "I would not be comfortable with it because I don't want a horny little boy in there harassing my daughter," she said.
According to Transequality.org, a letter signed by school officials from Kentucky, Massachusetts, California, Washington, Illinois, New York and Oregon relates success in providing transgender students with facilities that accommodate their identities. The letter stated that the schools have not "experienced transgender students or any other students attempting to be dishonest or break the rules. To the contrary, our transgender students simply want to be safe while using school facilities."
"All schools should have private, gender-neutral bathrooms for any student to use, in the same, normal way that homes have bathrooms for guests to use, and many restaurants have bathrooms that are not labeled for the sexes," the GLSEN website states.
Another resource, REFUGE Restrooms, is an online database that seeks to provide a safe restroom for everybody. Users can search for a location, and a list of safe restrooms will be provided.
Approximately 150 colleges and universities maintain gender-neutral restrooms that are safe for gender non-conforming individuals. Examples in Ohio include Cleveland State University, Kent State University, The Ohio State University and Case Western Reserve University.
Ohio public schools are joining this movement. Troy City Schools west of Columbus implemented gender-neutral restrooms. So did Fairmount High School outside of Dayton. Walnut Hills High School, near Cincinnati, has three gender-neutral bathrooms because "the students wanted it," according to their principal. No legal action has been taken against those schools by the state or federal government.
Interim Superintendent Dr. Stephen Wilkins declined to be interviewed for this story.
Freshman Liam Callam said he is for gender-neutral restrooms. "I am supporting some of my friends. I respect that they are gay or trans," he said.
Callam said, "That is their point of view, that's how they feel. You shouldn't judge them."
Comment using your Facebook, Yahoo, AOL or Hotmail account
comments