Reed Responds to Last Week's Hoods-Up Act
Following the Feb. 26 hoods-up act, Interim Principal James Reed III explains the safety issues it presents.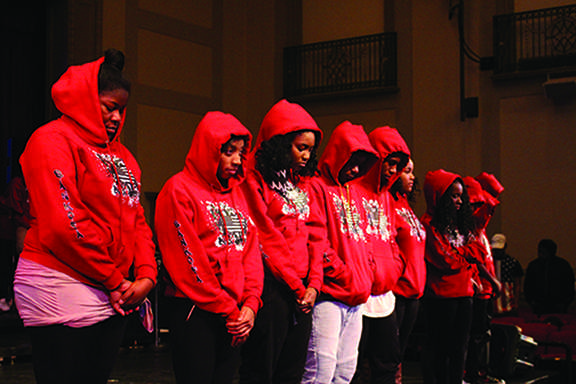 A principal's duty to preserve safety and his wish to offer students helpful context prompted Interim Principal James Reed III to address students one day before they intended to ignore a school rule to honor Trayvon Martin.
The hoods-up act was conceived in honor of the four-year anniversary of Martin's death as part of Black History Month Spirit Week leading up to the Feb. 26 Sankofa preview assembly. Martin was killed while wearing a hoodie, which came to symbolize his case. Protesters marched in solidarity during the 2012 New York City "Million Hoodie March."
Posters advertising "Black History Month Spirit Week" were placed on walls throughout the school leading up to Friday's "Hoods Up (4-year anniversary of Trayvon Martin's Death)" day which ignores a school policy of no hoods being worn in the building.
In an interview, Reed noted the problems that schools nationwide are facing regarding security and pointed to the need to identify people through security footage. "For me, the idea that we don't wear hoods up, hats — all of those things are district procedures, mandates in order to be able to identify students who are in our building," he said.
Some students wore their student ID's around their necks in conjunction with their hoods up, as a means of alternate identification, but Reed said that the approach was not adequate. "I know that [students] haven't had the benefit of watching those cameras in one of those situations, and an ID on our cameras can't identify [a person]. Our cameras don't have the ability to zoom in. A person with their hoods up and an ID on still is useless for us and identifying that person," he said.
Reed also said that identifying students is often necessary.
"I also told folks that literally not a week goes by where I don't have a student lose a phone or something happened and parents ask if there's a film of it happening. That's the first thing we ask, in trying to identify who might have taken something, " Reed said.
Reed said that his responsibility as principal requires him to put safety first. "For us to say that we are allowing folks to walk around with hoods up so that they're difficult to identify would be something that I can't accept as the principal, the security folks can't accept and the police officers here can't accept," Reed said.
Black History Month spirit week posters appeared around the building last week and included the call to wear hoods up on Friday. Reed said the posters and events were not reviewed or approved by him or by any staff member before being posted, nor was it clear which organization or club may have organized the spirit week.
"My understanding is that clubs and organizations are the only folks who had the ability to put those posters up," Reed said.
Reed said that prior to Friday, he spoke with Sankofa adviser Keaf Holliday, and that his understanding was that students would only wear hoods up during Friday's Sankofa performance assemblies. "I expressed my safety concerns to Mr. Holiday, and they arranged for a compromise at the assembly, and gave me a letter, probably Wednesday, that this was how they would celebrate and commemorate Trayvon Martin in the assembly," he said.
"I did not come up with the compromise. The students with Mr. Holiday came up with the compromise," Reed said. "I thought students followed through with the compromise, and I actually was very proud of the students on Friday because I think most students complied with it."
Reed said that students whom he requested remove their hoods in the halls complied, while the two students who received in-school suspension had not complied when asked by Assistant Principal Ann Spurrier.
Reed explained the purpose behind his Thursday announcement. "I wanted folks to know that I saw it as a safety concern, and rather than simply saying, 'You can't wear your hoods,' I wanted to give some kind of context to it," he said.
Some students objected to Reed's use of the word "sacrifice" within his announcement to characterize Martin's death. He said, "Students are welcome to wear sweatshirts if they wish, to honor his sacrifice."
Reed explained his word choice. "For me, if someone loses their life, they have made a sacrifice. Life is precious and for me, whether that occurs willfully or accidentally, it is a sacrifice…that is partly tied to some of my religious beliefs that all of us are here for a purpose. We don't know what that purpose is.
"But, I happen to believe that someone higher than us does. When situations like that occur, they occur for a reason that should be instructive to the rest of us. That's what sacrifice means to me," he said.
Reed said he recognized students' interpretation of the word.
"I understand if people think that there is a difference between sacrifice and someone being killed. I respect that that person believes that," Reed said. "I think that students and other folks need to understand what my belief is, too."
Journalism II Reporters Julia Barragate and Ellie Vahey Contributed to This Report 
Comment using your Facebook, Yahoo, AOL or Hotmail account
comments
Leave a Comment