Unpaid Internships Abound as Equity Concerns Increase
All students can't take advantage of the professional head starts some internships offer
As internships have grown prevalent over the past decade, more people are recognizing their value — and expressing concerns about equity.  
According to senior Charlotte Lo, who completed an internship at the Young Scientist Foundation through Case Western Reserve University, internships are "good if it's something that you are passionate about, or want to explore more. It is a good opportunity to see if you want to pursue that field of study."
An internship is a period of work or experience in, typically, an expected career field. Internships may be paid or unpaid, and may not carry an offer of employment following completion of the internship.
Internships are increasingly prevalent among college students. According to the
National Association of Colleges and Employers, 55 percent of the college class of 2012 held an internship or a cooperative during college. Of those internships, 47 percent were unpaid.
As internships have become more common among college students, they are beginning to reach high school students, too. Last summer, senior Hannah Braun was an intern at Fostering Hope,  a nonprofit organization that supports foster children in the Cleveland area. "I think my internship taught me what I wanted to do. I did not have a really good career path in mind for myself," she said.  
Braun plans to focus on law and human rights in college. "I think that I definitely wouldn't be where I am — just in my beliefs and what's important to me, about what we change, and what we do to improve our society — if it weren't for my internship," she said.
"I think that no matter who you are, you have a passion and can make the world a better place. I think an internship is that perfect way for high schoolers to get their foot in the door of what they want to make better," Braun said.
Unpaid internships are regulated by the U.S. Department of Labor, which applies seven criteria to determine their legality.
Those criteria range from "the intern and the employer clearly understand that there is no expectation of compensation. Any promise of compensation, express or implied, suggests that the intern is an employee—and vice versa,"  to "the extent to which the intern's work complements, rather than displaces, the work of paid employees while providing significant educational benefits to the intern."
Senior Tait Ferguson will take an internship during senior project with Sen. Sherrod Brown. Ferguson said he will do "a lot of constituent work, a lot of secretarial work — to get an idea of the normal day to day of senators and congressmen."
According to a survey by the National Association of Colleges and Employers, about half of interns receive job offers from a company where they have interned.
Danielle Donet, director of the CAMHP Foundation, said that the foundation's goal is to aid Americans living in poverty bridge the economic gap to a higher income through technology.
According to Donet, "Our internship program is designed to introduce interns to the psychological dynamics of the relationships that affect Americans' relative economic stability. Through this lens, we can help bridge the understanding of poverty and social programs."
Internships at the Camhp Foundation are unpaid. "Not getting paid and working like you are making millions is as old as time," Donet said. "But one must be at an economic level to afford that. There is a sense that the intern is the lucky one; the world of their choice has opened up their secret doors and allowed the student to enter."
Lo, who worked in a skin development lab to research how a component of the skin, polycomb compressive complex two, affected overall skin development, said the internship helped her understand the research process and learn common lab skills.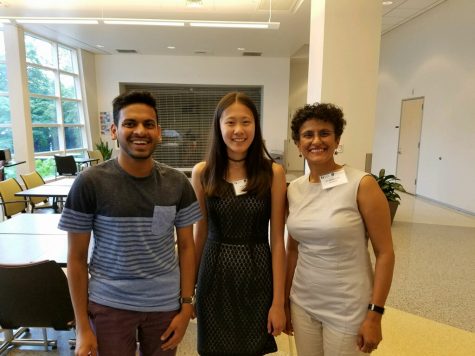 Lydia Hills is the founding executive director of From Me 2 U, Inc., a tax-exempt nonprofit organization that offers educational services to the public in the form of Saturday out-of-school
clubs for youth and to certain youth organizations after school. Additionally, the organization offers adults life coaching.
From Me 2 U has an unpaid internship opportunity that college students can apply for called Becoming Me wherein participants are trained in youth development and program management.
"Our Becoming Me Internship Life Coaching and Training Program is designed to help college students — or, as we like to call them, aspiring professionals — develop skills necessary to establish a business, a practice or develop useful products for consumers and businesses," Hill said.
Braun, whose internship was unpaid, thought that it "really taught me to carry myself more professionally, and I think that's going to be really good in colleges, and just interview processes and in the workforce."
However, when considering whether to undertake unpaid internships, students from low-income families may decline for fear of economic troubles.
"If I didn't have the financial security to take an unpaid internship, then I could potentially not have been able to have that experience," Braun said. "Moving forward with the college experience, I might not have been able to put that on my resume."
Because of this, some colleges have created their own internship programs, which pay for students' food and housing so that they might also take up internships to further their careers.
For instance, the University of Chicago has started an Odyssey Scholars program, which guarantees a paid internship for low-income students in their first summer. Pace University posted 4,000 internships in 2016, 40 percent of which were unpaid, and offered grants for those students taking up unpaid internships. Amherst College gave out $1 million in the summer of 2016, helping 229 students to compensate for unpaid internships with nonprofit organizations.
According to Hill, "From Me 2 U, Inc. offers stipends to interns that do not fall into the compensation-prohibited category. We also offer contracts to interns in certain non-prohibited categories. When contracts are signed, the expectations are different, and the accountability is more stringent."
However, Hill said that, "unpaid internships give students freedom to learn without fear of termination. Organizations are more open to help a struggling student obtain skills and understand concepts when they are unpaid. Once payment becomes a factor, it's looked upon as a service."
Donet said that when seeking internships, students who do not have parental social capital do not start on the same level as students whose parents are socially connected. "There are so many things that one can do, try, experience ‒ but the student must know that such things are available ‒ and that is expensive," she said.  
"If you're just studying, you don't always get the whole picture; you don't know how it can get applied to an actual job or position," Ferguson said. "That's what an internship does —  it shows you what you will actually be doing when you're out in the field and getting jobs."
Braun also thinks that students of a higher socioeconomic status will inherently have more opportunities. "That means you have more money for clothes to look more professional. You can afford to not take a job," she said.
"I think that the only reason I ever found out about my internship was through my mom — through her friend. So if I didn't have those personal connections, I might have not gotten the internship," Braun said.
According to Lo, racial and economic diversity were present during her internship. But, "there's definitely, within anything you apply for, some type of gap," she said. "I don't know how to fix that, but I guess people who run the internships really value different backgrounds, and thoughts and personalities, and I think that is a good thing to emphasize."
Braun said, "I think there should be a lot more done to alleviate those inequalities. I think there should be more paid internships. I think there should be more programs. I think there are a lot of problems in the whole unpaid internship system, which seems to be the majority of internships."
Comment using your Facebook, Yahoo, AOL or Hotmail account
comments
Leave a Comment