Our Gilded Age of Diversity
The word and images are ubiquitous, but to matter, diversity should be a practice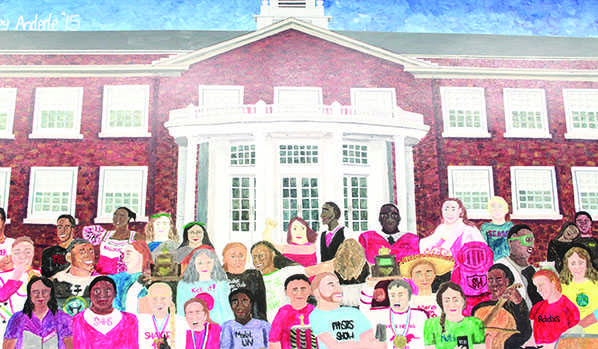 If there's one word every Shaker student knows, it's diversity.
On the surface that appears to be a good thing, but I can't help but be frustrated.
It seems that whenever we talk about diversity, it's shorthand for racial diversity.
Shaker's diversity spans so much further than race.
It embraces age, ethnicity, class, gender, religious status, physical ability, sexual orientation, gender expression, educational background, income, parental status and life experiences.
When I think about Shaker's diversity, I think about the freshman working through trigonometry in an eleventh grade class and the male figure skater drilling routines at the rink.
I think about the women's rugby team and the men's choir.
So why is it that when we talk about diversity, the racially diverse photos on the district's website are the first thing that come to mind?
When did all the other aspects of diversity take a backseat to race?
"Talk is cheap, of course," New York Times article "Has 'Diversity' Lost Its Meaning," states, "And sometimes you get the sense that the people talking the most about diversity are the people doing the least effective work on it."
In addition to entertaining the idea that the definition of diversity has been skewed to encompass poor integration efforts, the article also highlights the implicit racial connotations that the word itself has gained.
"In reality — which is to say, when applied to actual people, not flora, fauna or financial securities — the notion of diversity feels more fraught, positioning one group [white, male Americans] as the default, and everyone else as the Other," it stated.
This process of taking minimal integration and labeling it diversity isn't helping anyone.
Poor attempts at racial inclusion are never going to be the end-all, be-all of diversity, and all they do is cheapen the real deal.
Queensborough College — a New-York based school that prides itself on reflecting the diversity of Queens — defines diversity as a concept rather than something finite.
"We acknowledge that categories of difference are not always fixed but also can be fluid," their website states. "We respect individual rights to self-identification, and we recognize that no one culture is intrinsically superior to another.
The idea of looking at diversity as an action – a conscious practice of acceptance and respect, spanning past one's own background and personal ideas – is one we need to adopt, because touting diversity doesn't achieve anything if we can't even agree on what diversity is.
The other issue with our blind admiration for Shaker's diversity is the missed opportunity for self-improvement.
Without admitting that we have a problem, we cannot move forward and fix it.
Don't get me wrong — Shaker is home to people from all walks of life, and the environment is definitely welcoming.
However, with that much disparity, there is room for ignorance and bias.
Without first acknowledging the issues in how we define our diversity, we can't move to combat them.
Comment using your Facebook, Yahoo, AOL or Hotmail account
comments
Leave a Comment