How Much is Too Much?
According to educators, class size matters; that hasn't stopped classes from expanding at Shaker.
It doesn't matter how large a class size is ‒ a great teacher can handle a class of 50 students, former Superintendent Dr. Gregory Hutchings, Jr. said in his first appearance before the faculty March 13, 2014.
This comment, which he made during his candidate appearance in the high school's upper cafeteria, became part of the class size debate, which has been contentious among teachers, parents, government officials and researchers for decades.
But Shaker teachers and students agree: class size makes a difference in learning experience.
Jeffrey Rice teaches math at the high school. He said larger class sizes prevent teachers from giving more time to each student. "When you don't have time to respond to questions and create more individualized assignments for people, there is a negative impact on the students," he said.
A policy brief published by the National Education Policy Center titled "Does Class Size Matter?" argues that small class sizes are effective because they result in "a mixture of higher levels of student engagement, increased time on task, and the opportunity small classes provide for high-quality teachers to better tailor their instruction to the students in the class." A policy brief summarizes an issue and suggests the best way to solve it.
"I personally perform better in smaller class sizes, because I feel more comfortable with the students around me, so that means I feel more open to saying my ideas and participating," sophomore Jaclyn Shin said.
A research review by the Center for Public Education on class size stated, "A class size of no more than 18 students per teacher is required to produce the greatest benefit."
While the policies and arguments on class size are abundant, credible research on how class sizes affect student achievement is lacking.
One influential experiment on the subject was conducted in the United States: Project Student Teacher Achievement Ratio, also known as Project STAR.
Project STAR was administered in 1985 by Tennessee's State Department of Education to study the effect of class size on student achievement from kindergarten to third grade. The study was done in 76 elementary schools.
The study involved randomly placing more than 10,000 kindergarten students into three different types of classes: regular class sizes of 22 or 23 students, regular class sizes with a full-time teacher's aide, and reduced class sizes of 15 students.
Students in the smaller classes consistently performed better on standardized tests and displayed increased levels of engagement. The reduced class sizes also gave greater benefit to minority and economically-disadvantaged students.
Smaller classes in Project STAR allowed teachers to use more personalized strategies to improve learning. "They closely monitored the progress of student learning in their classes, were able to re-teach using alternative strategies when children did not learn a concept, had excellent organizational skills, and maintained superior personal interactions with their students," the brief stated.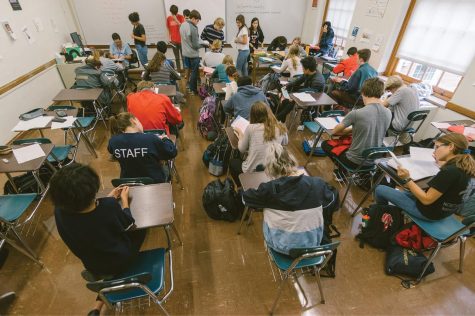 The CPE said that in order to reap the benefits of reduced class sizes, they should be coupled with a rigorous academic curriculum and proper teacher training.
The article from the CPE stated, "The more years spent in reduced classes, the longer lasting the benefits."
However, reducing class size means hiring more teachers. "Class-size reductions also involve costly, upfront expenditures. Whether these benefits justify further expenditures is, in large part, an empirical question," a research paper, "The Non-Cognitive Returns to Class Size," stated.
"The Non-Cognitive Returns to Class Size" was published by the National Bureau of Economic Research and was written by Dr. Thomas Dee, a professor of education at Stanford University and Research Associate of NBER, and Dr. Martin West, a professor of education at Harvard University and Research Fellow of NBER.
The paper stated that the increase in students' lifetime earnings implied by class-size reduction exceeds the cost of the reduction.
According to the brief published by NEPC, other statewide initiatives to reduce class size have not strongly affected student performance because newly hired teachers were less experienced. The brief stated, "These impacts may have been offset because many inexperienced teachers had to be hired to staff the new classrooms, reducing average teacher quality."
Subsequent studies of Project STAR have linked reduced class sizes to lower rates of teen pregnancy and juvenile criminal behavior and increased rates of high school graduation and college attendance.
Science teacher William Scanlon said that a connection between teacher and student is important to student success. "It shows that student that someone cares about them, they're interested in how they're doing, they're paying attention to them," he said. "That kind of connection makes kids want to work hard and do well in the class."
"With a larger class, it's difficult to make a connection with each student. When you have a smaller class, you can focus on kids and make sure that if something is going on, you're there for them and you're able to help them out," he said.
English Department Chairwoman Emily Shrestha said that larger class sizes make it challenging to hold inclusive class discussions. "If you have 30 students in a class, and the class is only 50 minutes long, that's less time that each student is going to get to participate in class," she said.
According to an Aug. 24 Shaker Heights Board of Education document, the high school's overall average class size is "20-24 students," excluding classes in the English Department. Currently there are 32 English classes with 24 or more students. The largest class in the English Department has 31 students.
Twenty to 24 students doesn't sound very big; however this average is still above the ideal class size. The policy brief stated, "some researchers conclude that the evidence supports better outcomes only if classes are below some threshold number such as 15 or 20."
"I have found that the most effective class sizes are the ones with 15 to 20 kids in the room," Rice said.
According to BOE documents, 11 classes in the high school have more 28 students this year. All of these classes are honors or AP courses.
"Lower student-teacher ratios in the core classes are intended to allow for students to have more teacher support in order to achieve success," the Aug. 24 BOE document stated.
"That's fine, because everyone is getting the education that is appropriate for them," said Principal Jonathan Kuehnle, who was placed on administrative leave Nov. 1.
"We tend to keep core classes a little bit smaller just because the honors kids are extremely capable," assistant principal Dr. Ann Spurrier said. Spurrier creates the master class schedule for the high school.
Spurrier said that the number of classes, and class sizes of each subject, are determined by Shaker staff in annual sectioning meetings. "The department chairmen, Mr. Kuehnle and I sit down every year and look at all the requests and decide together, collaboratively, how many sections of each class are offered," she said.
"We all sit down and look at all the course requests that students have put in. We look at all that data, we look at the teaching licenses of everyone — who can teach what," Kuehnle said. "We start doing the math."
Kuehnle explained that one factor that strongly affects class size is the number of qualified teachers available. "We have to be careful, because we don't have unlimited staff," he said. "I personally believe small class sizes are better, but I have to balance that belief against the hard reality of district finances."
But the BOE has already voted to cut the number of teachers in Shaker.
In a June 12 resolution, the BOE agreed to abolish 10.8 full-time teaching positions through attrition "based upon financial reasons/budgetary constraints and decreased enrollment of pupils."
Full-time equivalency teachers work full time; teachers who work part time are considered a fraction of a FTE teacher. Attrition is the elimination of a position after the person holding that position retires or leaves for any other reason.
In keeping with the BOE resolution, the high school lost 3.8 FTE teaching positions: one full-time math teacher, one full-time English teacher, one part-time, or .8, social studies teacher, and one full-time intervention specialist. The BOE cut these positions through attrition before the 2018-2019 school year.
In a Shakerite article published last year, then-Investigations Editor Emet Celeste-Cohen reported on the Public Finance Resources prediction that the school district will lose an estimated 342 students over the next four years.
The district hired PFR to forecast changes in enrollment and their effect on finances. The PFR report predicted the district would lose $3,379,764 in state funding, which is tied to enrollment, over the next five years as a result of the decline.
"
Our teachers are very dedicated to seeing the students succeed to the highest level possible, and large class sizes are a deterrent of that."
— Jeffrey Rice
In keeping with the predicted enrollment decline, the Board can abolish teaching positions through attrition or Reduction In Force. RIF is a reduction in staffing precipitated by a cut or anticipated cut in funding. School districts usually enact RIFs when they experience a sharp decline in enrollment.
According to the June 12 BOE memorandum, the district created four options for how to deal with declining enrollment in the future. Option 1 includes no change; Option 2 includes abolishing teacher positions through attrition; Option 3 includes abolishing teacher positions through attrition and reduction in force during the 2019-2020 school year; and Option 4 includes abolishing teacher positions through attrition and RIF during the 2018-2019 school year.
According to the Executive Director of Communications Scott Stephens, the BOE voted June 12 to enact Option 3: eliminating 10.8 FTE teachers by the 2018-2019 school year and eliminating 19 additional positions by 2019-2020 school year.
14 of those jobs are teaching positions: six elementary teachers, four middle school teachers, three high school teachers and one support teacher. Three administrative and two clerical positions will also be cut in the 2018-2019 school year.
In an editorial published Oct. 15 by the Shaker Heights Teachers' Association, middle school teacher Michael Sears argues that Reduction in Force should not be enacted. "Students are already suffering from the cuts made on June 12. How could the BOE think even more drastic cuts won't have a negative impact on the Shaker experience for students?" he wrote.
According to the editorial, the cuts made by the BOE through attrition have enlarged class sizes. "The elimination of a Language and Literature teaching position at the high school created such large classes that a part time teacher had to be hired in August. Even so, many classes have close to 30 students.
"Intervention specialist positions were eliminated at the middle school and the high school. There have been concerns in both buildings about how student needs will be met without additional staff," Sears wrote.
After the June 12 Board meeting, Hutchings returned to Alexandria, Virginia to become superintendent of the Alexandria City Public Schools. Current BOE class size policy states, "The Board believes students will directly benefit from small class size when coupled with high quality instruction."
"Our teachers are very dedicated to seeing the students succeed to the highest level possible," Rice said, "and large class sizes are a deterrent of that."
A version of this article appears in print on pages 20-25 of Volume 89, Issue I, published May 18, 2018.
Comment using your Facebook, Yahoo, AOL or Hotmail account
comments
Leave a Comment