High School's Future in Flux as Teacher Morale Drops
With their open letter addressing concerns about district leadership, high school SHTA faculty launch conversation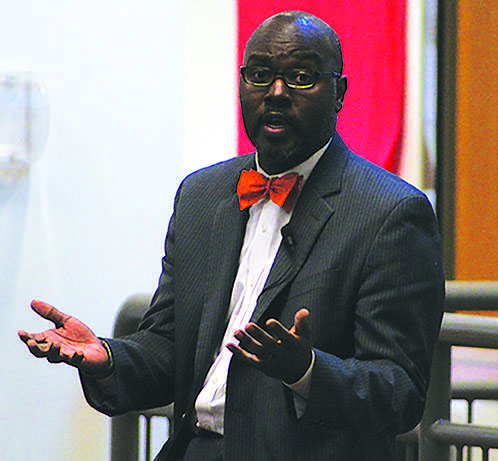 With the publication of an open letter May 11 detailing their worries, high school teachers have made their low morale public.
Dramatic changes such as the arrival of Common Core and high-stakes tests tied to the new teacher evaluation system have eroded teacher morale nationwide.
"Part of what's bringing the morale of the teachers down is the state-mandated tests because I didn't go through college and get a master's degree so I could stand at the front of a room and watch students takes tests," science teacher William Scanlon said. "That's not what I got into it teaching for. I love kids, I love being a part of their lives, helping them to learn, helping them to become better people."
However, teachers say that changes unique to Shaker are further damaging their spirits.
On top of all the changes in testing and teacher evaluation policy, Principal Michael Griffith announced April 13 that this would be his final year at Shaker. He will leave the district June 30 to become the head of the Ratner School.
Social studies teacher Tony Cuda said Griffith announcing his departure further depressed teacher morale.
"Our problem has never been with the [high school] administration, because although we might not agree on everything, we have never had a problem with our concerns being met," said Cuda. "So Mr. Griffith leaving has left teacher morale at an all-time low."
On May 11, the high school members of the Shaker Heights Teacher's Association released an open letter to the district administration, Board of Education and the community, voicing high school teachers' concerns.
The letter highlighted, among other concerns, diminished teacher autonomy.
"One of the most distinguishing characteristics of Shaker Heights High School has been the wide array of unique programs and approaches the school has to offer," the SHTA open letter stated. "This has been due in large part to the intellectual freedom building leaders and teachers have been given to implement and support these programs. Much of this freedom has been sacrificed to district wide reform."
"
I don't know what the reasoning behind us being divided is…I hope someone can share it with me.
— Gregory C. Hutchings, Jr.
According to The Association of American Educators and The Association for Supervision and Curriculum Development, positive teacher morale and teacher autonomy go hand in hand.
"We work with teachers everyday who are frustrated with the massive transformation occurring in public education," the AAE stated in an article on their website. "AAE recognizes that teachers absolutely need to be part of the conversation as we reform a system that works for students, communities and teachers"
"Likewise, multiple voices, especially department chairpersons, have been relied upon to find and recommend candidates for open and specialized teaching positions within the High School," the SHTA letter continues. The SHTA contends that this is no longer the case.
Social studies teacher Amanda Ahrens said teacher opinion isn't being valued the way it should be.
"There seems to be conflicting initiatives that are causing unnecessary amounts of work, and as a staff we don't feel like our voice is being heard," said Ahrens. "Maybe the decisions being made by the administration are not in the best interest of everyone, students and teachers."
At a May 21 forum sponsored by the Shaker Parent Teacher Organization, Superintendent Gregory C. Hutchings, Jr., faced pointed questions from parents about teacher morale. The event attracted about 200 community members.
"I don't know what the reasoning behind us being divided is, I really don't and I'm hoping I can figure it out. I hope someone can share it with me," Hutchings said.
An Education Week article asks, "What if teachers are the answer? What if trusting teachers, and not controlling them, is the key to school success?"
Morale, however, isn't just a Shaker issue, nor is it a new topic of concern.
In 2010, Dayton Principal Dan Weckstein submitted a question to the Association for Supervision and Curriculum Development — an education advocacy group that includes administrators, teachers and professors — asking how to raise faculty morale.
"The reality of the upcoming challenges is setting in, and many are feeling overwhelmed," he wrote. "The result? Morale is down in the dumps. What can we do to improve staff morale?"
In a follow-up phone interview with The Shakerite, Weckstein emphasized the importance of positive teacher morale in the workplace and how it affects the student-teacher dynamic.
"[Teacher morale] is incredibly important. If it's low, high morale with students and parents is harder to achieve," he said. "That's a culture you feel all around the school, and when morale is low, that's a bad feeling. When it's high, that culture extends across the board."
The SHTA letter echoes that point.
"We are the most dedicated group of professionals that you can imagine and we want the best for our students, our children, our community, and our schools," the letter states.
Superintendent Gregory C. Hutchings, Jr. acknowledged the SHTA's concerns in a response to The Shakerite. He emphasized the need for a collaborative process.
"I believe the Shaker Heights City School District is one of the best in the country and would like for us to continue to provide a high quality education for students as well as ensure all students are engaged in the Shaker experience," he said.
The SHTA open letter also highlights the excess time teachers now spend on government mandates.
According to the Ohio Department of Education's website, the Student Learning Objectives are given to students to show growth.
The ODE website states, "The SLO process reinforces best teaching practices and encourages educators to ensure that their students will be college and career ready."
Shaker teachers, however, do not concur.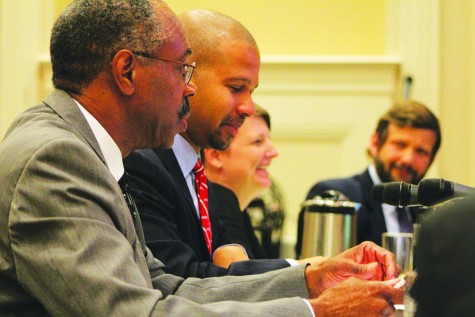 "We have spent inordinate amounts of time and energy on SLOs and on MYP, yet we haven't figured out how to ensure that students attend classes," the letter states.
When school began in August, the administration directed teachers to revise SLO tests that had been previously approved. By second semester, administrators directed teachers to revise the growth targets — scores that teachers predict their students will achieve on the spring SLO test and that are used to determine 50 percent of teachers' evaluations.
"New initiatives [implemented] by the state don't seem in line with the best interest of students," an anonymous teacher said. "With all the testing and the SLOs, there's a lot of data that the state needs that doesn't really highlight our teaching. Also, our school is moving towards MYP, which is in opposition in a sense to what the state is doing, so there seems to be a lot of conflicting initiatives that are causing a lot of unnecessary amounts of work."
"Watching [students] take tests does not contribute toward me helping them become better people at all," Scanlon said. "I'm sick of it, I'm really sick of it. I'm really disgusted with what the people in our state government have forced upon [students] it's not right. It's ugly and [I] can't stand it."
Teachers also explained that SLO planning has taken up much of their Tuesday morning teacher based team planning time, which means more meetings are required to plan for their classes. These additional meetings are typically scheduled during conference periods, taking teacher-student time away.
"Some of [the cause for low teacher morale] seems to be due to seemingly unnecessary tasks in our out TBTs [such as] focusing on the SLOs instead of MYP and unit building," said social studies teacher Todd Torrence.
"The amount of time is spent on the SLOs and the amount of time testing — End of Year exams and PARCC tests for example — so I have anywhere from three weeks to a month's material that I used to teach, that I am not able to teach now," Torrence said.
Cleveland Heights Teachers' Union president and math teacher Ari Klein believes that teacher morale is dropping due to government testing.
"Morale has taken a nosedive in the last few years, mostly based on state and federal mandates. Specifically, teachers have stated across grade levels that the amount of instructional time lost for testing has hurt their students," he said. "Generally speaking teachers want to do a good job, so it is difficult to reconcile this with these mandates that cause disruption to daily schedules and stress on our students."
He also highlighted the effects SLO testing has had on their district.
"SLO's have been mandated for most teachers to use to show student growth. We do not believe that how much a student grows can tell you 50 percent about a teacher's value [50 percent of the teacher's evaluation]," he said. "Unfortunately, the amount of time spent trying to figure out how to do an SLO, time to develop an appropriate tool to measure this growth, and then the time spent grading and creating targets with little to no historical data from the assessment created a lot of stress this year."
High school students aren't oblivious to their teachers' morale.
"I think I started to notice it last year," said senior David Carter. "At first I thought it was just an unwillingness to accept change, but after weeks, months and even years of obvious teacher dissatisfaction, I now see it as more than just that. It seems clear to me that teachers feel that they are not being allowed to teach as they see fit, and that many of reasons for which they started teaching are starting to fade."
"Some of my teachers hate the new tests they're giving out," said senior Amia Peeler. "They don't see the point in [them] and think it's wasting time that they could be doing something important in class."
"[The teachers] think it takes away too much from their teaching time," said sophomore Gloria Ng. "They think [testing] has gone a bit overboard. There's less time in classroom learning and less teacher-student interaction."
Klein said CH-UH teachers are also struggling. "Morale of teachers in our local was very low this year," Klien said. "When the law is set in motion to inhibit us from doing our best, it is demoralizing. If this continues we will be able to see trend data in people leaving the profession [and] working elsewhere."
The concerns with state-mandated testing have not fallen on deaf ears.
On May 15, the Ohio House of Representatives passed a bill that would limit state testing.
"Overall, the bill is expected to reduce testing time by 50 percent while ensuring continued local control over assessments used by schools and districts," the OHR website states. "[House Bill] 74 aims to move Ohio away from a one-size-fits-all approach in favor of a more efficient operation of state assessments for local schools. Additionally, the bill provides a deadline for the completion of the ongoing review of academic content standards."
"During the course of this bill, we have heard from upset parents, stressed out students, and concerned teachers regarding the huge burden of the new standardized tests," state Representative Andrew Brenner stated in the article. "Students shouldn't be spending five months taking tests, and schools don't have the resources the PARCC exams require. This bill moves us one step closer to balancing measuring results with common sense."
"
It seems clear to me that teachers feel that they are not being allowed to teach as they see fit, and that many of reasons for which they started teaching are starting to fade.
— David Carter
"[Testing] alienates the administration and almost forces them to choose a 'side', as though they are two warring states, the teachers and the administration," said senior David Carter. "Overall it serves to make students unsure of the future of their educations and the stability of classes/teachers."
The SHTA open letter also addressed the speed with which changes are unfolding.
"We have seen an unprecedented turnover in building administrators and we are losing veteran staff, not only due to changes in the retirement system, but because the rapid pace of change and the lack of teacher and administrative input have driven, and continue to drive, colleagues away," it stated.
"Seeing so many good people who are part of what makes Shaker what it is nervous about their jobs does not bring morale up," Scanlon said.
This feeling of unease increased after Lomond kindergarten teacher Cathleen Grieshop faced the prospect of job loss after one of her students left the building during the school day.
"The attempt to terminate Cathy Grieshop's contract was viewed by the staff as an attack on teachers, said Scanlon. "It still has not been fully explained and has left the teachers feeling very uneasy about their jobs in the district."
A high school teacher said former Superintendent Mark Freeman was so supportive of teachers that he drove to Columbus to defend Shaker teachers in the few instances when the state board of education was considering revoking their teaching licenses. The teacher, who would not speak on the record out of fear of losing his job, said Hutchings has taken a completely different approach.
David Carter fears that if things continue as they are now, staff will continue to leave.
"I think [low teacher morale] will undoubtedly lead to the loss of long standing and incredibly talented teachers," said Carter, "If word of instability grows too prominent, I think it could definitely dissuade teachers and families alike from coming to Shaker."
Comment using your Facebook, Yahoo, AOL or Hotmail account
comments
Leave a Comment