Hoods Were Up For Trayvon Martin Despite Principal's Request
The hoods-up act was to honor the 4-year anniversary of Trayvon Martin's death and part of a student organized Black History Month Spirit Week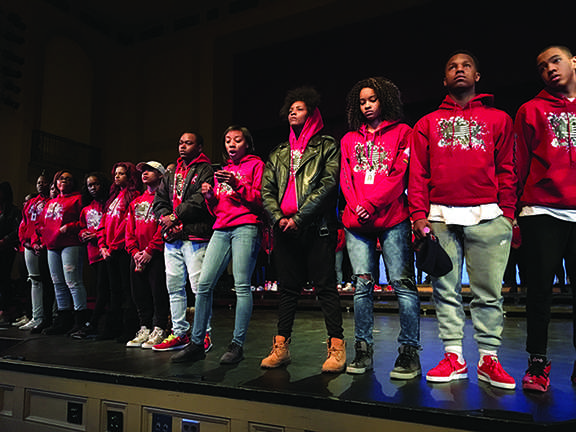 Despite an administrative effort to discourage the act, students wore their hoods up throughout the building today to commemorate the death of Trayvon Martin.
By fourth period today, two students had chosen to attend in-school suspension rather than remove their hoods at administrative request, according to an email message from Assistant Principal Ann Spurrier.
The hoods-up act was conceived in honor of the four-year anniversary of Martin's death as part of Black History Month Spirit Week leading up to today's Sankofa preview assembly. Martin was killed while wearing a hoodie, which came to symbolize his case. Protesters marched in solidarity during the 2012 New York City "Million Hoodie March."
"If they are suspending kids for wearing hoods, it is absolutely wrong. If Sankofa is the same day, and we are encouraged to raise awareness and honor him, we should be able to do it," sophomore Michael Prowell said. "It's not like we're wearing hoods just to make people angry. It's for a good reason. It's a symbol."
Junior Dreamond Brooks agreed. "I understand the school's take on the situation, but if we have strong feelings towards the situation, we should be able to represent and it shouldn't be a problem. The school acts like we're wearing them for no reason. This is all for a purpose."
Interim Principal James Reed III advised students not to wear their hoods up via a public address announcement yesterday at 1:54 p.m.
"People are asking for 'hoods up' in commemoration of Trayvon Martin's death, but I ask you to honor him by not putting the hoods up. That would violate our school policy and cause misunderstanding between students and staff," Reed said.
"Students are welcome to wear sweatshirts if they wish, to honor his sacrifice, and also to state that by having our hoods down in our halls and classes, that we are all individuals who should be seen and respected, not covered by a hood. I ask you to do this tomorrow so the potential that was lost that night will be visible to all who choose to honor his sacrifice."
Reed wore a black hoodie to school today — and kept his hood down.
Martin, an unarmed 17-year-old African American boy from Florida, was fatally shot by George Zimmerman, a neighborhood watch volunteer, on Feb. 26, 2012. His death sparked protests across the country over accusations of racial profiling. Zimmerman was acquitted of murder charges in 2013.  
In an interview following his announcement, Reed said, "This didn't have any approval by anybody. It simply appeared on our walls. I don't know who was responsible for this, and we have a procedure for putting things up."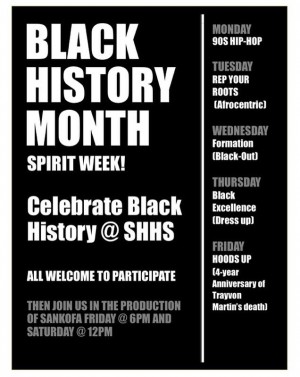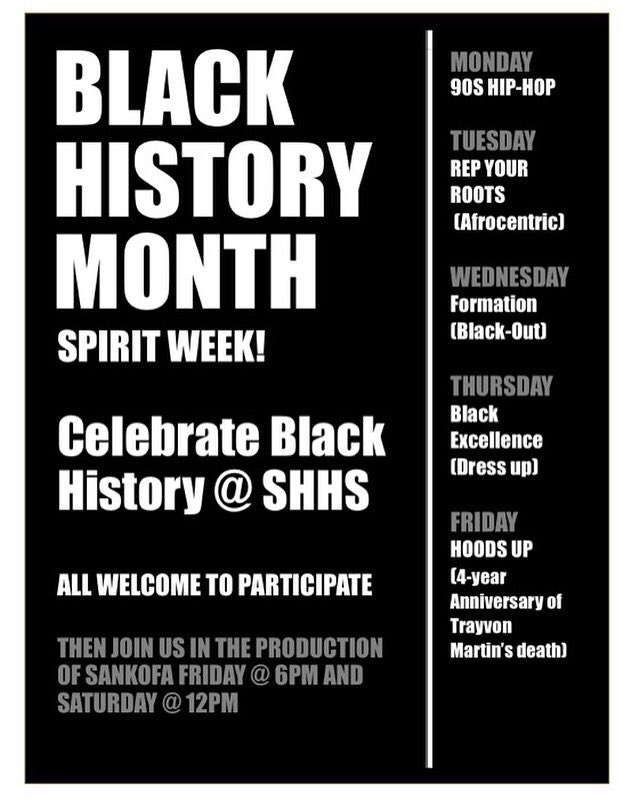 Posters advertising "Black History Month Spirit Week" were placed on walls throughout the school leading up to the annual production of Sankofa on Friday. Themed spirit days this week included "90s Hip Hop," "Rep Your Roots (Afrocentric)," "Formation (Black-Out)" and "Black Excellence (Dress Up)." Finally, Friday, the day of the Sankofa assembly performance, was designated "Hoods Up (4-year anniversary of Trayvon Martin's Death)."
Regarding the spirit days earlier in the week, Reed said, "I think some of them have some merit."
Some students took offense to Reed's use of the word "sacrifice" to characterize Martin's death.
"Mr. Reed made a comment and said [Martin] sacrificed his life. I don't agree with that because Trayvon Martin didn't give up his life; it was taken from him, and then he just didn't even receive justice for it," freshman Shanice Tate said.
One student's sarcastic tweet read, "Thanks administration for saying Trayvon was a sacrifice."
The assembly preview of Sankofa opened with a tribute to Martin in which students on stage prompted the audience to stand and put up their hoods in honor of his death.
Senior Mekkah Husamadeen read a speech in which she recited the Merriam-Webster Dictionary definition of the word "sacrifice" and then the definition of the word "murder," explaining that Martin's death was a murder, not a sacrifice.
Students explained why they wanted to participate in the hoods-up action.
"As students, we want to wear the hoodies in support of Trayvon Martin, not as a defiance of the school dress code. The atrocities against African Americans and other minority groups in our country cannot continue," junior Emily Kenville said. "By wearing our hoods up, we are not undermining the school district. We are saying that we will never forget the murder of Trayvon Martin, and our generation will not allow this blatant racism to continue."
"Students have educated themselves on current events, and it is important to demonstrate awareness by wearing our hoods in support of Treyvon," senior Austin Harris said.
Freshman Jackson Tuggey said, "There are certain times where you go against the rules to honor and show respect to people, and I feel like this is one of those situations."
"I feel like we should be able to wear our hoods as a payment of respect to him. I understand it's against school policy, but a life taken for racism is a lot more important than school policy,"  freshman Chelsie Washington said. "The fact that we can't wear hoods makes the whole point of our tribute to him pointless. So many black lives were taken because of racism, so it's not only a payment of respect to him, it's a payment of respect to every child, man, woman, just everyone who lost their life to racism."
Junior Nat Crowley found Reed's announcement appropriate.
"I think that the statement was delivered in an effective manner that was respectful to all parties. It was made clear that remembering Trayvon Martin's sacrifice is important, but it should be done by celebrating his life, not by emulating his death," Crowley said. "Although not everyone will likely agree with the cancellation of this remembrance, it was made clear to all who heard the announcement that this is not meant as a form of restriction, but rather as an opportunity for empowerment."
Journalism II Reporter Rowan Gingerich and Raider Zone Reporter Sean McMillan contributed reporting.
Comment using your Facebook, Yahoo, AOL or Hotmail account
comments
View Comments (1)