Vegetables Rule!
Onaway Elementary School students defy expectations by embracing cauliflower, radicchio and jicama at the 'Offering Bar'
Everyone knows the common dinnertime phrase 'Eat your vegetables!'. For years, parents have forced their kids to eat these often despised foods.
Now, concerned parents of Onaway Elementary School students Stacey Hren and Jenny Steadman are working to change that phrase and problem through school lunch.
"We talked with [Amy Davis, the Onaway principal] last summer and we asked her if we could reimagine lunch at Onaway from the ground up, just a total overhaul," Hren said.
Steady support of the program comes from Davis and the AVI director, Amanda Schindley. AVI is the company that Shaker uses to supply, cook, and organize food for school lunches and breakfasts.
But it's not just lunch for Steadman and Hren. They imagined focusing on three areas — food, waste and education — through partnerships, grants and pure volunteering. A new salad bar unit was installed at Onaway Elementary School, called the Offering Bar, according to Schindley. The purpose is for students who typically eat lunch– and others, anyone with the minimal $1 fee is welcome — to be able to try new vegetables and create a salad.
"A lot of this has been coming from students at Onaway, who are ingrained in [International Baccalaureate] culture and want to affect positive change," Hren said. "We were hearing from students
that the lunchroom environment could be more positive, that they would like choices, that they would like to more responsibly handle the waste they were generating."
Popularity has undeniably grown for the new program, especially the Offering Bar. "The first two days we opened the salad bar, we ran out of vegetables and had to call for backup vegetables both days. The favorite vegetable, hands down, at Onaway is broccoli, which has been a big surprise," said Hren.
In order to give students input on the lunch menu, a lunch taste test program was initiated with Onaway third graders. Each class created a menu item, then the items were pitted against each other in a tasting competition.Third grade teachers tasted spinach lasagna,pancakes and Pad Thai, and students added input as well. Quite surprisingly, the spinach lasagna won handily and will be on the menu next year at Onaway.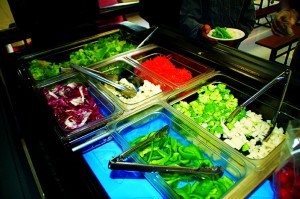 Third grade teacher Martin McGuan protests and says the voting should have steered towards his class' dish "I think the voting was rigged. There is no way the lasagna tasted better than our Pad Thai," he said jokingly.
Ethan Li, a student in McGuan's third grade class, believes in the program's' philosophy. "I think it promotes healthy eating in children," he said.
Fourth grader Alex Edelman agrees. "We didn't have a salad bar last year and a lot more people are having vegetables," he said.
Fourth grader Nate Abbott concurs with Edelman and Li regarding the extreme success of the program. "It helps kids, especially the kindergartners, develop better eating habits," he said.
"It's a big improvement," said fourth grader Moira Grace McGuan, Martin McGuan's daughter.
Education comes into play when talking about interesting foods.
"This year, our AVI director Amanda Schindley has done a really good job of expanding the lunch menu, including things like collard greens and pineapple coleslaw, but the kids don't know what it is," said Steadman. That's why it's important to add the education focus in."
"
"Kids have come in and said, 'I ate fast food all weekend. I couldn't wait to come to school and get my salad.'"
— Stacey Hren
Onaway students of all grades learn about the different veggies on the Offering Bar. According to Steadman, cauliflower was recently placed on the bar, and once the students started learning about it, they started eating it.
Steadman and Hren use different techniques to influence the drive for vegetable and farm-to-school education."If they try a new vegetable and let us know, they get a sticker that says they've been a risk-taker, which really excites them," Steadman said.
"I had foods I have never tried before. It made me as happy as a fresh daisy," Li said.
Steadman and Hren have not focused on direct education but by the students' experimentation of the different foods and rewards for taking a risk.
"By us selling more school lunches, it gives us a little more funding from the federal government," Schindley said. This funding allowed AVI to rent a salad bar unit from South Euclid-Lyndhurst Schools.
Finally, the waste element was added to the program. "We collected and measured all the waste Onaway Elementary School generates in one day. We learned that we throw away about 115 styrofoam lunch trays every day," said Hren.
Now, Hren and Steadman have worked to set up recycling bins and often students recycle or reuse instead of just throwing in the trash. McGuan hopes the new program will make change. "I hope our efforts to develop children's healthy eating habits will also carry over to the food choices made at home. Perhaps the next time a child reaches for a snack, he/she will choose baby carrots instead of Flaming Hot Cheetos," he said.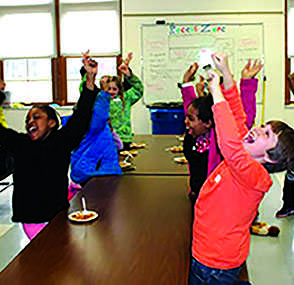 While the program is only starting at Onaway, Schindley plans to expand it to the middle and high school. The smaller 'Offering Bar' will be at the elementary schools, and the placement of a larger salad bar at the high school with more choices is being contemplated.
Although Li appreciates the Offering Bar, he believes it could grow to include more variety. "Overall it has good quality, but I would like to see more variety of vegetables," he said.
Abbott has ideas for other aspects of the lunchroom environment. "We would like to divide the lunchroom in half and hang 'quiet' signs. The lunchroom is very loud."
Abbott and McGuan are part of the IB exhibitions project, and their choice of project was to expand and help the lunchroom.
If anyone roams around the high school cafeteria today, they can find signs saying what country the menu is inspired by this month. The choice to have these signs is not influenced by IB, but by
AVI's marketing team and aligns well with Shaker's theme of worldly attitudes.
McGuan thinks that not just the advertisement, but the social promotion of the program has contributed to its success. "The Onaway parents, teachers and culinary staff have creatively marketed and promoted the changes to the Onaway School lunch program in a way that encourages children to take more ownership of their eating habits while at the same time making healthy food choices," McGuan said.
AVI conducts yearly surveys to get students' opinions on what they want to eat, which prompted some of the program at Onaway in the first place.
"We want to include your guys' ideas because it's your lunch, you want to eat it," said Schindley.
Appreciation for the Offering Bar still grows, with promise of eventual expansion to other schools. "Kids have come in and said, 'I ate fast food all weekend,'" Hren said. "'I couldn't wait to come to school and get my salad.'"
Comment using your Facebook, Yahoo, AOL or Hotmail account
comments
Leave a Comment