"Spooked" Impresses, Promises Bright Theater Future
The Shaker Theatre Department's roots are stronger than ever before, as demonstrated by "Spooked." , performed Feb 4-6. Each year interested  freshmen create and perform a variety show based on their interests, constituting the Ninth Grade Theatre Experience or Freshman Show.
This year, a unique group of theatre-oriented freshmen created a Halloween -themed show, filled with readings, songs, and skits, all generated by the students and aided by director Scott Sumerak. Following the theme, you find all of the cast watching old-school horror movies upon a stage created like a broken down building upon your entrance to…. Fitting the theme as well, Sumerak greeted the audience in a video, dressed like a mad professor.
The show was built with songs like "Scooby Doo, Where Are You?" and other Halloween-themed songs with unique dance moves. Fisher Ilijasic showed true talent through his rendition of the song, with a band of other freshman helping him. All of the dances were extremely well-rehearsed and appropriate.
To add substance to the show, Sumerak and the cast included scenes with students reciting student-written monologues, while the only thing connecting each to each other is the theme of horror, spooks, and ghosts. These monologues added a surprising interesting backbone to the show.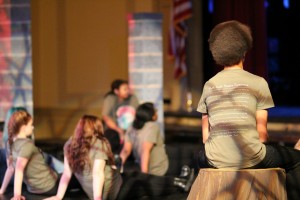 Although some of the scenes like the one with several "spooks" – including creepy twin sisters, a serial killer and ghost – explaining themselves and their needs in the world were somewhat educational and enlightening, others, such as a skit involving actors' horror movie reviews," actors reviewing horror movies became repetitive and lost their humor.
Because the freshman performers are only starting their theatrical career, the show went through ups and downs. Actors would occasionally repeat or stumble on a line, but no major errors occurred and the show itself was not interrupted.
With more practice and time the actors could have gathered more nuance and energy, accentuating the show's brilliance. If only the show could have been one or two weeks later, to allow for more elaborate costumes (although the existing ones were fine for the time given), better prepared actors and better attendance.
Besides this fact, the show was performed with real talent. It's easy to see that the Shaker Theatre department's innate talent for future musicals, plays, New Stages, and more are extremely strong and prepared for the road ahead.
Comment using your Facebook, Yahoo, AOL or Hotmail account
comments
Leave a Comment