The Shaker Heights Theatre Department production of Mean Girls debuts this evening at 7 p.m. in the Large Auditorium. 
The cast will perform four paid shows, the first tonight at 7 p.m., the next on Friday at 7 p.m. and two  performances Nov. 18 at 2 p.m. and 7 p.m. Tickets are available at the door or online at shakertheatre.ludus.com. There will be a showing Nov. 17 after school for high school students.  
The production stars Isabel Siegel as Cady Heron, Evelyn Rossman as Regina George, and Cassie Lyles as Karen Smith. It is an adaptation of the 2004 film "Mean Girls," and opened off-Broadway in 2017. Its Broadway debut was in 2018. The show centers on Cady, a student who moves from Africa to an Illinois suburb, where she navigates public school cliques for the first time. 
Theatre Arts Department Chairman Scott Sumerak said that many teams have been working on the show. "We have our stagecraft class who are currently putting together all of the props. We have our Flex Block kids who are working as the costume team. This whole process is really student-driven."
This year's audition process went very smoothly, according to Sumerak. "I don't think there's anybody cast in one of the principal roles that I looked at and went, 'Well, that was a surprise.'" 
The musical has been in production since auditions in September, but the decision to perform Mean Girls was made months before.
"We start talking about the next musical before the one we are working on is done," Sumerak said. "I remember last year, standing in the back of the auditorium with my choreographer during a performance of Spongebob, and saying for next year, 'I'm thinking such and such,' and here's a couple ideas."
Early selection was especially emphasized by the department this year. "We're doing a big, popular show this year, one that a lot of high schools are starting to do," Sumerak said.
According to an article from Playbill, the rights to Mean Girls: the Musical have only been available for high school licensing since 2019. "We were trying to do it before every school on the planet has done it," he said. Tina Fey wrote the script, Jeff Richmond composed the music, and Nell Benjamin the lyrics. 
Typically, the school musical will run in the spring season, with the play in the fall. However, the decision was made to move the musical to the fall season this year. Sumerak says this choice was in part an effort to "try and get the show out before [students] start picking classes, in order to generate interest in theater classes."
Another benefit of an autumn show is that Shaker will get a step ahead in the judging process for the annual Dazzle awards. "An earlier show gives us a chance to have our show seen and judged before 75 percent of the performances," said Sumerak. 
Despite the perceived advantages of performing in the fall, an earlier debut means less time in production. Sumerak said that this loss of two weeks has expedited the assembly process due to necessity. "Usually, once it's all put together and on its feet, that's when we spend a couple of weeks making it look good," said Sumerak.
 "That's when things are going to start to get a little scary," said Sumerak, as the loss or time requires a higher collective focus and efficiency from the cast and stage production team.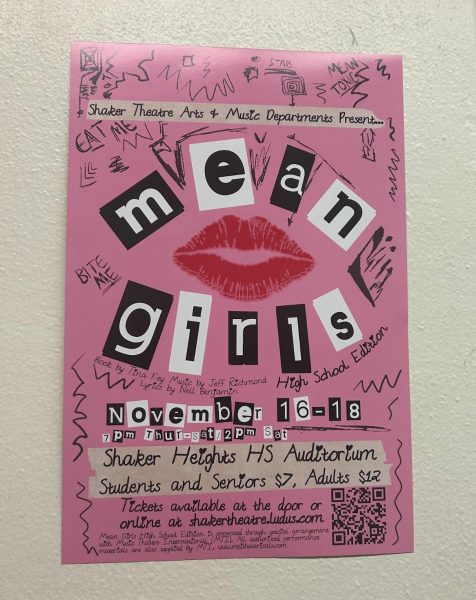 Lyles, who stars as Karen Smith, noticed the shorter production period. "For me, it was definitely more of a 'we're in crunch time' thing," she said. "At the same time, I also feel like it's crazy how it's ending already, and the whole process just seemed so fast."
Students have been working efficiently to compensate for the loss of two weeks' preparation, Sumerak said. "They have been coming in right at the end of the school day and have been running musical numbers; they have been doing dance numbers, and rehearsing blocking, before I even get in [to the auditorium]," he said. 
Lyles said the cast has collaborated well. "We just worked together so well, and we would work as a team to make things right when obstacles arose," she said. One obstacle arose yesterday, when students were released from school at 1:45 p.m. because a student had been found with a handgun earlier in the day. The cast was to hold its final dress rehearsal after school. Sumerak said students waited at home until they could return, and the rehearsal did occur.
Though Sumerak and Choir Director Nicholas LaPete are satisfied with casting, a trend that has been affecting the Shaker Theater program for years was apparent as ever in this year's audition process. 
Sumerak challenged the idea that boys performing in theater is not cool or macho. "I call B.S. on that," he said. The lack of male auditionees this year, he said, "was a little bit more severe."
Sumerak said this imbalance is due to outdated, stereotypical gender roles. "The arts are for girls, and sports are for guys; I call crap on that notion," he said. He said that theater and dance can have just as much of an athletic aspect as playing a sport. His students "are wiped out" by the end of dance rehearsals, he said. 
In an effort to combat the stereotype, Sumerak has been advocating for theater classes in the Shaker elementary schools, as well as greater exposure for the program. "Elementary school and Woodury students are given painting, drawing, music and orchestra as classes, but not theater," he said. "Exposure at an earlier age is something that definitely gets more guys involved in theater."
"Working to combat these things is really just building a perception of what we do as being available to everyone, and not just being some weird, esoteric, artistic thing," said Sumerak. We rehearse with our doors open as much as we can so people can walk by and see what we are doing."
To any prospective viewers of the show, Lyles has one simple message: "It's literally going to be so fetch!"
Comment using your Facebook, Yahoo, AOL or Hotmail account
comments