SGORR Steps Forward
Shaker's Student Group on Race Relations held an event Wednesday to discuss race and integration at Shaker Heights High School
The Student Group on Race Relations held a discussion on "stepping forward" and progressing as a community on Nov. 16, in the lower cafeteria.
"You wouldn't be here if you didn't love this community, and it's up to you, and it's up to us as a collective, to move forward as a community," said senior Core leader Gus Mahoney.
The discussion was prompted by racial tension that followed the discipline of two students who revealed another student's racist social media posts and text messages. Added on was the election of Donald J. Trump as the 45th U. S. president and bomb threats that were made two days prior to the meeting.
"To hear people say, 'Well, Shaker is being so dramatic,' or, 'The black people are being too dramatic' — and I don't think it's being dramatic at all," said senior Scott Baul. "People say that we're just angry, but we're not angry. We're hurt, we're disappointed. Our feelings are hurt."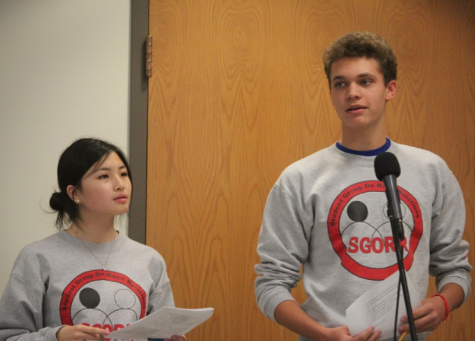 The meeting was not about politics, nor publicity, but comments and views traced back to both of those topics. The meeting followed three phases. Phase one was about expression of emotion. Phase two covered our ideal community, and phase three was call to action.
"Something I really hope to work towards is creating a more united community within Shaker because we are diverse and we need to show the diversity, there can be united communities within diversity," Mahoney said.
Sophomore Cora Albers anticipated an open forum for discussion. "I think everybody will be able to share their opinions on what's been happening. I guess they'll just be able to talk in a safe environment," she said.
"
"Something I really hope to work towards is creating a more united community within Shaker, because we are diverse and we need to show the diversity–there can be united communities within diversity."
— Gus Mahoney
"I think we're going to learn a lot more about our school and how we can improve it overall. We can fix some of the segregation issues throughout the cafeteria and the friend groups," freshman Faith Jalango said.
"If we want to create some sort of action plan, we need to address the problem first. We need to recognize the problem. We need to recognize that people have emotions, and we are human beings with emotions," Mahoney said.
Students wrote down one word or phrase to explain their recent feelings.
Freshman Calvin Brown described his persistent uneasiness throughout the past week. "We're in a nice community where you can assume things are going to be calm, and in the past couple of weeks, it really hasn't been."
"I wrote, 'surprised,' because you wouldn't expect this stuff to come up in Shaker, and it never really has before," Albers said.
"Nervous. Just not knowing what's coming next is making me nervous," said sophomore Delaney Eisen. I also wrote, 'bubble = popped,' because we all know about the famous 'Shaker bubble,' and I feel like, for me, I finally got a taste of the outside this week: the popped bubble."
When closing the discussion, senior Nat Crowley said, "It's really important to not stop the conversation here, and when we're out in our daily lives attending Shaker Heights High School, we want to really reach out to every single member of the high school community."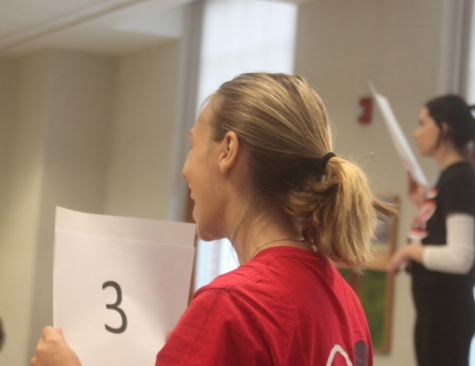 Baul faced the meeting head on, happy that people are focusing on the initiative. "Hopefully people will engage in active conversations, just be willing to learn and be educated about powerful conversations and whatnot," he said.
When covering safety guidelines, Mahoney said, "I don't want it to become a debate. Really focus on discussing and listening to each other. Make sure you're really trying to listen."
Jalango said that if a majority of people agree with someone's idea, it will be well-respected, but she believes there will always be a person who disagrees.
Mahoney, in closing, posed two questions to the group. "We could sit around and complain and moan about everything, but what we really need to do is have an action plan for moving forward. What can you as an individual do to help this community move forward as a united group?" he said. "What do you want your community to be?"
Comment using your Facebook, Yahoo, AOL or Hotmail account
comments
Leave a Comment
About the 'Riter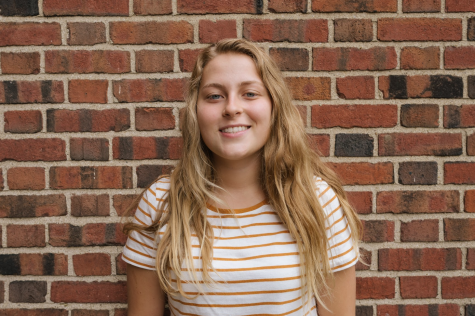 Mae Nagusky, Editor-in-Chief
Mae Nagusky ('20) is in her fourth year with The Shakerite. She is currently Editor-in-Chief, running and overseeing coverage for shakerite.com and the quarterly print issues. Mae was The Shakerite's Web Managing Editor in her junior year, and Campus and City Editor sophomore year. In the past, she has covered topics such as systemic inequity and disrespect toward teachers. Mae participates in high school softball, and she enjoys listening to podcasts and dancing.