Jamie Babbit Returns to Inspire Aspiring Actors, Directors
In town to promote latest film, Shaker alumna visits the high school, emphasizes persistence, networking
Jamie Babbit ('89) is a successful film and TV director, and today she told theater students why.
"I knew everyone else would quit before I did," said Babbit, who visited the high school today and spoke to theater students and Gay Straight Alliance members after school in Room 130. She emphasized that confidence and determination are necessary for anyone hoping to succeed in the entertainment industry.
Babbit, a member of the Shaker Heights High School Hall of Fame, is in town to visit her family between directing jobs. Her latest film, "Addicted to Fresno," began its run at the the Cedar Lee Theater tonight. Theater teacher Christine McBurney coordinated Babbit's visit.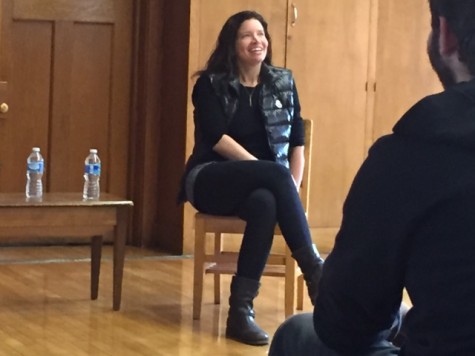 Thanks to Babbit's self-proclaimed terrible singing voice, the Shaker alumna made the switch from acting to working behind-the-scenes when she earned an unimportant role in Shaker's 1989 production of "Appletree."
After years of unpaid internships and extensive networking, Babbit is thriving as a TV and film director. She has directed episodes of popular shows including "Girls," "Ugly Betty" and "Revenge." Still, she finds time to visit her roots and inspire the young theater students.
"She's a really generous alum who likes to give back," McBurney said.
I think the best stories you're going to tell are things that are personal to you. Not only did she address the young actors in the room, but the Gay Straight Alliance as well. Babbit is a proud advocate for the gay community, especially in her films. Her first widely released film, "But I'm a Cheerleader," satirizes conversion therapy — an approach that claims to cure homosexuality. The 1999 film debuted at the Sundance Film Festival and was picked up by a studio for widespread release.
Babbit said bringing her own life experience as a lesbian into her work helps to make it compelling.
"I think the best stories you're going to tell are things that are personal to you," she said.
"
I think the best stories you're going to tell are things that are personal to you."
— Jamie Babbit
Babbit's father, who still lives in her childhood home a block from the high school, offered what he called "parental observations" as well.
The elder Babbit, an attorney, described the established procedure for becoming a lawyer — attending law school, serving as a law clerk, passing the bar exam, taking a position at the bottom of the hierarchy at a large firm — and contrasted it with the apparent lack of rules for entering the entertainment industry.
He said he once admitted to Jamie, "I don't understand the entertainment industry. There are no rules!" to which she replied, "Isn't that wonderful?"
She did share some unspoken rules of the entertainment world, advising students who hoped to become actors to move to New York City or Los Angeles, where acting roles are plentiful, to be successful. She also described her efforts to make connections within the industry, beginning with her first unpaid internship, from which she inadvertently obtained a list of industry contacts. She called them, and her path to directing opened.
"You have to network you way to success," she said, noting that being from Ohio rather than from New York or Los Angeles can be a disadvantage.
Whether it's her latest film or her wife's comedy career, Babbit emphasized that practice makes perfect. She also said that returning to imperfect works, such as her first short films, to edit and refine them pays off.
Said Babbit, "Don't be discouraged."
Comment using your Facebook, Yahoo, AOL or Hotmail account
comments
Leave a Comment