Shaker Student Shines in Singing Competition
Senior Sarah Grube, who began singing in fourth grade, will compete against 11 other contestants for a cash prize
Senior Sarah Grube is a finalist for the Shining Star CLE competition and she will compete to win scholarship money on Oct. 22.
Grube attributes her accomplishments to the supportive people in her life. "My parents are super supportive. I have a community behind me," she said. "I've just been so lucky to have all these supportive people to learn from who've told me that I could do things."
Shining Star CLE is a competition for students in grades nine through 12. To enter, contestants submitted a video of themselves singing. Three hundred contestants were chosen to sing in front of judges, who selected 25 semifinalists and narrowed the field to 12 finalists, including Sarah.
The 12 finalists will perform at the Ohio Theater on Oct. 22. The first place winner will receive $10,000 in scholarship money. Four of the final 12 will also win college scholarship money.
Grube's love for music began at home. "My family is very musical. My mother played instruments, and my dad played trumpet in high school and sang," she said. "And I listened to a lot of music as a child."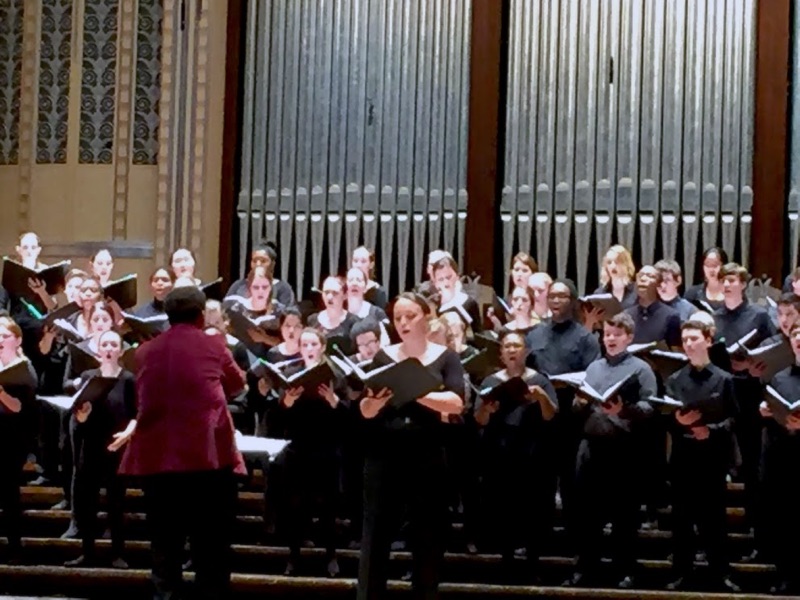 Grube started singing at a young age, according to her mother, Dr. Amy Grube. "We listened to 'Wee Sing' tapes all the time in the car, and she sang along to them with gusto," she wrote in an email. "I think she continues to sing because she loves it."
Grube started singing in fourth grade with the choir at Parkside Elementary in Solon. "And then from there I just — I loved singing," Grube said.
The summer after eighth grade, Grube sang in a two-week choir program at Blue Lakes Fine Arts Camp in Twin Lake, Michigan. She was then invited to join the Blue Lakes International Choral Ensemble and performed for paying audiences on a European tour. The experience helped her meet people who turned their love of music into jobs, such as the educators and soloists with the group.
After that experience she auditioned for the Cleveland Orchestra Youth Chorus and has been singing with them for three years , during which she sang with the Cleveland Orchestra and Cleveland Youth Orchestra. During that time, Grube sang under the direction of Dr. Lisa Wong, who directs the chorus.
"One of the great reasons for Sarah's success is her diligence in preparation and practice. She is undeniably talented," Wong wrote in an email. "Sarah doesn't allow her talent alone to 'carry' her — she works hard and is very deserving of any successes that come her way."
As for winning the competition, what matters to Grube is knowing she has put in her full effort. She said, "I think winning would be going up there and knowing I performed my best."
Comment using your Facebook, Yahoo, AOL or Hotmail account
comments
Leave a Comment