Flashy Public Dance Proposals Pressure Students to Say, 'Yes'
Once upon a time, asking someone to a dance in private spared our feelings. Now, we ask in public, limiting our risk of rejection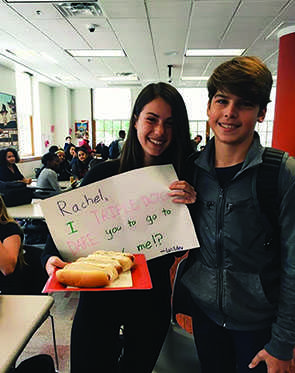 High school dance invitations aren't what they used to be. A ritual that once required courage and a private moment now demands elaborate, public proposals, all documented on social media.
The shift to public proposals is not unique to Shaker and began in earnest three years ago. The Shakerite documened the trend in a 2012 story titled, "When Did Homecoming Invitations Become Proposals?"
The story relates the efforts of Robby Douglass ('14), who asked a girl to the dance by taking off his shirt and spelling "homecoming" on him and his friends' chests.
Since then, homecoming has prompted an annual competition to determine who can stage public dance invitations that rival marriage proposals.
While some students may enjoy these proposals, the pressure of the crowd and social media and being forced to make quick decisions may cause some students to accept dance invitations, even if they would rather decline. After all, a student who says, "No, thank you," to an invitation made in the middle of a class may find herself the subject of criticism from peers.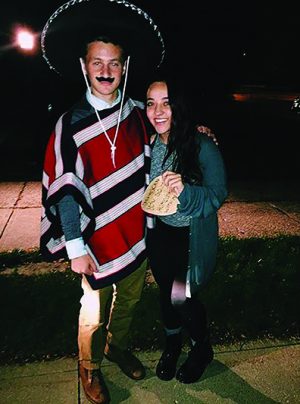 "I think the public ask kind of added a lot of pressure [to say yes] onto it," said one student who went to homecoming this year. "My plans for homecoming were originally to just go with friends and have fun, but I was kinda forced to be with my date. I felt like the dance could've been more fun if I wasn't asked by that person."
Know Abuse Prevention Coordinator Leah Weiss Caruso said that most dance proposals are well intended. She believes that it isn't impossible to say no to a proposal, but it isn't easy, either.
"It's important for students to know they have to be true to themselves, whatever anyone else says. That doesn't make saying 'no' easier, for sure." she said.
She also said that public dance proposals can create an imbalance in power.
"I think if the person asking for a date is doing so publicly to control the situation –i.e., to make sure the other person says, 'yes' – there is an imbalance in power in that relationship," said Caruso.
"
"If your friends are doing it, you want to participate, too – and there may be verbal pressure to do so!""
— Leah Weiss Caruso
"Healthy relationships should feel strong, equal. Not one person having control over the other."
Junior Kristi Seman said public invitations can improve self-image. "I think they can be cute and very confidence boosting because the person is showing that they want to go with you in front of an audience," she said.
"It does vary from person to person when asking because some people don't like the attention. But the downside to public asks it does kind of force a yes."
There is also a lot of pressure on the proposing side. "If your friends are doing it, you want to participate, too — and there may be verbal pressure to do so!" Caruso said.
Asking another student to a school dance can be stressful and create a sense of uneasiness for all parties involved.
School psychologist Sagar Patel said that public dance proposals are bittersweet. "You know, it's really cool. One person has an opportunity to be really creative and do something. But at the other end, the person receiving that question may, of course, feel uncomfortable," Patel said.
Patel thinks that some students are able to refuse proposals, but other students might not be.
"Some students may say, 'Yes,' in the moment and then have a conversation and say, 'Hey, I didn't want to embarrass you in front of a whole cafeteria, so I want to be honest with you,' " he said.
Patel said a private conversation between the two students could prevent embarrassment on both ends.
"It's almost like how we, as a society, glorify proposals," said Patel. "When someone proposes to another person, we've seen it at basketball games or football games, at the mall. I don't know if it's something that's really that new; it's just now coming down to the high-school age kids."
Freshman Kanella Basilion said all the fuss is unnecessary. "If you want to go to homecoming with the person that asks you, then you go with them. It's that simple," she said. "If you don't want to, then you don't go with them. Having a date is just something that people have acquired doing because of society, but it's not something you need to do," Basilion said.
Social media encourages public dance invitations. This year's trending hashtag, #shakerspacerace, had students posting their public proposals on Twitter and Instagram for a Student Council contest. The winning proposer received two free tickets to homecoming.
"I think that social media plays into it. I mean, it's a huge part," Patel said. "I always tell kids that I work with, 'If you have a smartphone or social media, Facebook, Twitter, Instagram, any of that, you're not 16 anymore. You have to act like you're 30.'
"When you're posting things online, it could be there forever."
Interim Principal James Reed III agreed that social media pressures students.
"Everything is photographed, everything is recorded. You know, I'm not a big fan of social media. People need to realize the drawbacks," he said.
In addition, it is against school policy to post images of another student online without the student's consent.
"Students should definitely be following the school policy; it's black and white, no deviation from that," Patel said.
"Is there anything wrong with wanting to have the best [proposal]? No. But, again, when it comes down to documenting it and sharing it . . . I think that does potentially cross the line."
Public proposals can happen at any time during the school day. Sometimes, students are asked to a dance druing the middle of class, which can disrupt instruction.
In order to try to avoid chaos, students sometimes ask their teachers beforehand if they can propose during class.
"It can definitely disrupt the class. If I were a teacher, just to play on the safe side, I think I might encourage the student to find another way to ask that student," Patel said.
"Even if it doesn't disrupt the whole class, it might disrupt that student," he said.
Some people don't want to go to dances with a date. The would rather avoid the drama and go with a group of friends.
Sophomore Rachel Podl thinks school dances aren't about having a date, but about having a good time with your friends.
"I think if you don't do a big public ask, it's not a problem. If you do, then good for you. I'm sure there's a benefit if you're really trying to impress someone, but other than that, I don't think it's necessary," she said.
Freshman Emma Hunter said she didn't want to be asked extravagantly.
"I think big invitations are nice to get, but I don't think you necessarily need it." Hunter also said she preferred to go with her friends.
Head of Security Mark Seymore said he's not bothered by public invitations in the hallway as long as they don't harm anyone.
"
"I think if you don't do a big public ask, it's not a problem, if you do then good for you. I'm sure there's a benefit if you're really trying to impress someone, but other than that, I don't think it's necessary.""
— Emma Hunter
He believes students ask in public because they think doing so will definitely get them a yes.
"During class time, it's not appropriate. Maybe during hall change is a better time. But a lot of times if it's done in good fashion and in a good form, we usually just go with it because that's what we do here at Shaker," Seymore said.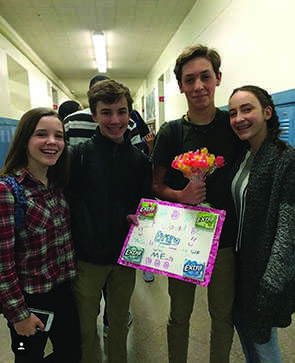 He thinks people should ask others to dances the "old-fashioned way."
Seymore said, "You go out for a bite to eat, and you say, 'Hey, you know I was thinking about going to the dance' and it's either a yes or a no."
Algebra I and Geometry teacher Rebekah Wadsworth had one student ask another to a dance during her class. She believes that this practice can disrupt the learning environment.
"To me, [the dance] is between one student and another student. To me, that's not something that I consider an issue," said Wadsworth.
"On one hand, you want to support your students and you want them to know that your classroom is a community, and that it's a place where you can share aspects of your life."
Wadsworth said, however, that the public proposals can interfere with learning. "We're here to get a job done and [asking a student to a dance] can cause a disruption and also potentially cause students to feel uncomfortable," she said.
"There was a situation this year where there was a student in the hallway who wanted to call another student out into the hallway to ask them. And other students went out in the hallway to take pictures," Wadsworth said.
"At that point, to me, it's like, this has gone too far."
Comment using your Facebook, Yahoo, AOL or Hotmail account
comments
Leave a Comment