Raider Review, Oct. 1-7
The "Raider Review" is a weekly series that The Shakerite will publish every Monday night, covering the previous week in sports. This week's edition covers contests that fell between Oct. 1-7. Next week will feature games from Oct. 8-14.
Cross Country (Girls and Boys)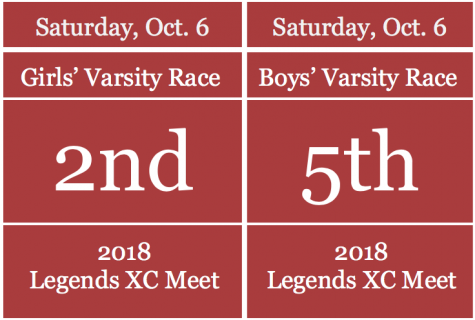 Despite the heat, the girls' cross country team placed 2nd out of 13 teams at the Legends meet in Trumbull County this past weekend. The top five runners that scored for the Raiders this weekend were, Hailey Stupay coming in 5th overall, Anna Carpenter (8th), Esti Goldstein (13th), Juliet Tonkin (16th), and Avery Blaszak (18th).
The boys' cross country team also competed this weekend at the Legends meet. The top five boys' runners were, Matt Burnard coming in 10th overall, Vivek Divakarla (16th), DeAndre Hall (29th), David Carpenter (30th), and John Carter (54th).
Field Hockey (Varsity and Junior Varsity)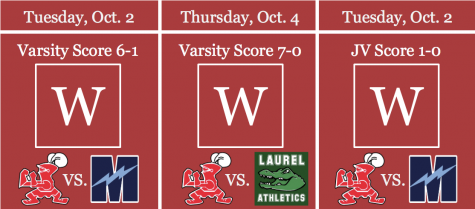 Varsity field hockey had quite a successful week. On Tuesday, The Raiders dominated their game against Magnificat Blue Streaks. Goals were scored by Eliza Bennett, Fiona Boyle, Lora Clarke(2), and Maggie Carter (2). During the second game of the week, the Laurel Gators were shut out from scoring due to the goalkeeping of Julia Homans and Athena Vadnal. Goals were scored by Molly Harper, Hilary Shakelton, Eliza Bennett, Rachel Coxon, Lily Camp, and Fiona Boyle (2).
Last week, the junior varsity field hockey team only played once, against Magnificat. Until the last 2o seconds, the game was tied 0-0. The game winning goal was a stroke scored by Maddie Buddenbaum right before the second half ended.
Golf (Boys)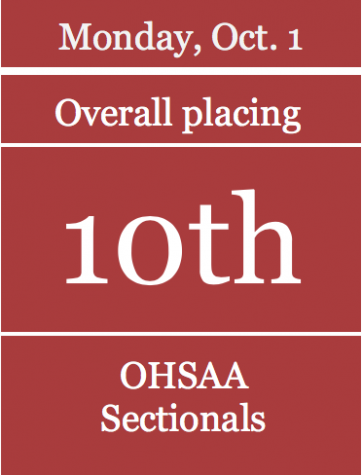 The Raiders placed 10th overall at the OHSAA Division 1 Sectional Golf Tournament. The only member of the golf team that will be advancing to districts is Robert Kimmel. Kimmel tied for first with a 73, and eventually won the tournament after a sudden death round. He will be advancing to the District Tournament at Pine Hills Golf Course.
Golf (Girls)
No one from the girls' golf team chose to compete in Sectionals Tournament, therefore the girls' golf season is over. Great jobs girls!
Varsity Football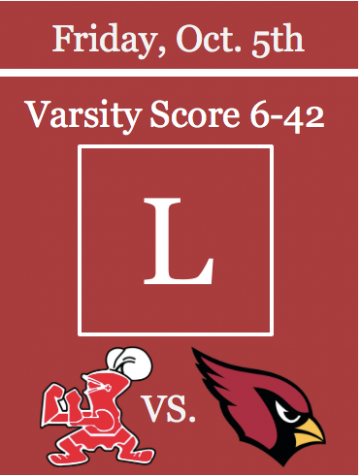 The Shaker Heights varsity football team lost to Mentor, 6-42. The Mentor Cardinals football team is ranked #1 in the OHSAA Division I, Region 1. Shaker did keep it close in the first quarter, but Mentor pulled through, and looked worthy of their #1 ranking. In the second quarter, Mentor went on their biggest run of the game where they scored 28 of their 42 points. Mentor (7-0) travels to Solon (6-1) Friday night, while Shaker (5-2) hosts Strongsville (4-3). Shaker desperately needs a win to keep their playoff hopes alive.
Boys Soccer (Varsity, Junior Varsity, and Freshman)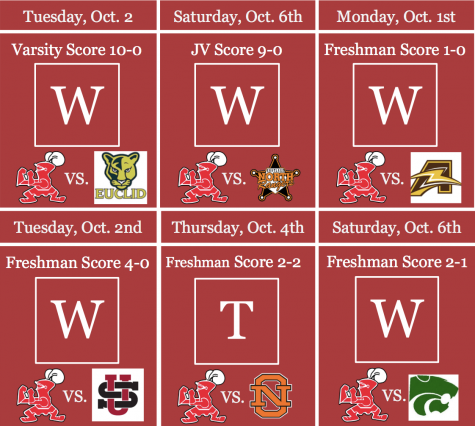 The boys' varsity soccer team dominated this week at their game against Euclid on Tuesday. Due to thunder and lightning on Saturday, the varsity match against Eastlake North was canceled.
Junior varsity played Eastlake North and easily defeated them 9-0. Goals were made by Eli Celeste-Cohen, Pablo Espinet, and Sam Schmidt scored on a penalty kick.
The boys' freshman team had quite a week. On Monday they defeated Brush 1-0, with a goal by Jack Adams. University School suffered a defeat on Tuesday with Shaker beating them 4-0. Players that scored in that game were Jack Adams, Alhusain Kaba, Ayandeh Joseph, and Sebastian Schmerus. On Thursday, the freshman team tied North Olmsted. Finally, on Friday the Raiders beat Mayfield 2-1. Great job freshmen!
Girls Soccer (Varsity and Junior Varsity)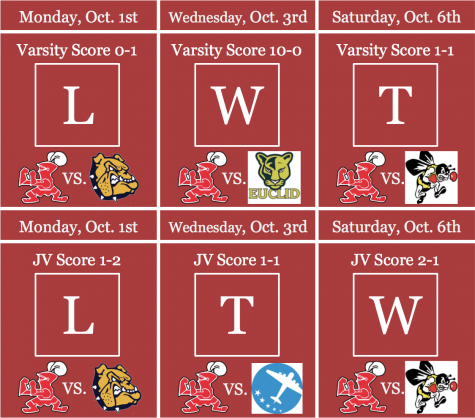 On Monday, girls varsity soccer lost 0-1 against North Olmsted, but proceeded to defeat Euclid 10-0 on Wednesday. Against Euclid, goals were scored by Sophie Sickling, Elizabeth Brown (3), Jasmine Collier, Ryan Skall, Caroline Brancato, Adaeze Okoye, Astrid Braun, and Maddie Henning. On Saturday, the varsity team managed to tie Brecksville 1-1 with a goal made by Elizabeth Bugenski.
Similar to the varsity team, JV also lost on Monday 1-2, with a goal scored by Kate Meinhart. On Wednesday they tied Kenston, with a goal scored by Libby Kiker. Finally, on Saturday they won against Brecksville 2-1, with both goals also scored by Libby Kiker. 
Tennis (Varsity A, Varsity B, Junior Varsity)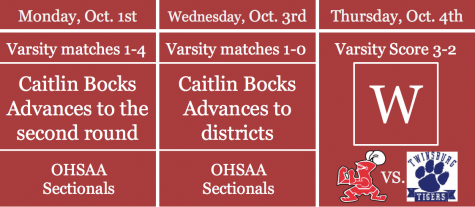 The varsity A girls competed in the first round of OHSAA Division 1 Sectional Tournament this Monday. All of the girls played well, but Caitlin Bocks, playing first singles, was the only one who advanced to the second round on Tuesday. Caitlin won her match and will now compete in the District Tournament this Thursday. Good luck Caitlin!
No girls from the varsity B girls tennis team competed this week at sectionals or the scheduled match against Twinsburg.
As well as varsity B, no one from the girls junior varsity tennis team was chosen to compete in Sectionals. Congratulations to a great season varsity B and junior varsity tennis girls!
Volleyball (Varsity and Junior Varsity)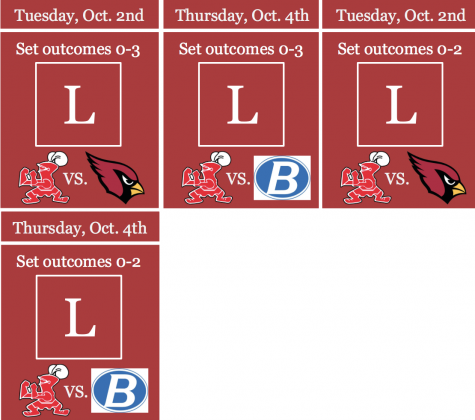 In volleyball this week, Shaker played some of the best teams in our section. The most recent state polls seed Brunswick as 17th in Ohio. Although both varsity and junior varisty suffered two losses each, they both still have a few more games left to compete in this season.
Raider Zone Reporter Ezra Marks and Journalism I Reporters Miles Madden and Mia Compton-Engle contributed reporting.
Comment using your Facebook, Yahoo, AOL or Hotmail account
comments
Leave a Comment
About the 'Riter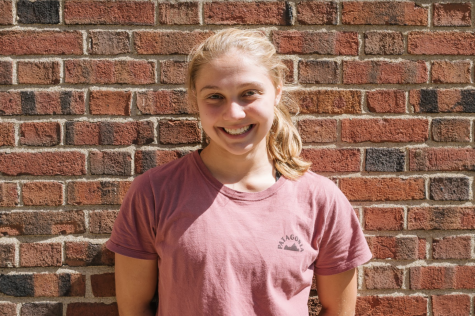 Anna Krouse, Print Managing Editor
Anna Krouse ('21) is in her third year with The Shakerite. She is currently a Print Managing Editor alongside Ethan Bloch, overseeing the production of The Shakerite's print issues. As the Raider Zone Editor her sophomore year, she created the weekly web series known as the
Raider Review
and covered topics including the dangers of concussions in high school sports as well as proper coach vetting in Shaker. Outside of the Shakerite, Anna is President of Rock Climbing Club, a CORE leader in The Student Group on Race Relations, runs cross country and track, and is a Representative on Student Council. In her free time, she loves to rock climb, read, and listen to music.