Swim, Think, Repeat
Whether practicing before sunrise or after school, swimmers find their thoughts can wander away from the pool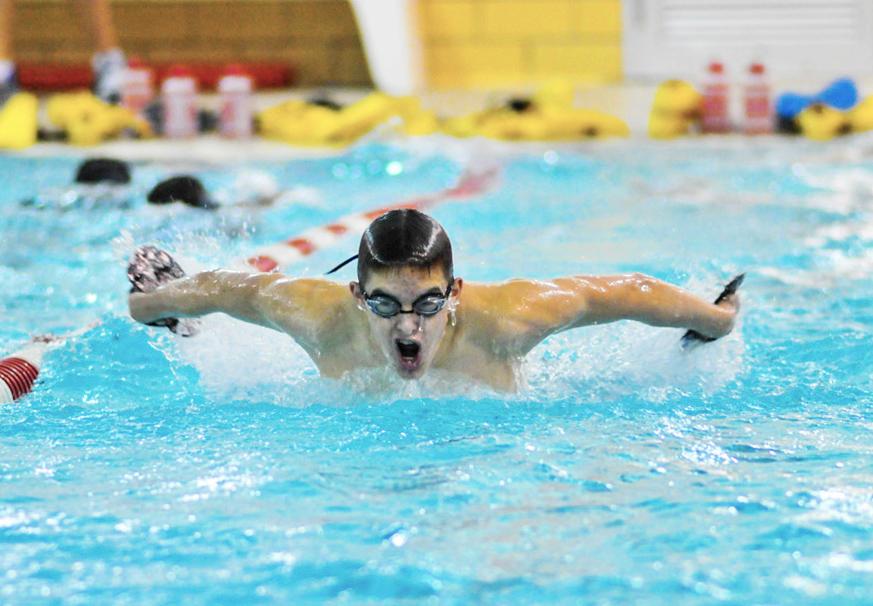 5:30 a.m.
That's what time morning practices start for the swim team on Mondays, Wednesdays and Fridays.
"It's pretty early," sophomore Mara Madden said. "It can be very hard to focus that early in the morning, and our coaches expect a lot from us no matter how early it is. It's a kind of unfair, but that's just part of the sport."
These pre-dawn practices — not to mention their after-school counterparts — can be tedious and take a lot of determination to get through. Senior Liam McFadden agreed that waking up that early in the morning requires a particular mindset.
"Getting up that early is the hard part. Once you're in the pool, it's not too bad,"  McFadden said. "But sometimes you have to rationalize to yourself why you get up so early in the first place.
"In a sport where the majority of the time you're doing the same thing over and over again, it can be hard to keep you focus."
During these long, repetitive practices, junior Austin Yoder finds he loses focus and that his mind tends to roam free.
"When we do longer sets, I get distracted pretty easily,"  Yoder said. "Practice isn't boring or anything, but while you're swimming back and forth like this six days a week, you have a lot of time to yourself to think."
So what does Yoder think about?
"I usually think about what I'm going to have for dinner or how long until practice is over. But when you have all that time, your mind comes up with some crazy things," Yoder said.
"One time I thought about how cool it would be to customize our kickboards with jets and spikes and stuff or how it would be awesome to have waterproof headphones," Yoder said. "Usually my mind only wanders like this during long sets, because usually during shorter sets I'm focused on getting the set over with."
"Looking back on it, though, most of the stuff I come with is pretty irrational," Yoder said. "But I guess your mind can be pretty creative when you're just swimming back and forth in a pool for two hours."
 These distractions during practice are common for swimmers. McFadden often finds music stuck in his head during practice, which has both positive and negative effects.
"One day I had a Disney song stuck in my head the entire practice, and it drove me crazy," McFadden said. "But sometimes if I get an upbeat song that pumps me up a little, it's almost like a blessing in disguise. These distractions are some of the challenges that come with the sport."
Madden said life outside the pool finds its way into her thoughts. "When I'm frustrated with school or friends, I usually think about that during practice," she said.
"During short sets of sprints, I'm usually pretty focused on my breathing and my technique, but It's just that sometimes during longer-distance sets, my mind starts to wander," Madden said.
"I think having the right mindset is really important for swimming," said Madden.
"It takes a lot of mental toughness to get through longer sets and keep your focus. It's definitely a big part of a sport like swimming where you are pretty much by yourself all the time."
McFadden agreed that having the right mindset can make or break a swimmer.
"It takes a lot of focus when you're going through really long sets," said McFadden. "You have to be mentally tough to push through and keep your focus."
McFadden said, "You have to think about getting faster and how you can reach your goals or else you won't get any better. It's definitely a sport that requires determination."
Devotion to the sport is crucial to surviving the mind games that accompany hours in the pool.
"Swimming is a sport that revolves around thinking," Yoder said. "But at the end of the day if you love the sport like I do you, you're willing to go through long, tedious practices to reach your goals."
Comment using your Facebook, Yahoo, AOL or Hotmail account
comments
Leave a Comment