Return to The Bart
Fans finally can come back for the hockey home opener
The Shaker Heights High School men's hockey team started their season off in front of their energetic home crowd at Thornton Park's Bartley Arena.
The varsity hockey team has not played in front of a full crowd in two years. Tickets for the game against Walsh Jesuit went on sale at 9 a.m. on Nov. 17 and they were sold out by the next afternoon. "To know that my last home opener would be a sold out crowd, I was ecstatic," senior Matthew Rusell said.
By Friday Nov. 19, students were excited that the first hockey home opener in nearly two years would kick off their weeklong Thanksgiving break. Fans who ordered a white "I heart SH" T-shirt from the junior class student council helped to "whiteout" the student section. The team chose to get their hair styled into mullets as a team bonding experience to show their excitement for the game.
As the week went on, the team and coaches began to feel the pressure of a new season. "There is always a lot of stress going into the home opener. It is always one of the most stressful for two reasons – first is that you want to do well the first time in front of your fans. Second – it's really your first time doing your game procedures," Head Coach Matthew Bartley wrote.
Before the team took the ice, the arena lights turned off and multicolor LED lights and the smoke machines turned on. The fans went crazy as the varsity team, wearing their new cream and red 50th anniversary uniforms, stepped on to the ice for warmups and introductions. Puck drop was at 7:45 p.m.
At the end of the third period with two goals from seniors Tyler Lencewicz and Theo Gerber, and assists by senior George Furey and junior Isaac Miller. The score was 2-2 going into an 8 minute overtime, but the game ended in a tie.  
Although the Raiders did not win, the team is ready for the rest of their season and glad that fans are back at The Bart.
Senior Tyler Lencewicz said, "I am very excited for my last season. Last year was a bit disappointing because my parents couldn't watch me play, but this year we have high expectations."  
Comment using your Facebook, Yahoo, AOL or Hotmail account
comments
Leave a Comment
About the 'Riter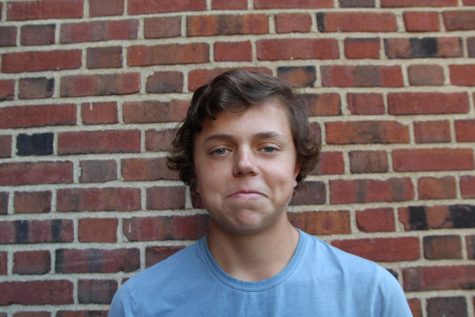 Eamonn Furey, Raider Zone Reporter
Eamonn Furey('25) is in his third year with The Shakerite, and is a Raider Zone reporter. Last year he published stories about sporting events, issues and ticket sales. He is a student-athlete and plays hockey and baseball. Outside of school, he enjoys hanging out with friends and watching football with his dad.