How much has the football team's culture changed? 
"One thousand percent," Head Coach Alex Nicholson said.
Last season, at this time, Shaker was 3-7, but this year the Raiders are 7-3, and, according to Nicholson, the new offensive coordinator, Jim Kiernan, has a lot to do with that change. Kiernan has more than 30 years of collegiate experience across all three divisions and has worked at colleges such as Gannon, Lake Forest, Saginaw Valley State, Mercyhurst and Alabama A&M.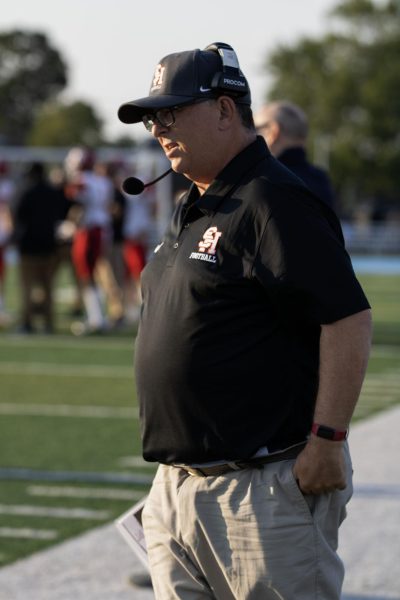 Kiernan retired two years ago. After the coronavirus quarantine ended, he moved to the area to help out his wife's family. Kiernan's wife is the cousin of Student and Campus Activities Coordinator Sara Chengelis, who helped the Kiernans find a house in Shaker. Kiernan's wife's uncle ran into Nicholson on a walk one day. He told Nicholson that Kiernan wanted to get back into coaching and that they should talk. So, one thing led to another, and Kiernan started working at Shaker. 
Hiring a coordinator with so much experience is "a really good feeling," Nicholson said. Kiernan brings intensity, attention to detail and instincts to the program, according to Nicholson. "They're seeing things you're not seeing," he said.
Last season, Shaker scored 179 points throughout the season. This year, the Raiders have scored 370 points, a 107 percent increase. "We have good players!" Kiernan said, "Really good  players. All I've tried to do is put those guys in a position where they can take their talents and utilize them."
Nicholson emphasized the refreshed culture of the football team. "There's definitely a culture change," he said, and credited athletes and coaches for it. "The culture change has a lot to do with our kids buying into it and our staff promoting it constantly."
Hard work by athletes and coaches during the offseason made the difference, he said. "The coaches really honed in on our roster and found the guys that are truly committed to this program," he said. "The success this year is what we've been trying to do here since I got hired here, and we're starting to see the results we want to." 
Nicholson said, "Last year our process didn't work for us, and we were 3-7. Now, the process is working." 
Comment using your Facebook, Yahoo, AOL or Hotmail account
comments