Raider Review, Oct. 5 – Oct. 18
Oct. 5 – Oct. 11
Men's Soccer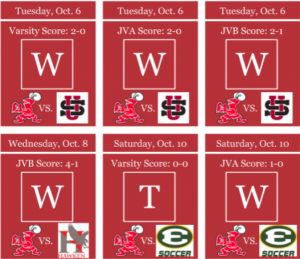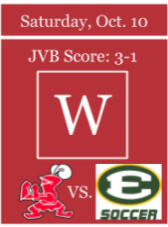 On Tuesday all of the men's soccer teams beat U.S. Varsity improved their record to 6-1 on the year as they took down U.S. 2-0. Both goals were scored by junior Luke Stefanski. JVA maintained their undefeated record with an impressive 2-0 win over U.S. Goals were scored by juniors Cataldo Strangi (assisted by sophomore Parker Roeder) and Jack Adams (assisted by sophomore Krishna Divakarla). JVB improved their win streak to 3 games with their comeback win against U.S. by a score of 2-1. Goals were scored by sophomores Marcus Bertsch (assisted by sophomore Antoine Staten) and Angel Rosales (assisted by sophomore Jackson Fowler). JVB beat Hawken on Wednesday, 4-1. Goals were scored by sophomores Chris Pelletier (assisted by sophomore Marcus Bertsch), Antoine Staten (assisted by sophomore Chris Pelletier) and two by Charlie Lozier. On Saturday all three teams faced off against St. Edward. Varsity tied 0-0 in an impressive defensive performance. JVA won 1-0 from a goal by junior Jack Adams assisted by sophomore Dylan Lamb. JVB won their game 3-1. Sophomore Jackson Fowler had two goals, one off of a free kick and the other assisted by sophomore Charlie Lozier. 
Field Hockey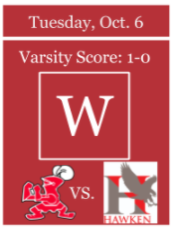 Field Hockey beat Hawken 1-0 in an impressive overtime win. Their lone goal was scored by senior Maggie Carter to win it for Varsity in overtime.
Women's Cross Country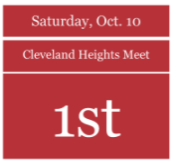 Varsity remains undefeated with their win at the Cleveland Heights Meet against Heights, Gilmour, HB. Junior Mia Compton-Engle placed first  and set a new personal record of 18:33.
Men's Cross Country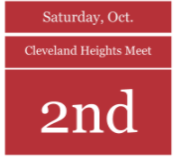 Varsity placed second at the Cleveland Heights meet against U.S., Heights and Gilmour. U.S. placed first and Heights and Gilmour placed 3rd and 4th respectively.
Volleyball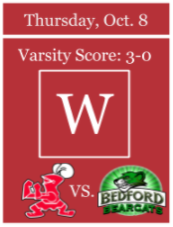 On Senior Night, Varsity won their 10th match in the Lake Erie League. They won their match in a dominant straight sets win over Bedford. They won the first set, 25-7, the second set, 25-13, and the last set, 25-14.
Football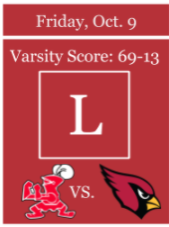 In the playoff home-opener, Varsity ended their season in heartbreaking fashion as they lost 69-13 to the 2 seeded Mentor. Junior Quarterback Adam Diaz threw two touchdown passes. His first to senior Jahdae Walker and his next to senior Alex Benson. Senior Leo McGuiness made 1 of his 2 of his extra point attempts.
---
Oct. 12 – Oct. 18
Volleyball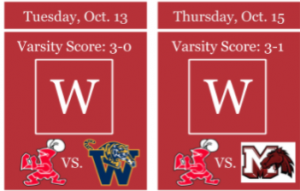 Varsity beat Warrensville Heights to improve their record in the Lake Erie League to 11-0. They won all three sets to move onto the LEL Championship. They won the first set, 25-10, the second set, 25-14 and the last set, 25-12.  In the LEL Championship varsity looked to finish with an undefeated record in the LEL and to win the Championship over Heights. They won the first set, 28-26, they lost the second set, 25-17. They were able to battle back and win the third set 25-22. They captured the Championship with a 25-18 final set win.
Men's Soccer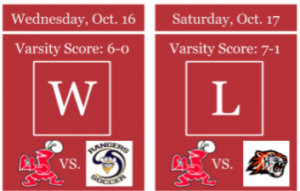 Varsity finished their season strong with a shutout, 6-0 win over North Ridgeville on Senior Day. Goals were scored by Senior TiVaughn Robinson (who had 2), senior Thomas Smyers, senior Mark Sauerland and senior Eli Celeste-Cohen. On Saturday, Varsity faced off against Howland, who is ranked second in Division II soccer. They lost 7-1 and look to recover from this loss when they play St. Ed's on the 24th in their first playoff game.
Women's Soccer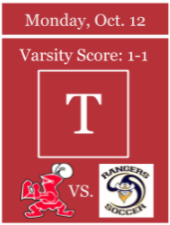 Varsity tied Westlake on Monday. They scored late in the game to force a well-earned tie. On Wednesday, Varsity lost to North Ridgeville. They were shutout 1-0 and they look to rebound as they play Avon Lake on Saturday.
Field Hockey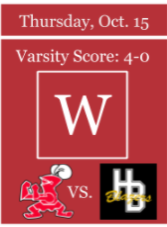 Varsity finished their regular season strong with a 4-0 win over HB on Thursday. Goals were scored by seniors Eliza Bennet, Maggie Carter and Lily Camp to go along with freshman Charlotte Glaspers goal.
Football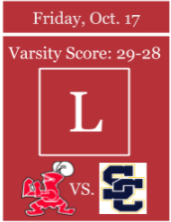 Varsity looked to finish their season strong as they played Solon on Friday. They fought to force overtime and lost in a heartbreaking way to finish the season. They finished the season with a 1-6 record to end their 2020 season.
Comment using your Facebook, Yahoo, AOL or Hotmail account
comments
Leave a Comment
About the 'Riter
Marcus Bertsch, Raider Zone Reporter
Marcus Bertsch ('23) is in his second year with The Shakerite and is currently the Raider Review Reporter. As a Journalism student last year, Marcus was the fact checker for the Sports Cub Staff. Aside from The Shakerite, Marcus plays the clarinet in the school's symphonic band. He also plays soccer and baseball for the high school. In his free time, he enjoys spending time with his friends and family.