Raider Review Dec. 8 – Dec. 15
Hockey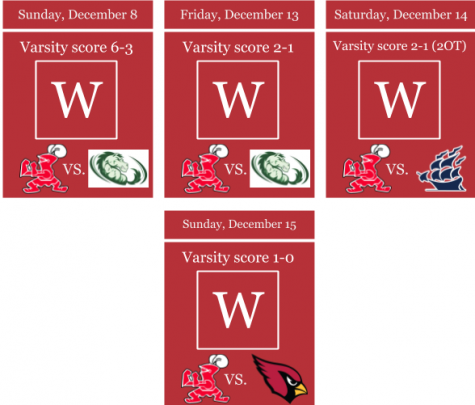 The Hockey team went 4-0 this week, including winning the 49th annual Thornton Park Tournament. Shaker started off the week with a 6-3 win over Strongsville. Shaker beat Strongsville for a second time, and Hudson in two overtimes in the Thornton Park Tournament, thanks to senior Logan Mears, to advance to the finals, where they earned a 1-0 victory over Mentor, who was previously undefeated, by senior Devin Campbell. Shaker won the tournament for the first time in four years. 
Women's Basketball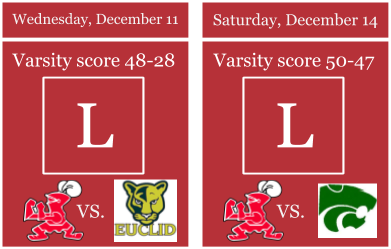 The women's basketball team lost both games they played this week against Euclid and Mayfield. Shaker lost to Euclid by 20 on Wednesday and came up just short versus Mayfield on Saturday, despite 10 points from senior Adaeze Okoye. The Raiders will look to rebound this Monday when they take on Shaw at home.
Men's Basketball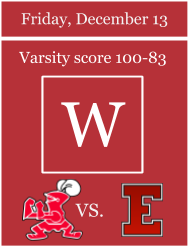 The men's basketball team cruised to victory in their only game of the week 100-83 over Elyria. Senior Dakota Cochran led the way for the Raiders with a career high 39 points as they improved their record to 4-0 on the year. Shaker will look to continue its hot start to the season this Friday when they take on Strongsville on the road.
Swimming
The swimming and diving season got underway last week when Shaker took on Mentor and Solon on Friday. On the men's side, Shaker lost to Solon 106-80, but beat Mentor 128-55. The women's team also lost to Solon, but beat Mentor 94-84. On Saturday, the women's team lost to both Brecksville and Magnificat, while the men's team beat Brecksville and lost to St. Ignatius. Sophomore Ezra Dykema led the diving team to victory as he won the Solon-Mentor meet on Thursday. Event winners on Friday included senior Charlie Murlin, senior Maggie Perry, along with relay competitors. Dykema also placed second along with senior Leah Albers on the girl's side on the Saturday meet. The next swim meet will be this Saturday. 
Wrestling
On Saturday, members of the Shaker Heights wrestling team took part in the Liberty Classic at Olentangy Liberty High School. Junior Toriano Houston took 4th place at 120 pounds, senior Eli Meinhard was runner-up at 170 pounds and senior Najee Lockett finished first at 180 pounds.
Comment using your Facebook, Yahoo, AOL or Hotmail account
comments
Leave a Comment