Raider Review, Aug. 26-Sept. 1
Women's Tennis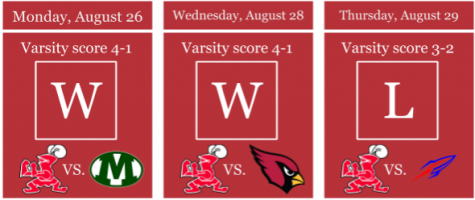 The women's tennis team went 2-1 over the past week with wins over Medina and Mentor and a loss against Bay Village. Their wins were both by a score of 4-1, while their lone loss was a tie breaker. The tennis team's next match is home against Brunswick Wednesday.
Women's Golf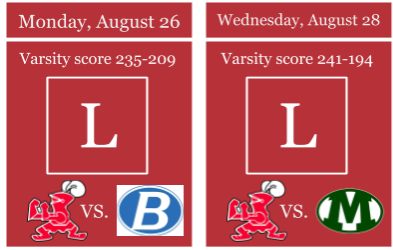 The women's golf team went 0-2 this week with losses to Brunswick and Medina Monday and Wednesday. They will look to change their luck this Wednesday in an away match at Strongsville, which is their only match of the week.
The women's volleyball team was not able to pick up a win this week. They lost to Solon on Tuesday and Strongsville on Thursday, both with scores of 3-0. Solon finished second in the state last year while Strongsville was 22-2. They will look to rebound on Tuesday, Sept 3 at Mentor. 
Men's Golf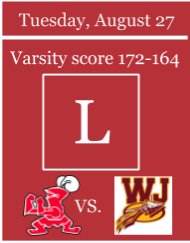 The men's golf team lost a close match to Walsh Jesuit on Tuesday by a score of 172-164. Sophomore Robert Kimmel led the way for Shaker with a score of 40. Behind him was sophomore George Fury, who had 42. The golf team's next match is the Archbishop Hoban Invitational on Tuesday.
Men's Soccer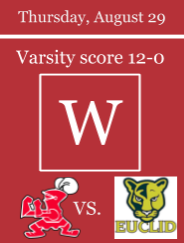 Although the varsity men's soccer match against Euclid was postponed a day due to weather, that did not stop the Raiders from crushing them 12-0 Thursday. Junior Josh Reape had three goals and junior Tivaughn Robinson and senior Dominic Cirillo both had two as Shaker cruised to the victory.  Shaker's next opponent is Mentor on Tuesday, where they will be playing away. 
Field Hockey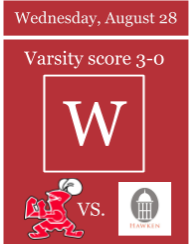 The Shaker field hockey team defeated Hawken on the road 3-0 on Wednesday. Senior Lora Clarke, junior Eliza Bennett, and junior Hilary Shakelton all scored as the Raiders shut out Hawken. The field hockey team's next game is away on Thursday, where they will face Theodore Roosevelt.
Women's Soccer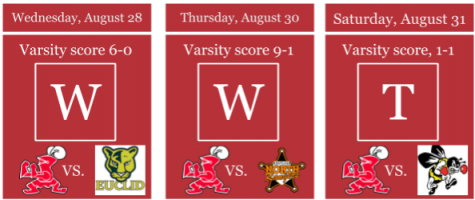 The women's soccer team finished off a strong week Saturday with a 1-1 draw against Brecksville, in which senior Kenzie Trotter scored Shaker's lone goal. On Wednesday, the Raiders coasted to a shutout win 6-0 against Euclid, and on Thursday they beat Eastlake North 9-1 . They will look to continue their good run this week as they play Medina on Wednesday at home.
Football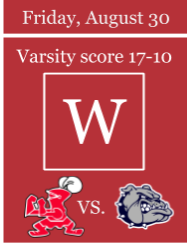 The varsity football team got the job done in two overtimes against Garfield Heights in the Friday twilight game. With Shaker down 10-7, Carson Fowler hit a clutch field goal to send the game to overtime tied at ten. After a scoreless first overtime, senior Victor Ford broke the tie with his second touchdown of the game, giving the Raiders the win. After getting out to a 1-0 start, the Raiders' next opponent is Benedictine this Friday on the road.
Cross Country
The men's and women's cross country teams were both in action Saturday morning at the Avon Lake Earlybird Invitation. Both teams finished second. On the women's side, junior Avery Blaszak, senior Juliet Tonkin, sophomore Anna Carpenter, and sophomore Mia Compten-Engle all finished in the top ten. And on the men's, junior DeAndre Hall and senior Vivek Divakarla finished second and fourth, respectively. The cross country team will be in action again on Saturday at the Tiffin XC Carnival.
Comment using your Facebook, Yahoo, AOL or Hotmail account
comments
Leave a Comment