First Win for Nicholson in Emotional Game
The Raiders prevail in double overtime after a slow start to get their first win under their new coach.
August 31, 2019
Shaker defeated Garfield Heights last night 17-10 in a thrilling double overtime game, the second twilight game in football program history and the first contest under new head coach Alex Nicholson.
Throughout the week, the athletic department offered pre-sale tickets to all Shaker students and residents. Fox 8 also listed Shaker as one of four finalists for game of the week. After a week of voting the Shaker-Garfield Heights game tallied the most votes. With both Fox 8 News and Spectrum Sports at the game — and a new head coach debuting — anticipation for Shaker football was the highest in years, and the student section was packed.
With a new head coach, and a new quarterback and position players, odds were against the Raiders. To boot, Garfield Heights went 10-0 last year in the regular season and won a playoff game, and this year, the Bulldog squad features running back Torrance Davis, a Kentucky football recruit who transferred from Cleveland Glenville High School.
"It was like trying to tackle a train," senior safety Sam Votruba said.
Both offenses struggled early in the first half, as Garfield could only come up with a field goal in the second quarter to make it 3-0 at the half.
"We weren't frustrated in the locker room," sophomore quarterback Adam Diaz said. "We felt them tiring out. We knew we just needed to work harder than the opposition and execute our job."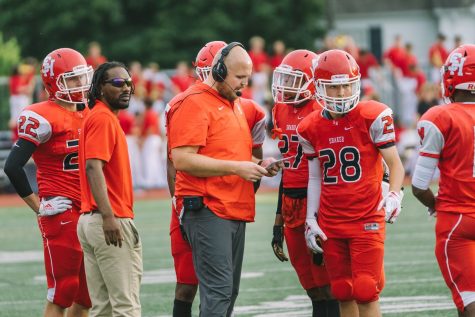 "We started slow and we struggled early on," Nicholson said. "Football is about adjustments and how you finish. We knew Adam was our guy, and we know there was going to be nerves throughout the team. I told the team, 'Just have fun. Football is fun, just be yourself.'"
The teams exchanged touchdowns in the third quarter, and Garfield led 10-7 heading into the fourth.
After several scoreless drives from both teams, the Raiders had one last shot to score with less than two minutes to go.
"I knew I had a lot of responsibilities. My mentality was just to win and put the team on my back and execute," Diaz said. "I knew we were going to score no matter what."
On the last play of the fourth quarter, Shaker was awarded 15 yards after Garfield was called for roughing the passer. The call gave the Raiders one last, untimed play, on which Shaker advanced into junior kicker Carson Fowler's range for a 42-yard attempt.
"It was a dream come true walking out on the field. I used to picture this situation every day growing up," Fowler said. "I was in a different mentality when I lined up for the kick."
Shaker fans roared after Fowler nailed the kick, and the Raiders gained momentum.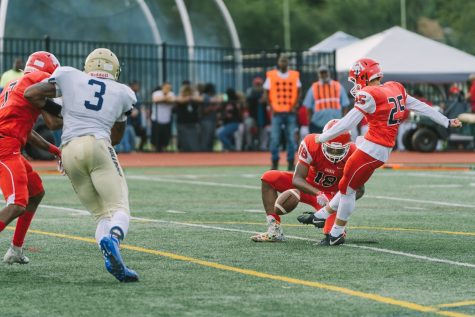 "I live for stuff like this," Fowler said. "It was a blur the whole night. It was something out of a dream."
After both teams were held scoreless in overtime, double overtime ensued. Senior running back Victor Ford, Jr. scored the go-ahead touchdown on a 10 yard run to put the Raiders ahead 17-10. The Shaker defense had to prevent Garfield from scoring one more time in order to win the game.
"I knew we were going to get the stop," Votruba said. "I could feel [Garfield] tiring out. I knew I had to make a play."
And he did. In Gafield's last shot to tie the game, Votruba intercepted the Bulldog pass. "I read their quarterback's eyes and I played my zone. As soon as I saw the ball come towards me, I secured it and fell the ground. It was surreal," he said.
"It was pure joy as soon as I got the interception. It was amazing for the team and for Shaker as a whole," said Votruba, who had two interceptions, leading all players.
"My favorite word is 'finish,'" Nicholson said. "I stress that to my guys all the time. Although the game was sloppy, it was an important win for this community. As a coaching staff, we are going to do more for next week and have the team more prepared."
Senior cornerback Spencer Glatley said he cried in the locker room after the game. "It was a great moment for the team and it showed all of our hard work paid off from the spring and summer," he said. "To come in for my first-ever high school game and help contribute meant everything to me. I proved a lot to myself and my teammates."
Comment using your Facebook, Yahoo, AOL or Hotmail account
comments