Friday Night Football Game Kicks Off The Start of the School Year
Despite a loss, Shaker makes an exciting beginning of their season
The Shaker Raider football team played their first home football game against the Solon Comets Friday night.
The final score was 20-33 in Solon's favor and the stands were full of Shaker fans. Before the game, senior football captain Tommy Dunn said the season will not be over no matter the outcome. "This game is still early in the season and we plan on improving every week so this will be a big tone setter," he said. 
Junior football player Rayne James agrees, "This game will set the tone for how prepared we need to be and how disciplined we need to be for each team down the stretch," he said. 
In the lead up to the game, head football coach Alex Nicholson said how exciting it was to be playing this year, "It's awesome, I know our guys are excited for this opportunity to play for the community." Despite hot temperatures and a crowded stadium, Shaker students dressed in all black for a blackout themed student section 
Temporary stadium lights were put up at the field last week and will remain for the fall season. The lights were turned on during Friday's game, but it ended before the sun went down. This didn't bother students though, "Even though it wasn't dark, the lights were very fun to see, they lifted everyone's spirits," sophomore Sienna Sindwani said. 
Another new feature to this year's athletics program is that tickets to all Shaker football games are no longer offered at the door. Cash will no longer be accepted, as the district has opted for all ticket sales to be done virtually through the Hometown app. The Raider twilight game is on Sept. 24 at 7 p.m.
The Shaker Heights marching band performed their first home halftime show since the 2019 season, due to the marching band being cancelled last year due to COVID-19. Junior Mellophone player Eva Nieman says it was a return to normalcy to see everyone together again. "It's really exciting to be back, I hope we can continue to stay safe while opening things back up," she said. 
Before the game on Friday, the high school held its first pep rally during the school day in 17 years. With senior Grace Wilkinson as the commentator, all varsity fall athletes were honored by the student body with banners and cheering. The marching band also performed at the pep rally. 
Though it started raining, students remained loud and excited while watching a show from the cheerleaders, impromptu flips by many varsity athletes and a human pyramid from the girl's soccer team.
Though the pandemic is far from over, Friday's football game and pep rally point at a return to normalcy for students after last year's virtual learning. Nicholson said, "We still have games being rescheduled, but we are excited to get back and play whenever we can." 
Comment using your Facebook, Yahoo, AOL or Hotmail account
comments
Leave a Comment
About the 'Riter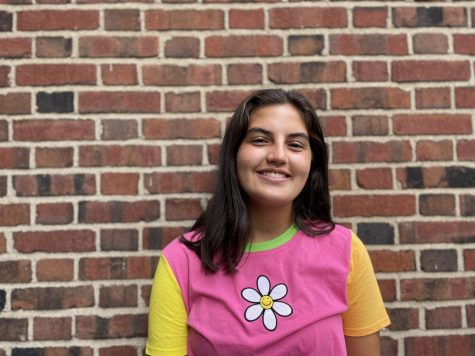 Amelia Raymond, Raider Zone Editor
Amelia Raymond ('24) is in her second year with the Shakerite and is writing as the Raider Zone editor. As a Journalism I/II student last year, Amelia published stories on masks and grading policies. Other than the Shakerite, Amelia spends her time on the soccer field and babysitting. In her free time, she enjoys baking, painting and reading.