For Shaker, Ahmad, Parting Will Be Such Sweet Sorrow
West Virginia recruit's talent, leadership leave lasting impression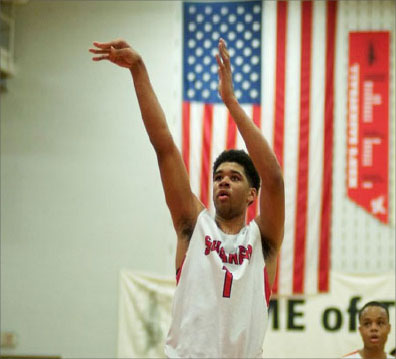 The season has not yet begun, but it's hard not to think about the end.
This year will close the Esa Ahmad era at Shaker, and the senior standout, his teammates and coaches are reflecting on that reality already.
"It has been an honor to watch him and also play alongside with him," said senior Courtney Mays.
In 54 games over the past two seasons, Ahmad averaged 22 points, 10.2 rebounds and 2.6 assists. He has shot 56.1 percent from the field and 42.3 percent from three-point land. From the line, he has hit 69.2 percent of free throws.
Ahmad has played power forward throughout his Shaker career. Before his junior season, he earned 21 offers from Division I universities, including West Virginia, Ohio State, Maryland, Cleveland State and Wisconsin. Ahmad ultimately chose WVU and signed a letter of intent Nov. 10, 2013.
The players are "humbled," in junior guard Matt Mahoney's words, to have such a talented player on their team. Ahmad's skill contributes to wins, but so do his efforts to help his teammates improve and succeed.
"Esa plays a big role in leadership, not just vocally but also by example as well, which is very beneficial to the team," junior forward Cameron Hawkins agreed.
"Esa is what keeps this team together as a whole," said Mahoney. "If he goes down with an injury or is not even part of the team, then the team would have a hard time winning ballgames."
Head Coach Danny Young agreed.
"He is so unselfish and makes other players around him so much better," said Young. "He's a great kid with a positive attitude. He really cares for his teammates and coaches."
"My biggest struggle of my Shaker career has been trying to balance my sports and school work," said Ahmad. "But it has been coming along a lot better than the previous years." As Ahmad has matured as a player, the coaching staff has encouraged him to improve his skills and take on a leadership role in the team. "The coaching staff and I are preaching to Ahmad to be more of a vocal leader," said assistant coach Adrian Lewis. "Whether it is in practice, the weight room or in games, he has done a great job in fulfilling his role."
Ahmad's talent and effort has propelled him to the No. 41 spot among high school basketball players nationwide in ESPN's Top 100 chart.
"Ahmad is a highly versatile and multi-dimensional forward who's capable of initiating offense," Adam Finkelstein wrote for ESPN Insider.
"He rebounds it well, has the potential to play multiple positions and is a mismatch problem when looking for his own offense thanks to his ability to go off the dribble or play with his back to the basket," wrote Finkelstein. "He's also not shy from behind the 3-point line."
Coaches have helped Ahmad develop layers as an athlete, especially defensively. "The coaching staff has done a great job in focusing on preparing the team along with teaching Ahmad the tools he needs to succeed at the next level," said Lewis.
"
If he goes down with an injury or is not even part of the team, then the team would have a hard time winning ballgames.
— Matt Mahoney
"The one skill that I am going to have to work on when I play at West Virginia is being able to defend at a high level," said Ahmad. "Also to keep my body in shape so I can compete with the rest of the players."
Shooting efficiency will also serve Ahmad well at WVU. Rare among high scorers, Ahmad averages more than 25 points a game, but only takes around 15 shots per game.
In Ahmad's senior season, the Raiders will likely contend once again for the state title. Last year, Shaker lost in the regional semifinals to East Tech High School 70-54 at the Wolstein Center at Cleveland State University.
With or without a state championship, however, the Raiders will miss Ahmad when the season ends.
"The one thing I am going to miss most about playing alongside Esa is his unselfishness," said Mays. "The way he makes plays at the right time and is never afraid to pass the ball if there is a better shot."
"I will miss Esa's versatility, which impacts the overall game drastically," said Young. "There are coaches in the Greater Cleveland area that never get a chance to coach a player like Esa. In my young career as the head coach, I have had players like Terry Rozier and Esa Ahmad . . .
"I would say, 'I'm blessed!' "
Ahmad feels equally lucky to have worked with Young. "I think the thing I am going to miss most of all is not going to be able to be coached by Coach Young anymore, who has helped guide me the most in preparing to play at West Virginia," said Ahmad.
"He is one of my favorite people [and] he has taught me a lot to becoming the player I am today on and off the court."
"It has been a wonderful journey to play here at Shaker," said Ahmad. "I love playing for Shaker because of the endless amount of support and love the community has shown me and to the program."
Comment using your Facebook, Yahoo, AOL or Hotmail account
comments
Leave a Comment