Between Distance and Time, Rowing a Modern-Day Odyssey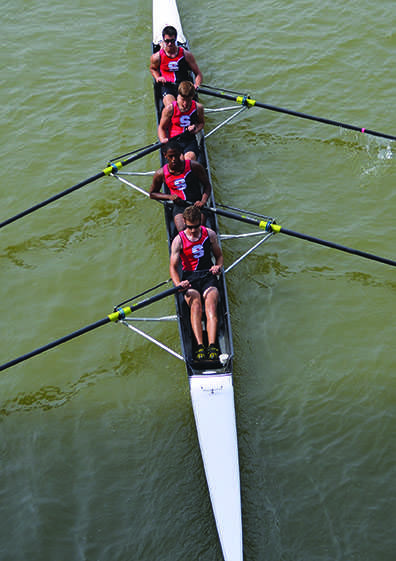 Imagine if the football season ran from August to April, or if the hockey team didn't finish playing until the end of summer. That's life for Shaker Crew athletes. The team has competitive fall rowing, winter indoor rowing and conditioning and then a main season in the spring.
This year-round competition can take a toll on players.
"During the winter season is when I really start to feel it," said junior Will Landow. "Waking up every morning for 5 a.m. practices before school can be really brutal."
"In the winter sometimes I wish I played another sport because the workouts are tough," said Landow. "The problem is I can't skate, shoot a basketball or swim competitively, so rowing is the next best thing."
Shaker's crew program began in 1997 with a women's team, adding a men's team in 2012. Shaker is one of only three public schools in the state, besides Marietta and Upper Arlington High Schools, to offer crew as a varsity sport.
Shaker is a member of the Midwest Scholastic Rowing Association, which includes 55 schools in Ohio, Illinois, Indiana, Kentucky, Michigan and Pennsylvania.
Although crew is a relatively young sport, it has a storied history in the United States.
"Crew is the oldest interscholastic sport," Shaker Head Coach Robert Valerian said. "The Yale-Harvard boat race started in 1859 and high schools have been racing since shortly after the Civil War."
Valerian, who is in his sixth year as Shaker's head coach, rowed crew for Division I Georgetown, where he and his teammates were two-time national champions. Valerian was also the head coach at St. Ignatius for 13 years before coming to Shaker.
The Raiders row out of the Cleveland Rowing Foundation at Rivergate Park on the Cuyahoga River. Shaker shares the boathouse with other high schools, including St. Ignatius, St. Edward High School and St. Joseph Academy. The colleges include Case Western Reserve University, Cleveland State University and John Carroll University. The Cleveland Youth Rowing Association also rows there. The commute to practice includes a half-hour bus ride that usually departs from the school at 4 p.m., sharp. The team usually returns from practice around 7:15 p.m.
"The drive to practice really doesn't seem too far, or at least I'm used to it now," said Landow. "I like traveling down with my teammates to the boathouse for practice anyway. We're so close that it's almost like a cult thing."
Junior Marisa Hofstetter agreed that the ride to practice is good for morale..
"Although it takes a half hour each way, it creates a time for our team to bond," she said. "It overall creates a better atmosphere throughout the team."
Junior captain Xavier Aniton agreed that the half-hour bus ride to practice isn't as bad as it seems.
"Traveling far for practice on a daily basis helps the team chemistry," said Aniton. "It brings us together and helps us unwind before practice.
Hofstetter believes the unique and unorthodox characteristics of rowing are what make it great.
"Crew gives us great outlook of the city because we go downtown and row on the Cuyahoga River everyday in the spring and fall, while other sports play on the same field every day, seeing the same things," said Hofstetter. "With our time on the Cuyahoga River, and occasionally Lake Erie, we get to see different views of city."
"We also get to see other cities and states during our regattas," Hofstetter said.
Hofstetter believes staying on top of this busy schedule is very important.
"Since traveling takes up a lot of time and we want to practice for a decent amount of time, we don't get back to the school until around 7:15," said Hofstetter. "It really demands us to have good time management."
Valerian agreed. "It's a full schedule, but the rowers enjoy the experience. Most of the kids read or study during the bus travel and between races," he said.
The men's team has 5 a.m. practices in the winter before school, which feature weight lifting, running and rowing indoors on a machine called an erg that simulates rowing.
"
"Rowing in the boat with the same few guys everyday really helps you develop a teamwork and a chemistry that you can't find in any other sport.""
— Will Landow
The women's team also has morning practices two or three days a week during the winter, as well as after-school practices on other days.
Hofstetter said winter conditioning is very different from the main spring season.
"Winter conditioning and erging are a lot more independent, while rowing on the water there are either four or eight girls working together," said Hofstetter. "Winter training is more about gaining muscle and power. while rowing on the water is more about technique and specific boat times."
Most Shaker rowers come to the high school with little experience, but Valerian thinks this is one characteristic that makes the sport special.
"What I love about coaching this sport is that every high school rower starts at 'ground zero' in August of their ninth-grade year. Most of them have never even seen a racing shell before," Valeria said. "We have about five weeks to teach them to row before their first race. It's very satisfying to see them progress over a short time from the rawest of novices to competing on a very high level by the end of freshman year."
Shaker crew follows a rigorous travel schedule, traveling hours away and even out of state for regattas, or races featuring teams from many schools.
"We have regattas in the Columbus area mostly. In the past we have also had some in Pittsburgh, Cincinnati and even in Michigan," said Landow. "If we make it to nationals in the spring, we get to travel to New Jersey. Next fall we hope to attend the Head of the Charles regatta in Cambridge, [Massachusetts], which is one of the most famous regattas in the country." This would be the first time the Raiders have attended the Head of the Charles regatta since 2009.
The hard work the Raiders put in doesn't go unnoticed.
"The Shaker rowers are an extremely disciplined group of athletes. They work hard at both their sport and their studies," said Valerian. "They know that if they want to succeed at both they have time only to eat, sleep, study and row. Most of them stick to that regimen year around. They sacrifice for their success."
The Raiders have had success in the past and Valerian believes that it will continue.
"Our women's junior 4 boat, which features juniors Marisa Hofstetter, Megan Hofstetter, Lily Schulte-Lawrence and Emily Wolman, won all three races it was entered in this fall," said Valerian. "This boat will be a contender to win a Midwest Championship this spring."
"We will also have an excellent men's junior 4 boat," said Valerian. "It features juniors Peter Zagara, Will Landow, Xavier Aniton and Ian Morrison, who all performed well this fall."
Valerian emphasized the team dynamic that dominates crew.
"I love this sport because there are no superstars. Everybody has to work and train together to a common level of fitness. You don't have to be able to bench press 300 pounds or run a 10 flat 100 meters," said Valerian. "What you do have to do is work hard, train hard and have a high tolerance for pain, because every rower in the boat is in pain during the last 200 meters of a race. It is the ultimate team sport."
Despite the team's demanding practice schedule, Landow believes his teammates make the experience worthwhile.
"The people are what make crew so great," said Landow. "Rowing in the boat with the same few guys everyday really helps you develop a teamwork and a chemistry that you can't find in any other sport."
Aniton agreed. "Sometimes our practices can get pretty tough," he said. "Rowing is a lot like the Mafia –just when I thought I've had enough it pulls me right back in."
Comment using your Facebook, Yahoo, AOL or Hotmail account
comments
Leave a Comment