Shaker Tennis Coach Reaches 1,000 Wins
Al Slawson, who leads the women's and men's teams, has coached for 44 years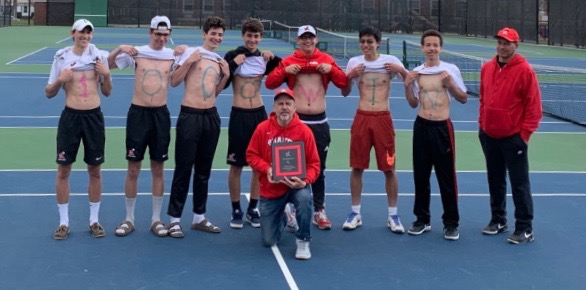 Head men's and women's tennis coach Al Slawson gained his 1,000th win when the Raiders defeated Westlake at home April 16.
"It's not like I had that as a goal, it's more that I began to think about all the players that contributed to that. Literally every player I've coached since 1968 contributed to getting to 1,000," Slawson said.
Slawson said he had a "feeling of satisfaction" after the win.  
Slawson began coaching the men's tennis team in 1980, and began coaching the women's team in 1982. He coached both teams until 2007, deciding to step away from the game. He returned in 2014, still coaching both teams.
During his 32 seasons with Shaker, Slawson won a men's state championship in 2000 and accumulated seven district championships with both the men's and women's team. Slawson also has been named Plain Dealer coach of the year five times.
Slawson has also coached at Valley Forge High School, Baldwin Wallace College and Beaumont School.
"As a tennis player in the Cleveland community, you know how strong Slawson's legacy is. To be playing for Coach Slawson when he gets this milestone accomplishment gets your name permanently engraved in Cleveland tennis history, and something to really be proud of," junior tennis player Jordan Green said.
Junior Isaac Weiss is also a member of the men's tennis team. "Being a part of this milestone is an honor, as I can say that I was a part of history," he said. "This milestone is just another testament to his incredible coaching."
After Shaker won the state championship in 2000, Slawson won United States Professional Tennis Association High School Coach of the Year award. According to uspta.com, "This award is designed primarily for team coaches, however, consideration will be given to coaches who have done an outstanding job with individual players."
Sophomore tennis player Annika Ferguson played during the women's tennis season in the fall. "He cares so much about tennis and tries hard to keep the team occupied both during the season and in the off season," she said.
Slawson, who is currently completing his 44th season as a tennis coach, said, "I feel very fortunate to have been part of their lives when they were in high school, which is a pretty important time in their life."
Comment using your Facebook, Yahoo, AOL or Hotmail account
comments
Leave a Comment