A New Brand of Football
Head Coach Alex Nicholson sets about creating a fresh environment among his student-athletes
As soon as Alex Nicholson was appointed head coach, he began rebranding Shaker football. Like any rebranding effort, it started with a logo.
Nicholson created a new, interlocking SH logo that he believes represents Shaker as a community.
"I knew right away that I wanted to pay homage to the old 'SH,' " he said. "Shaker is very unique in the diversity we have, but we still are one town, so the interlocking of the 'SH' creates that unity, and that's part of our culture as one town and one community."
The logo was painted onto the high school's North Gym floor over the summer and displayed on the football team's helmets and gear this season.
With that, Nicholson's presence became visible, and he started to build a competitive culture that focused on improving players' attitudes and work ethic. This effort began with weightlifting sessions every week after he was hired in February.
"I want kids in that weight room because they have to learn our culture. Part of all this is a rebranding of the program, and any time you take over a program, your first year is always going to be trying to get things the way you want them," Nicholson said. "I wouldn't say this program was broken, but it wasn't the way I wanted."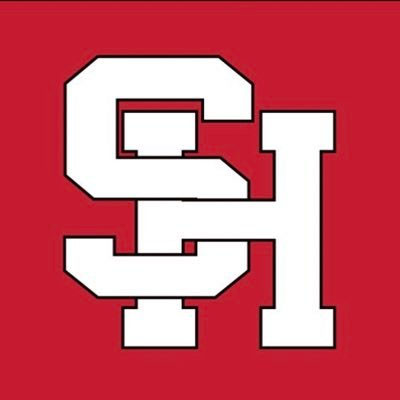 Nicholson moved to Shaker from Chicago in 2014 and worked as an assistant coach at Normandy High School and Brush High School before coming to Shaker. "We came for a freshman game, and I started to do more research, and as the years went on, I kept my eye on the school and knew it was a special place," he said.
In addition to his title as head coach of the football team, Nicholson is a certified physical education teacher and intervention specialist.
His first move as head coach was bringing in new staff: defensive coordinator DeMarcus Monroe, offensive coordinator Paul Ghude and offensive line coach Adam Mott. All three coached with Nicholson at Brush for three years.
"Nicholson and I had talked about working together when one of us became a head coach since the first year we worked together, so when he got the job here, he called me, and we talked about me joining the staff," Ghude said.
"He always strives to put our student athletes in the best position possible for them to be successful," Ghude said. "He is constantly working for our student-athletes, and he genuinely cares about all of their well-being, which, to me, is one of the most important qualities of a coach."
Senior running back Victor Ford Jr. said that Nicholson quickly engaged with the team. "He was fast. Everything was fast — he was hardcore," Ford said. "We got straight to work when he first came."
Nicholson added incentives, including receiving free gear, such as sweatshirts and backpacks, for showing up to lifting and summer practice, which attracted more players.
"We worked out for two months straight, no days off," Ford said. "If you came, he surprised us with a bag and gear." Nicholson also encouraged students who hadn't been on the football team to participate, and the roster grew from 52 to 88 players, a 59 percent increase. The bigger roster helps Shaker compete in a conference with an average of 85 players per team. He also began choosing a scout team player of the week. This allows players on the freshman and junior varsity teams to dress varsity and be honored at practice.
"The scout team player of the week is really a great new addition to the program because it credits hard work that is not always noticed or seen. It motivates those who play on the scout teams to go harder every day in practice and compete for the scout team chain. It recognizes the hardest working player of that week on scout team," senior linebacker Avery Dunn said.
A freshman player of the week is chosen to dress with the varsity team every week as well. "I think the staple of every good high school program is a freshman team," Nicholson said. He added that schools such as Mentor and Solon, which routinely excel in the Greater Cleveland Conference, take pride in raising disciplined teams, starting with the freshman.
Nicholson has been working closely with staff and monitoring players in hopes of improving the football team's GPA. After the first semester of 2018-19, the team's average GPA was 2.55. According to Nicholson, the GPA is currently 2.75.
"He has interactions with us through emails and keeping track with students on learning plans, but he does support them and gives us awareness of what their needs are so that we can support those kids in the classroom," math teacher Walter Slovikovski said.
Nicholson said, "I tell the kids all the time: Your GPA and your test scores — that's where you get paid."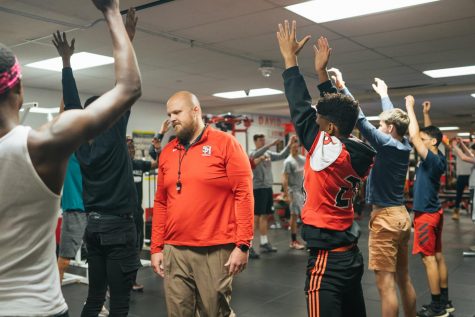 All players are eligible for SAT and End of Course Exam preparation, as well as help from current and former staff.
"We're working with several former teachers and several community members, starting a process of figuring out the best way for our kids to be prepared for standardized testing, as well as what's the best way for our kids to be successful in the classroom," Nicholson said.
Nicholson has worked closely with colleagues he has met through the years to give his team the best opportunities to play football in college. "Nicholson definitely has a presence, whether it's just reaching out to people he knows through the connections he's made, or Twitter, even the guys that aren't the big names, he's still trying to help them out and get them some looks," senior defensive back Spencer Glatley said.
Players such as Dunn who has verbally commited to and recieved scholarship from Michigan State Univeristy, had help from Nicholson throughout the college recruitment process."At the beginning of the recruiting process, we didn't have a coach at the time, so I was really doing everything on my own, contacting coaches and schools," Dunn said.
He continued, "Once Coach Nicholson got here, he really guided me through the whole process, and he became a great outlet I didn't have before."
The Raiders finished this season 2-8. However, in their first game of the year, they beat Garfield Heights in a Friday afternoon thriller at home Sept. 30. That game offered a glimpse of the brand Nicholson is striving to build. The Raiders also put up a school record 70 points in an Oct. 11 defeat of Elyria.
Despite the losing record, Nicholson maintained the same energy and discipline in and out of school. "I talk to the team on Saturdays and tell them that their beliefs drive their behavior, which then produces an outcome," he said. "We have to believe in what we're doing."
A version of this article appears in print on pages 52-55 of Volume 90, Issue I, published Dec. 9, 2019.
Comment using your Facebook, Yahoo, AOL or Hotmail account
comments
Leave a Comment
About the 'Riter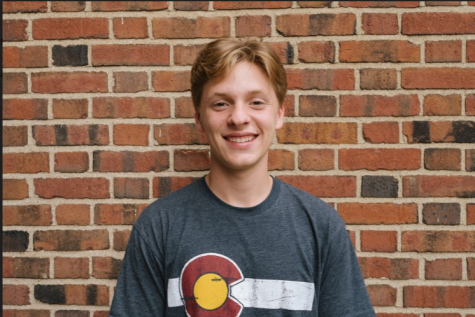 Ben Cox, Web Managing Editor
Ben Cox ('21) is in his fourth year with The Shakerite. He is currently a Web Managing Editor alongside Danielle Krantz, reporting on league changes, new coaches, diversity in athletics as well as all things sports in Shaker. As an editor last year, Ben profiled the new football coach, covered the dominance of female sports programs in Shaker athletics, and the absence of lights in the stadium. Ben is a captain of the cross country team, plays lacrosse and is a part of the Student Activists for Youth Club and Champions for Charity. In his free time, Ben enjoys playing basketball with friends and watching baseball.