Where Are the Student Voters?
In an increasingly polarized political climate, young voters are the key to change
In recent American elections, the percentage of young voter turnout has been consistently low in comparison to other age groups, allowing older age groups to continue to decide the destiny of younger Americans.
"Voter turnout is always very low among younger people," government teacher Brian Berger said. In the 2020 presidential election, only 50 percent of registered voters between the ages of 18 and 24 voted, more than 15 percent lower than the national turnout, according to the Tufts University Center for Information & Research on Civic Learning and Engagement. In Ohio, turnout among young voters was even lower, at 49 percent.
Voter apathy, which is consistently high amongst younger voters, according to a study from Coastal Carolina University, may cause this discrepancy. With the Democratic Party shifting closer to the center as the Republican Party careens further to the right, an increasingly liberal young generation of Americans is feeling shut out of the political world.

"I do think Democrats have moved too far to the center," Shaker Heights senior Alli Wright said. "But they're better than the alternative, and I can agree with them on a lot of issues."
Voter apathy, the feeling of not caring about voting or the outcome of an election, often comes in the form of people not understanding how just one vote can change the outcome of an election. But, according to the office of the Massachusetts Secretary of State, in 2022, Kristin Kassner (D-MA) defeated five-term incumbent State Representative Lenny Mirra (R-MA) by just a single vote out of the more than 23,000 cast.
Last month, for 2022 midterm elections, there were 8.3 million newly eligible young voters, and 3.8 million are people of color. Of those young voters, more than half are Latinos, a group that for decades has voted overwhelmingly Democratic, but that in recent years has been drifting to the right. In the 2020 presidential election, Donald Trump flipped eight counties in Texas' historically solid blue Rio Grande Valley, all of which were more than 80 percent Hispanic, and all of which, with the exception of Kenedy County, voted for Barack Obama in both 2008 and 2012.
Some politicians are making clear efforts to gain young voters' support, using social media platforms such as TikTok to reach out to a young audience. Representative Katie Porter (D-CA), whose questioning of congressional witnesses has gone viral, has amassed more than 300,000 followers on TikTok.
During the 2022 U.S. Senate campaign in Pennsylvania, both major party candidates, Dr. Mehmet Oz (R) and John Fetterman (D) employed  TikTok. Oz, a former TV personality, posted a video regarding inflation around the price of vegetables, a video which has since been viewed more than 4 million times. Fetterman's response video, in which he taunted Dr. Oz by saying that he was afraid the doctor would "dip [him] in salsa," has accumulated  over 1 million views, although until just before the election, Fetterman's response videos had more views than Oz's video, which may mean that Fetterman's viewers viewed Oz's video as a joke. 
As the average age range of TikTok users is 16 to 24, it would seem that politicians like Fetterman and Porter are using it to appeal to an increasingly Democratic young audience.
Both Fetterman and Porter were elected.
In a city like Shaker Heights, which, according to the Cuyahoga County Board of Elections voted for Joe Biden by a margin of more than 40 percent, young voter turnout could be the key to shaping Ohio's political future.
As Ohio is a state that, in every presidential election since 1992, has been decided by a margin under 10 points, both parties often spend millions in advertising. If young voter turnout were to increase, the state may move back towards Democrats if current trends continue. In 2020, for example, voters between the ages of 18 and 29 voted around 60 percent for Joe Biden (D-DE), compared to voters ages 30 to 49, who voted around 53 percent for Biden.
"I think with the overturning of Roe v. Wade this past summer, interest is a little higher," Berger said. Indeed, a recent study by the Tufts University Center for Information & Research on Civic Learning and Engagement found that 78 percent of Americans aged 18-29 believe that abortion should be legal in most or all cases.
When Roe v. Wade was overturned earlier in 2022, it began a tide of Republicans moving even further to the right, out of line with the views of many young Americans.
If young voters continue to turn out in low numbers, it will only empower Republicans to limit our rights further. If Republicans were to gain total power, we should expect America to look like A Handmaid's Tale in a decade. Here are some of the things we can expect in that world.
1. A total ban on abortion nationwide. "Let's keep our momentum [against abortions] and push ever forward," Representative Paul Gosar (R-AZ) wrote.
2. Genital exams for young female athletes. A bill requiring them failed in Ohio this year. Even Aaron Baer, the President of the conservative Center for Christian Virtue, agreed that, "the language [in the bill requiring genital exams] is not needed."
3. A total ban on same-sex marriage nationwide under the guise of religious liberty. "[The Respect for Marriage Act's] only purpose is to hand the federal government a legal bludgeoning tool to drive people of faith out of the public square and silence anyone who dissents," Representative Vicky Hartzler (R-MO) said.
4. Discriminatory voting restrictions under the guise of election safety. A Texas voting law "is an arduous law designed to limit Tejanos' ability to exercise their full citizenship," Voto Latino CEO Maria Teresa Kumar said.
5. Teaching of creationism instead of evolution to children, somehow under the guise of religion. "I don't believe in evolution, I believe in god," Representative Marjorie Taylor Greene (R-GA) said.
6. Anti-vaccination rhetoric becoming mainstream with vaccine mandate bans. Governor Kay Ivey (R-AL) promised that she would, "fight overreaching Biden vaccine mandates," after signing a bill creating vaccine exemptions for so-called "religious or medical reasons."
If we were to allow Republicans to have more power by allowing them to get the upper hand in voter turnout, those are six things that we can expect to become nationwide law in our county. The only way to save ourselves from a dystopian future is to vote for people who don't support extreme beliefs. Most of the people who don't are Democrats, as the Republican party has begun to embrace conspiracy theories and nominate candidates that are further and further to the right. 
We cannot be complacent to sit back and watch our rights be stolen away from us simply because we refused to vote. We can't let the far-right continue to gain power as we continue to lose our rights. It is our country, and it is our future to decide.
"I think the Roe v. Wade decision really made young people see that they need to vote to control their destiny." Berger said. "Young voters are going to be the ones shaping our future."
Comment using your Facebook, Yahoo, AOL or Hotmail account
comments
Leave a Comment
About the 'Riter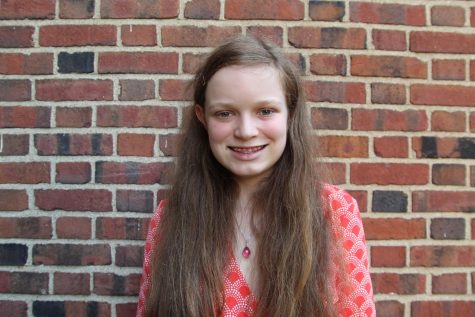 Stella Staneluis, Social Issues Columnist
Stella Staneluis ('24) is in her third year with The Shakerite, writing as the social issues columnist. As a podcast reporter last year, she wrote about her experiences as a trans woman in Shaker and the future of Horseshoe Lake. In her free time, she enjoys writing, swimming, and playing video games with her friends.