Be Safe, Be Respectful and Sweep Problems Under The Rug
The district finally broke its silence on sexual harassment and assault, but for the wrong reason
While attending the Shaker Schools since kindergarten, three key life lessons have been drilled into my head: Be safe, be respectful and sweep problems under the rug so that everyone else forgets about them.
When Timothy Mitchell, one of the district's most well-respected (at the time) staff members, was indicted in April 2017 on a sexual battery charge, the administration responded with a statement on its website, providing a few details about the case and encouraging students to come forward if they ever felt uncomfortable. The administration did not talk about anything being actively done to prevent this from happening again in the future.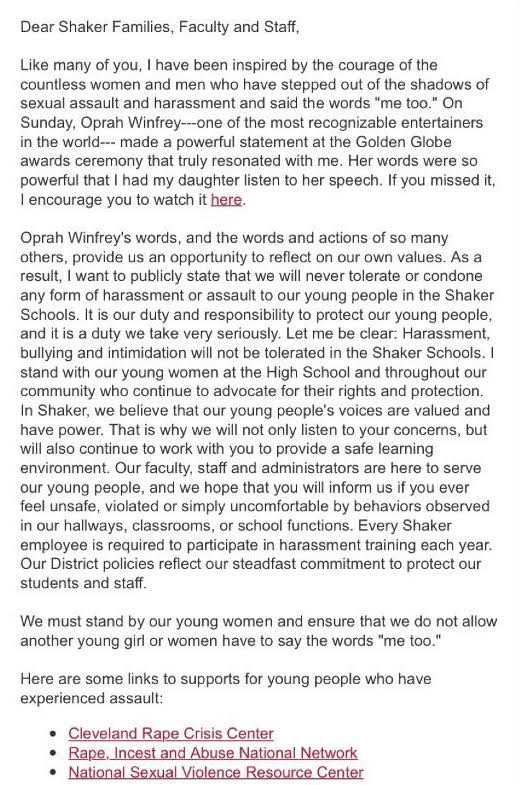 Jennie Reiff, the student who was sexually assaulted by Mitchell, responded months later to the administration's silence with a column in The Shakerite published Nov 17. 2017, stating that "the perceived inaction does a disservice to me and to every Shaker student, past, present and future. Actions speak louder than words, but in this case, there has been neither."
The administration did not publicly respond to Reiff's concerns. In fact, when Mitchell was released from prison in December, after only serving 68 days of his nine-month sentence, the response of the administration, as stated by Executive Director of Communications Scott Stephens, was that the case "doesn't affect the district — [Mitchell] has been gone since Memorial Day."
This dismissive response from Stephens exemplifies the district's desire to forget about this incident. No matter how long Mitchell has been gone from the district, he has only been gone from the walls of this school since October, when his face on a mural depicting him as George Washington was painted over. Even though his physical presence in the school building is no longer there, the emotional impact of the betrayal many of his students feel will always linger.
He still exists in many minds of the students who knew and loved him, and I am one of those students. He was a man many thought they could trust. The administration's inability to recognize this emotional impact, or to at least prioritize the feelings of their students over their fear of receiving bad press, is detrimental to our community in regards to more than just the situation with Mitchell.
Superintendent Gregory C. Hutchings, Jr. sent an email to district families and staff Jan. 8 inspired by Oprah Winfrey's Golden Globe speech from the night prior. Her speech touched on the "Me, too" movement, which has encouraged women to speak out about sexual assault and harassment they have experienced.
In his email, Hutchings stated that, "…we will never tolerate or condone any form of harassment or assault to our young people in the Shaker Schools. It is our duty and responsibility to protect our young people, and it is a duty we take very seriously … In Shaker, we believe that our young people's voices are valued and have power. That is why we will not only listen to your concerns, but will also continue to work with you to provide a safe learning environment."
Without context, these sentiments may seem comforting. However, given the administration's quiet and dismissive approach to Mitchell's case, Hutchings' words of support and protection feel like an attempt to capitalize on the buzz about Winfrey's speech and make himself and the district look good.  
Hutchings will return to Alexandria, Virginia at the end of the 2017-2018 school year, and Shaker schools will be under new leadership. If the administration wishes to hang onto the remaining amount of respect that students, faculty and community members have for them, I urge them to find a superintendent who will encourage the administration as a whole to be more transparent and action-oriented. Otherwise, for years to come, they'll be teaching by example that the best way to solve a problem is to pretend it doesn't exist.
Comment using your Facebook, Yahoo, AOL or Hotmail account
comments
Leave a Comment