If I Die in a School Shooting
If I die in a school shooting, I will never turn 16. I will never go to prom, graduate from high school, go to college or get a job. I will leave my parents without a daughter and my brother without an older sister. The hashtag #IfIDieInASchoolShooting is trending on Twitter after a May 18 shooting at Santa Fe High School in Texas left eight students and two teachers dead. High school students around the nation are sharing the hashtag, along with what they would miss out on if they were one of those students. 
We, high-school-aged children, have lived on the earth for not even two decades. Instead of talking about prom and graduation, we are talking about death. And not just anyone's death; our own.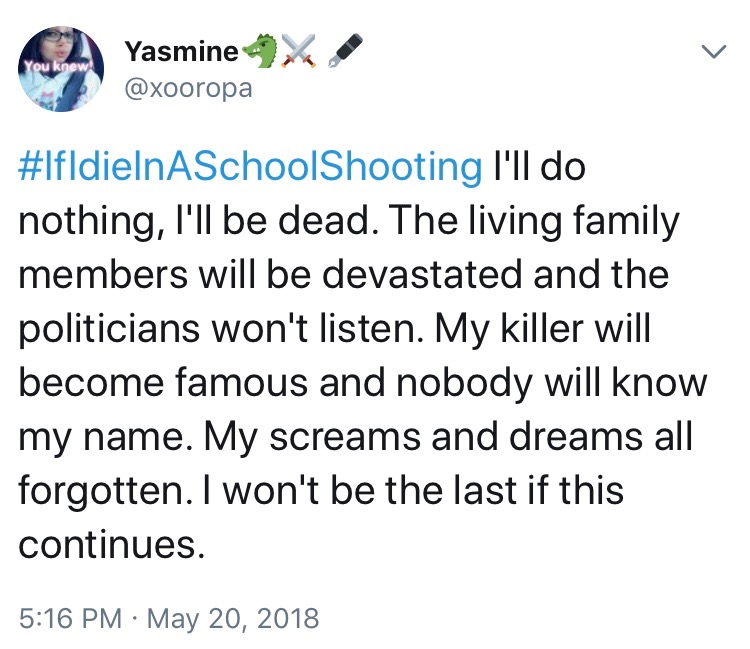 The 10 victims of the Santa Fe shooting add to hundreds of other lives lost in schools. According to The Washington Post, 141 students, teachers and others have been killed in gun assaults at school. One hundred forty one people stripped of their futures because of a finger on a trigger. 
I sit in class and try to learn, to pay attention, but I flinch at every yell in the hallway, every textbook dropped and every fire alarm that sounds. This fear is only heightened after every school shooting, and nothing is changing to make me safer. Fire alarms use to be a worriless procedure that occurred every month. Now, they could be a sign of a gunman entering the building and a life about to end. 
The Constitution states every American citizen has the right to life, liberty and the pursuit of happiness. Being shot in a school takes away our right to life. The lawmakers in our country did not have to sit through school and worry about being shot by one of their own classmates or a community member they knew. But we do. 
If I die in a school shooting, I won't have a future. When lawmakers were my age, they all dreamed of a future that they now have. They graduated high school, went to college and had the chance to pursue their dreams. A chance all children dream they will get one day. But we may not see a future beyond a bullet while sitting at our desks.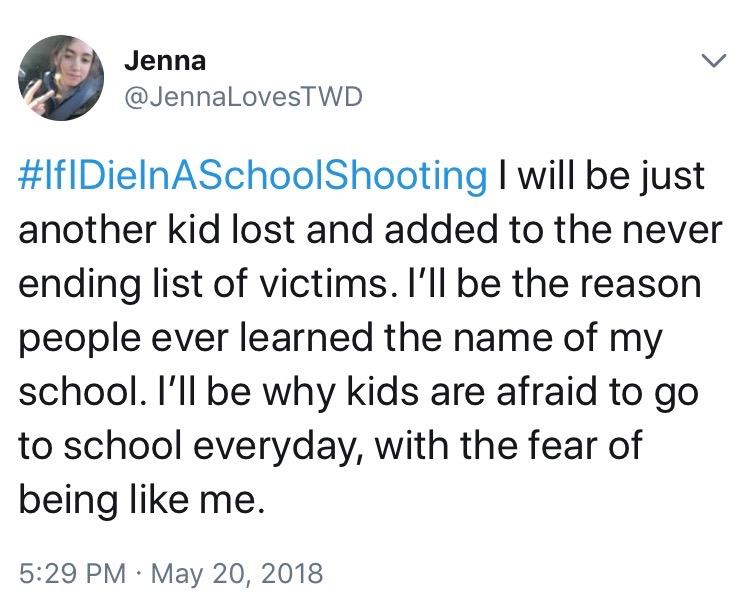 I am 14 years old. I cannot drive. I cannot take out a loan.  I cannot vote on sensible gun laws that would protect me in school. That is up to the adults in this country. I still do the most with what I am given. I participate in walkouts and rallies, but I cannot vote on a ballot.
The lawmakers hold the highest power for change, and they need to use it for good. America needs to make it illegal for anyone in this country to possess a military-grade firearm while also banning all bump stocks. It should not be easy to pass a gun test. Extensive background tests, evaluations and training should be administered to every allow a person to be near a gun. It is harder for me to get my driver's license than for anyone to buy a gun.
In my 14 years, it seems as though my reality has shifted. First, I asked myself how I could possibly die in a school shooting. Now, I ask myself if and when I will die in a school shooting. The fact that students go to school with a fear of dying shows something needs to change, and fast.
If I die in a school shooting, I will become a statistic. I will be nothing more than an innocent victim of senseless gun violence. I will not have a chance to make a change. I will not be known for what I can do, but rather for what someone did to me. I will not live my life, fulfill my dreams, or finish my education. And there is nothing more I can do about it, other than keeping this conversation going.
Comment using your Facebook, Yahoo, AOL or Hotmail account
comments
Leave a Comment