Why Now?
Generation Z activists are using social media and the power of their voices to initiate change
"You keep doing things like this, you'll be taking Trump's place one day," a woman told me as she took a flyer from my hand at a booth at the March For Our Lives. On the train to the Cleveland Pride Parade, I remember a couple with a baby adorning a shirt saying "I Love My Two Gay Dads." They turned to my friends and I, who were covered in tie-dye and rainbows, and said "I can't wait until your generation is running this country."
Centennials have started taking over the resistance movement, people other than those on the cover of Time magazine, like Cameron Kasky and Emma Gonzalez. They are leading, organizing and advocating. They are trying to pressure Congress face to face to ensure all Americans are protected and treated as equals. We are called Generation Z.
Exercising First Amendment rights is a characterizing trait of Generation Z's activism. Protests taking a stand for gun control have taken high schools by storm. According to the New York Times, over 800 protests in the name of March For Our Lives took place in every American state and every continent except Antarctica. Students hosted the protests and their speeches were the main event, like David Hogg's speech in Washington D.C. Last year, on March 14, Shaker students took part in a nationwide school walkout, observing 17 minutes of silence for the 17 victims of the Marjory Stoneman Douglas High School shooting. The shooting became a turning point because of the survivors who channeled their grief into activism.
Columbine is known as the first mass school shooting in modern American history. Sandy Hook is known as one of the most tragic. Parkland is distinguishable from past school shootings because it finally forced a change of mindset in America. The March For Our Lives gathered an estimated 800,000 protesters in Washington, D.C. The survivors of Parkland are some of the most determined and passionate faces of this generation because they are holding the nation's leaders accountable.

"

The survivors of Parkland are some of the most determined and passionate faces of this generation because they are holding the nation's leaders accountable.
Parkland survivors have access to social media and use it not as a weapon, but as a tool. Generation Z kids have taken advantage of the power social media offers. Instagram, Snapchat and Twitter is the reason for the movement's snowballing effect. Black Lives Matter has become five years old, and the protest started from a hashtag. The women leading the #MeToo movement made the cover of Time magazine as well as the Parkland survivors. These three movements all started on social media. They were mediums for protests, like when David Hogg lead over a dozen sponsors to pull out of the Ingraham Angle after the host, Laura Ingraham, insulted him on Twitter for getting rejected from college. David Hogg's Twitter campaign was the cause. Sending telegrams to Office Depot wouldn't have the same effect as thousands upon thousands of retweets.
The activism also stems from people showing up to the protests, signs and megaphones in hand. The Women's March in 2017 had thousands of people around the world marching in protest of Donald Trump's inauguration, with one million in D.C. World wide protests against Hitler were not this big in the twentieth century, because people then didn't have our modern liberties or our access to social media that spread the word for the cause. The influence of social media was the driving force of this protest.
The new dawn of technology has helped centennials to attempt stopping history from repeating itself. Tragedies and times of division have struck America before.
Even as children, before we could crawl, walk, or march, it was tense. George W. Bush certainly was put in tight spots, and Obama faces racism and scrutiny up to this day. Our parents crawled and walked, sometimes even marched, during their lifetimes. They saw Martin Luther King, Jr., Richard Nixon and Bill Clinton. This doesn't invalidate the people before 1995 that were brave and passionate enough to stand up and fight the power when it was taking advantage of them. But those that have come before us see something new arising.
The biggest protest in the last fifty years is when people began labeling themselves as conscientious objectors and fought peacefully, in the Vietnam War. But at that time, the riots engulfing America can be attributed to people feeling threatened by unprovoked death and loss. Liberties are being threatened now, and that is what is forcing the youth of America to stand up. They stood up when Trump bragged about sexual assault, when the right to abortion was threatened, and when transgender people were banned from the military.  
We went from crawling to marching, and next we'll be voting. Politicians should be sleeping with one eye open, because next we're taking the Senate by storm.
Comment using your Facebook, Yahoo, AOL or Hotmail account
comments
Leave a Comment
About the 'Riter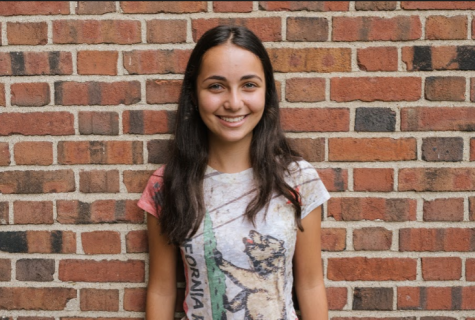 Olivia Warren, Opinion Editor
Olivia Warren ('21) is in her fourth year with The Shakerite. She is currently the Opinion Editor and the Chairwoman of the Editorial Board. Olivia has covered issues ranging from rape culture to veganism. Outside of The Shakerite, Olivia is the president of Political Action Club, Pennies for Paws and Extinction Rebellion Youth in Cleveland. She also serves on the Superintendent Student Advisory Committee. Olivia also has a passion for tennis, music and social justice.